Thai Princess among only six foreigners to receive the prestigious Chinese medal of friendship issued by a decree signed by the Chinese President this week.
Thailand and China have agreed to explore ways to cooperate in the development of town key projects, the Eastern Economic Corridor in Thailand and similar development in China. It follows a meeting on Thursday at government house between a high-level Chinese envoy and the Thai Prime Minister Prayuth Chan Ocha.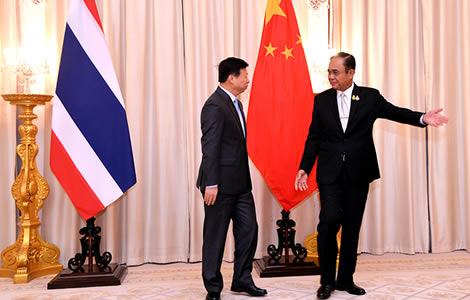 On Thursday, Thailand and China signalled closer cooperation and a renewed effort to build a closer relationship across a range of areas. The news came following a meeting between the Thai prime minister Prayuth Chan Ocha and the Head of Thailand's International Liaison Department, Song Tao at Government House in Bangkok.
Cooperation with China on developing the Eastern Economic Corridor project agreed
One aspect of the renewed co-operation was a commitment by both countries to link two key developments, the Thai Eastern Economic Corridor and the Greater Bay Area development in China.
The Thai Prime Minister took the opportunity to thank the Chinese government for encouraging its nationals to continue visiting Thailand in large numbers.
China invites Thai officials to visit
The meeting resulted in an agreement to deepen cooperation in education, technology and science. To this end, the Chinese envoy invited the Thai government to send officials to China to explore possible opportunities.
He also used the occasion to extend best wishes from Chinese President Xi Jinping and Premier Li Keqiang to the prime minister. Mr Song emphasised that the purpose of the visit was to strengthen Thai Chinese relations.
Congratulated China on Communist party rule
General Prayuth congratulated the Chinese representative on for forthcoming 70th anniversary of the founding of communist rule in China in 1949 which occurs on October 1st. 
Honour paid to Her Royal Highness Princess Maha Chakri Sirindhorn this week
He also acknowledged the high honour awarded to her Royal Highness Princess Maha Chakri Sirindhorn in recent days when the princess received the Chinese Friendship medal for her work at fostering ties between the two countries.
The Chinese envoy made the point that the award has only ever been granted to six foreigners to date. The award was issued on Tuesday by a decree signed by the Chinse president. Other recipients include Raul Castro of Cuba.