We are committed to the privacy of our members and we do not share or use any data execpt for the obvious purposes on our news network for which the data was submitted
ThaiExaminer.com has created this privacy statement in order to demonstrate our firm commitment to your privacy. The following discloses the information gathering and dissemination practices for our our Thai news network and social networking service.
Information Automatically Logged
We use your IP address to gather registration information and also layer our registered users may submit profile information if they wish to participate in our select, niche dating service. IP address are generally dynamically allocated (different every time you log on). We use this information to get a general feeling of how many people visit the site and from where they are referred. This is done by our web host using standard logging technology.
Cookies
Our Site uses cookies to save your password so you don't have to re-enter it each time you visit a page on the site. The cookie is session based (sits in the header information sent to the browser) and is destroyed after you close your browser. The cookie neither reads nor writes anything to or from your computer but cookies must be enabled to use the site as a member. ThaiExaminer also uses Cookies and other tracking devices as part of our marketing services for analytics and also for security purposes in order to protect our users.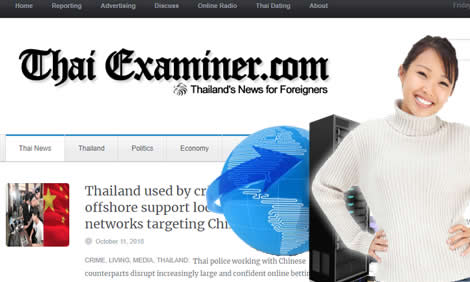 Registration Forms
Our site's primary registration form requires members to give us basic contact information (like their real name and email address) to register an account. In the Thai Examiner profile section you can optionally provide more data on location and relationship etc. as part of our social networking and dating service. All  registrations are confirmed through an email sent to the user to verify that the email account is valid and working
Contact information from the registration forms is used to create a unique record to identify the user to the system and for sending information to the member but cannot and is not used for any other purpose.
Members may opt-out of receiving future e-mail or cancel their registration or profile at anytime; see the choice/opt-out information below.
Some profile data is also collected at our site. Please see our How it Works for further information relating to our optional dating service. This is used for your profiles and is made available to other members for the purpose of contacting you in the event that your profile attracts their favorable attention. It is used for no other purpose and is never made available to third parties.
External Links
This site contains external url links to other sites such as our recommended email service provider (Gmail). ThaiExaminer.com is not responsible for the privacy practices or the content of such websites or services. However, we are satisfied that these are highly reliable and excellent service providers who operate to the highest standards.
Data & Personal information (usage)
All data or information collected by ThaiExaminer.com remains for the sole purpose of use within our site and is never shared or made available to third parties. In addition, every measure is taken to protect our servers and keep them secure. Please feel free to address any queries to the contact points listed below. We are happy to clarify any questions you may have.
Choice/Opt-Out
Our site provides members the opportunity to opt-out of all external emails from our site. Please see our email policy and e-mail opt out sections for more information.
Note: You may select various email opt out options and you should study our opt out information carefully. You have always the option to opt out of all e-mails easily and automatically.
Cancellation of Registration
You may also cancel your registration and membership at anytime. You will receive a confirmation of this within 24 hours and no further contact from the site. Click the My Information or My Control Panel button after logging in and amend/delete your registration in order to amend or remove your registration and profile.
Access, Amendment and Deletion of Personal information
This site gives members the following options for changing and modifying information previously provided: click the Change Profile button after logging in and amend your profile which is then re-submitted for approval. You may delete both your registration and profile details from your system by going to your account panel and pressing Delete me. You should note that where your profile has been active on ThaiExaminer interacting with other members, a permanent record of such interaction is retained for security and integrity purposes for a limited period of time. If a registration was not created on ThaiExaminer.com, then no data is retained. If you require any assistance in deleting your registration, please contact ThaiExaminer as outlined below. We will be happy to assist you.
EU GDPR requirements
Please note that our website observes the requirements of the EU data protection directives and has appointed a Data Protection Officer in accordance with data protection requirements.
Any information or queries can be directed to:
Pranee Theepsawang
AtlanticThai Internet Co. Ltd
Email: info@atlanticthai.com
Our company will cooperate with any request for information from authorities in the Republic of Ireland or Thailand regarding our use of data and data protection procedures.
Sensitive Data or Fields required
Our website operates a dating and social networking service function which is optional for our members. To use this service we encourage our users to supply information on sex, current relationship status and a number of other fields that are necessary to provide the optional service.
Third parties – we do not share your data with a third party
The data on ThaiExaminer.com is not shared with any third party for any reason or used for any other purpose than that which is obvious and serves the purpose of the website. The website is operated by AtlanticThai Internet Co.Ltd in Bangkok, Thailand with sales, billing and marketing services carried out by our subsidiary company AtlanticThai Premium sales LTD. Data is shared between parent and subsidiary company on a select and restrictive basis . Data is not moved from one server to another or across international boundaries.
An exception made where an account has been abused or used for illegal activity which is the subject of an investigation by authorised authorities or a police forces in a situation where such authorities have requested the data or a court order has been issued. This website operates in compliance with international law but also specifically the laws of the Kingdom of Thailand which require website operators to provide information to appropriate authorities. The website also observes EU law and the laws of the Republic of Ireland. All original data can be removed by request except where data is saved pending a criminal investigation. It is the policy of this  website to cooperate with law enforcement authorities or lawful court orders.
Server and storage of Data
All data is stored on our server networks which are located in the United States of America. Data is used by our support and operations team in Bangkok Thailand solely in the management of our business in a secure environment. We take all reasonable steps to secure our data. We are happy to answer any queries or enquiries from the public provided the information sought does not compromise our security.
Contacting the Web Site
If you have any questions about this privacy statement, the practices of this site, or your dealings with this Web site, you can contact: support@thaiExaminer.com.
Address:
ThaiExaminer.com
AtlanticThai Internet Co. Ltd.,
5/312 C3 Building,
Muang Thong Thani,
Bangkok,
Kingdom of Thailand
11120
Tel: 0066-2-9815007 Fax: 0066-2-9815009
Irish subsidiary
AtlanticThai Premium Sales LTD
Unit 3D North Point House
Mallow Rd, Cork, Ireland, T23 AT2P
Tel +353 21 234 0256