Thank you for your interest in ThaiExaminer.com – the news website for foreigners in Thailand and growing social network where you can learn more about Thailand and meet new friends. Here's how to get in touch with us at all times.
ThaiExaminer.com is available 24 hours a day through our email supports and ticketing system. ThaiExaminer is operated by AtlanticThai Internet Co. Ltd in Bangkok where we have our newsroom and but advertising and premium sales and support operations are operated by our fully owned Irish subsidiary AtlanticThai Premium Sales Ltd. in the Republic of Ireland. To contact us please see the information below.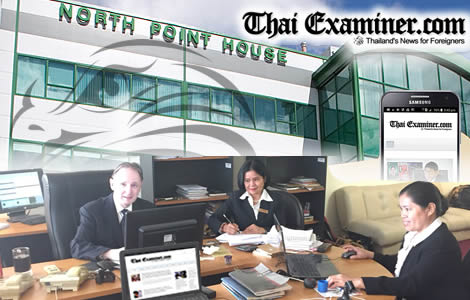 Login to your ThaiExaminer.com account where possible and use our ticketing system

If you are an existing ThaiExaminer member, news correspondent or advertiser we strongly recommend that you login to your ThaiExaminer.com account and submit a support ticket to the relevant department.
Please read down and see which option is the best for you. You contact us by email or telephone.
info@thaiexaminer.com
ThaiExaminer.com is a trading division AtlanticThai Internet Co. Ltd in Bangkok.
AtlanticThai is a worldwide digital media company driven by database technology. The company operates internet radio, news, entertainment, social networking and dating sites. To contact the Thai Examiner newsroom or editorial and operations centre here are the contact details:
Thai Examiner.com
AtlanticThai Internet Co. Ltd.
5/312 C3 Building, Muang Thong Thani,
Nonthaburi, Bangkok,
Thaland, 11120
Tel +66 02 9815007
Advertising and Premium membership services are marketed and sold by AtlanticThai Premium Sales LTD in Cork, Ireland which is a subsidiary company. To contact our billing and support teams in Ireland here are the contact details:
AtlanticThai Premium Sales LTD
Unit 3D North Point House, North Point Business Park,
Mallow Rd, Cork, Ireland, T23 AT2P
Tel +353 21 234 0256
Email: premium@atlanticthai.com
24 Hour email support for all ThaiExaminer people in Thailand and around the world

ThaiExaminer.com operates a 24 hour support service for all our services. If you are an advertiser, please note that you can book directly online and create an account. Users should avail of our ticketed support system for prompt and comprehensive service. The following is a list of emails that you may find useful if looking for support:
General enquiries: info@thaiexaminer.com
Advertising queries and service: advertising@thaiexaminer.com
News operations: news@thaiexaminer.com
ThaiExaminer Clubs: clubs@thaiexaminer.com
User Support services: support@thaiexaminer.com