Injured were taken to Lampang Hospital the Mueang area of the province after being extricated from the bus.
Ten injured Italian men were rescued by local volunteers following a minibus accident on Friday afternoon in Lampang province.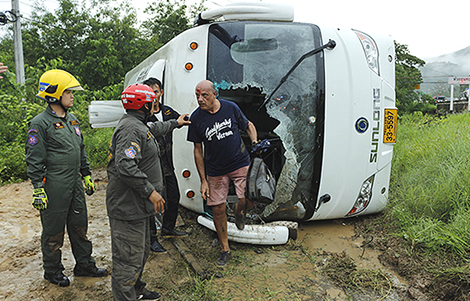 The mini-bus was travelling on the Thai road in wet conditions. The driver lost control as it slid and ended up veering off the road in the Mae Tha rea of Lampang province.
Ten Italian tourists who were travelling in the vehicle are reported to have been injured. Only one Italian avoided injury as the bus toppled into its side. One Italian woman was said to be in a serious condition following the road accident which took place at 3.45 pm on the main highway 11.
Bus travelling from Sukhothai in central Thailand to northern Lampang province
The bus was travelling from Sukhothai province in the centre of Thailand to Lampang, east of Chiang Mai. Local rescue volunteers arrived at the scene and helped extricate the passengers from the bus. All injured passengers including the Italian woman were taken to the Lampang hospital in Mueang area of the province.
Accident caused by a slippery road due to rain
Reports from the scene suggest that the bus slid off the road due to torrential rain as it was descending on a stretch of road for approximately 1 kilometre. The accident happened just before an intersection on the road that leads to Mae Moh.
Police are not releasing the names of the injured tourists or the driver at this stage.
Further reading:
Fatal passenger van and bus accidents on Tuesday caused by drivers who fell asleep at the wheel in the early hours