There is a pattern to fatal bus accidents in Thailand, it is this: sleep deprivation and drugs both driven by overworked drivers.
On Tuesday morning in Thailand, 3 people were killed when a passenger van and tour bus both lost control and crashed into trees in different parts of the kingdom. One accident occurred in Lampang province in northern Thailand while the other was in Chumphon province in the South, both drivers were suffering from sleep deprivation.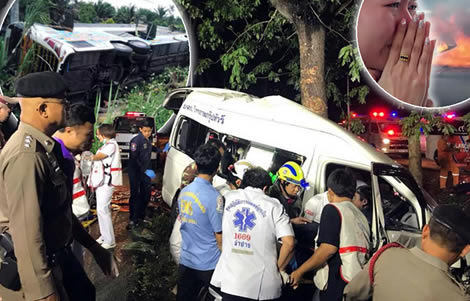 Two buses in different parts of Thailand on Tuesday crashed killing some of the passengers. Both drivers survived and both had fallen asleep at the wheel.
The first incident occurred in Ko Kha district of Lampang province in northern Thailand. A passenger van was carrying 9 passengers from Tak province to Chiang Rai when the van ended up twisted around a tree after careering off the road at 4 am.
Driver placed under investigation by police after passenger van smash – man fell asleep
The 36-year-old driver of the van, Phitsanu Sitsungnoen, admitted to police that he had fallen asleep while steering the van. He said he awoke to find the van crashed into the tree with injured and dead passengers. The survivors could not manage to exit the vehicle because of the damage caused to the van which had jammed the doors. Police at the scene were questioning the driver further and indicated that the man would be placed under investigation.
Alarm raised at 4 am when reports of the crash came in. Emergency services and police responded
The alarm was raised in relation to the van at 4 am when police and emergency services were summoned to the scene of the shattered vehicle. It had wound itself around a tree which was part of a large ditch into which the van had careered into as the driver lost control. The police officer in charge at the site was Police Captain Kankawee Meetham who briefed reporters.
Two Mynamar men found dead among nine passengers, survivors were 1 woman and 6 men
Emergency service workers worked hard to extricate the passengers from the van many of whom had sustained injuries. Two passengers, reported to be from Myanmar, were found dead. They were named as 49-year-old Muang Ngo and Mo Naing who was 44 years of age. The surviving seven passengers included one woman and six men
Hours later a bus in southern Thailand overturns with 19 students aboard – another driver asleep
Some hours later in Thailand's southern province, a similar event occurred this time involving a tour bus carrying students to a mathematics camp in Bangkok. The crash occurred in the Lang Suan area of Chumphon province.
Chumphon bus had set off not more than two hours after the crash in northern Thailand
The bus had set off at 5 am and carried 19 passengers who were all students from a Hat Yai school in Songkhla province. The school had hired the bus to ferry the students to Bangkok. This was confirmed to reporters by the maths teacher at the school, Jiraphat Kueakul.
Bus also lost control and hit a tree – one 17-year-old male student killed as it overturned
The accident saw the bus driver also lose control of his vehicle and it swerved, hit a tree and overturned. A 17-year-old male student named as  Prompiriya Semneng was killed at that moment and 18 other students were rescued from the bus including 12 girls and six boys. 
27-year-old driver charged with reckless driving by police after he admitted feeling tired
Police have charged the 27-year-old bus driver with causing death through reckless driving. He has been named as Warodom Chudrung. The driver admitted to police that he had fallen asleep. He said that he felt himself getting sleepy and had decided to pull over at the next available layby. Unfortunately, the next thing he realised was that the bus had crashed and overturned. 
Pattern with bus and passenger van crashes in Thailand of sleep deprivation or drugs
There is a consistent pattern in many of Thailand's passenger and bus accidents. One clear trend is the number of accidents that occur because of sleep-deprived drivers. Many drivers are working continuous shifts and there have been calls for regulation to counter such safety risks. The second aspect of concern is the number of drivers involved in accidents who are found to be using narcotic substances to keep them awake unlike the two drivers on Tuesday who seemed to be suffering from chronic sleep deprivation.
Thai government planned to crack down on passenger vans after horrific 2015 Chonburi crash in which 25 people were killed
The Thai government, following a horrific crash involving a passenger van on a Chonburi motorway in which 25 people lost their lives in 2015, at one point suggested that passenger vans would be banned in Thailand. This is a particularly difficult proposition as this low-cost mode of transport, driven by ruthlessly efficient commercial enterprise, is used and valued by many Thai workers in both urban and rural areas to get about. It is cheap and effective public transport.
26 daughter aboard the passenger van that went up in flames after its LGT gas container exploded
The 2015 crash in Chonburi was caused by another sleep-deprived passenger van driver whose van was involved in a head-on collision with another vehicle. The impact of the crash caused the van to become engulfed in flames when its LGT gas container exploded. Passenger vans had been using this cheaper form of fuel to make economies. One of those killed was 26-year-old Hathaitip Modpai whose mother first heard of the accident when she saw a clip of the burning van on the TV news. She knew her daughter was on board heading back to Bangkok after visiting her.
A subsequent investigation of the crash identified that the driver had been working continuously over an extended period of 33 hours without sleep before the accident.
Drugs and crystal methamphetamine use prevalent among some drivers to stay awake
The second familiar pattern in Thailand's transport industry when it comes to accidents is the number of bus and van drivers who are found to be using illegal drugs particularly the substance known as crystal methamphetamine or ice. Neither of the two drivers this Tuesday, it should be clarified, is reported to have been either drunk or under the influence of a narcotic substance. 
Bus driver sentenced to 4 years in jail after killing 18 from Kalasin province in 2017 
Last year, a bus driver was sent to jail for four years after he killed 18 people after a bus returning Kalasin province residents crashed in March 2017. The driver ran from the scene of the accident amid carnage and chaos. Police later discovered that had a prior criminal history involving drugs and was addicted to crystal meths. The problem with the drug is that it destroys the judgement of those who take it and makes them either overconfident or paranoid. It is reported that quite a few drivers working in Thailand's transport system also including some taxi drivers, use the drug to stay awake longer allowing them, therefore, the capacity to work for longer periods. 
For further reading:
Thai emergency rescuers cry as they meet 3 year old boy in Nakhon Ratchasima bus accident site
World Bank report warns Thailand of huge potential economic loss caused by road carnage
Thai man burns down his family home: Thailand's drugs problem is still a very real threat to society