Thai police were shocked to discover that a wanted 43 year old fraudster, who was sought by them on several provincial court warrants and in relation to up 19 unsolved cases involving fraud, had registered for early voting in this month's election in Bangkok's Bang Khen area. Nevertheless, the alleged fraudster turned up this Sunday for early voting in the Thai general election. Unfortunately for him, waiting Thai police spotted his disguise and his attempt to escape led to his tragic demise.
A determined fraudster registered for early voting at a Bangkok polling station for the Thai general election. As voter queued up on Sunday across the country, Thai police in Bangkok were on the lookout for 43 year old Nattawat Pukaew, a notorious and wanted fraudster in relation to many criminal cases. At the Bang Khen polling station today in Thailand's capital city, he did not disappoint them and was quickly spotted by some eagle eye police disguised with a wig.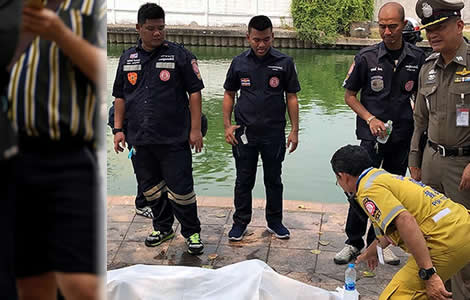 Thailand's electorate went to the polls on Sunday for early voting for the March 24th election. There are reports of a huge turnout with long queues as enthusiasm for the election has some pollsters suggesting that up 96% of eligible voters intend to turn out to cast their vote. One of the the voters today was more determined than most.
Wanted man registered for early voting in Bangkok for Thailand's general election
He was a wanted fugitive from Thai justice. A man wanted by the Thai police in relation to as many 19 unsolved cases all involved fraudulent activity. He was also the subject of a number of arrest warrants issued by Thai provincial courts in provinces where he had carried out his criminal exploits. But the Sunday of early polling in Thailand was, sadly, to be the man's last.
Serial fraudster very committed to playing his part in the Thai democratic process
43 year old Nattawat Pukaew was already on the police watch list at the Bang Khen district of Bangkok this Sunday as police had been shocked to see his name registered as an early voter at the polling station. They were waiting at the government building in the district for his arrival. This was obviously a criminal committed to playing his part in the Thai democratic process.
Police spotted Nattawat disguised with a wig
Some sharp eyed policemen spotted the fraudster during the day as queues formed wearing a wig in an elaborate disguise. It is reported that the 43 year old saw some of the signals between the policemen who had set eyes on their quarry as soon as he was within the precincts of the district government building where the vote was taking place.
Fled from eagle eyed police and threw himself into a temple pond where he drowned
The fraudster panicked, knowing the game was up, and made for a temple which is near the government offices. At the the Phra Si Mahathat Bang Khen Buddhist temple, it is thought that the wanted man jumped into a pond on the premises. Chasing Thai police found only his shoes. Security personnel at the temple reported that they had called out to the man to desist from his purpose in entering the pond but he ignored them.
Nattawat Pukaew's drowned body was later retrieved and laid out awaiting emergency services.