Funeral of Suthat Kosayamat on Tuesday heard that he was a 'kind and caring' man but to his angry former classmate on Saturday, Thanapat Anakesri, he was a bully whose time of reckoning had come. Thanapat is now on the run and charged by the local provincial court with murder.
A personal grievance that had been festering for 53 years came to a head last Saturday at an Ang Thong school reunion of the class of 1966. A retired naval officer who for years had drunkenly grumbled about the bullying he suffered at the hands of a former classmate finally let his anger get the better of him. He murdered the other man with a handgun in front of horrified former school mates.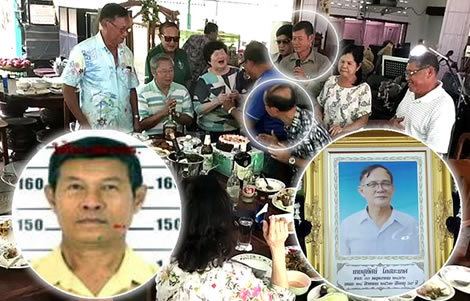 A 69-year-old retired naval officer is on the run in Thailand after he gunned down a former classmate last Saturday as they both attended a reunion of the class of 1966 of a school in Ang Thong province. The man has been named as Thanapat Anakesri. He reportedly shot his classmate who he last went to school with over 53 years ago when they were both 16, over a grievance that had festered within him for all the years since then. It is understood that Mr Thanapat felt that 69-year-old Suthat Kosayamat bullied him at school all those years ago and never quite got over it.
Funeral of the 69-year-old former tailor Suthat Kosayamat attended by the organiser of last Saturday's reunion of the class of 1966
The President of the Class of 1966 Reunion committee for the school, Tuean Klakang who organised last Saturday's event and many other in the preceding years spoke to the media following the traditional Thai Buddhist funeral of his friend Suthat on Tuesday.
Mr Tuean recalled that there was an underlying issue which Mr Thanapat never forgot about
He recalled that at their school reunions get-togethers, Thanapat would often bring up the bullying issue. 'Thanapat would get drunk then often talk about how angry he was about being bullied by Suthat. He never forgot about it. But as these things happened such a long time ago, I would never have imagined that he would have killed his friend like this. We are all shocked by it.'
A 'kind and caring man' gunned down
Mr Tuean on Tuesday, like many of the rest of the class as well as family and friends of Mr Suthat who was a tailor after he left school and subsequently retired, recalled that he was a 'kind and caring man' and was at a loss to understand what happened all those years ago and last Saturday.
Retired naval officer insisted on an apology
It appears that on Saturday after the group had enjoyed a party with a buffet of food, wine and ice cream that Mr Thanapat again broached the subject of the bullying he suffered at the hands of Mr Suthat at school. Suthat is understood to have replied that he honestly could not recall what happened to make his classmate so angry. Nevertheless, the former naval officer insisted that he apologise.
When Suthat failed to do so, Mr Thanapat drew a handgun. He shot Suthat on the spot and then made his escape from the gathering.
Police have launched a manhunt for Mr Thanapat after a local court issued a warrant for his arrest
Police Captain Sombat Somboondee of the Royal Thai Police in Ang Thong told the press that the police have launched a manhunt to capture the man. He revealed that police found an empty bullet cartridge at the scene of the shooting in addition to a dummy. A warrant has been issued by the Ang Thong Provincial Court for the arrest of Mr Thanapat on a charge of murder. The police officer says he also faces a further charge for being in possession of a gun without a licence.
Police have discovered that the elderly man has fled his home and have received intelligence that he may be hiding out in Singburi province.