General Motors has its Southeast Asian headquarters in Bangkok. It ascribes the cost-cutting move to a need for efficiency in its operations in Thailand going forward.
This week on Thursday, General Motors announced layoffs at its vehicle assembly and engine production plant in Rayong province. The company, however, in its statement reaffirmed its commitment to Thailand where it has been operating for nearly twenty years and said efforts would be made to support the workers involved.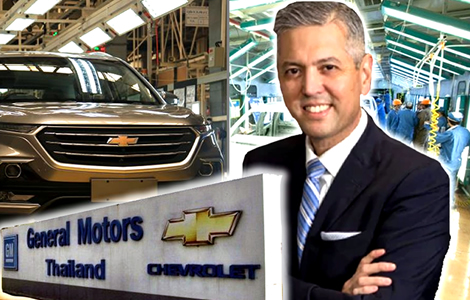 It is being reported that General Motors in Rayong province is to let go up to 300 workers at its plant in the province as it engages in a cost-cutting effort in order to make the company more efficient.
GM has its Southeast Asian headquarters in Bangkok
General Motors has its headquarters for Southeast Asia in Bangkok. It has been operational in the kingdom since 2000 and has a sales operation for Chevrolet vehicles as well as its plant in Rayong which assembles pickup trucks and SUVs. The company recently appointed a new president for Southeast Asia, Hector Villarreal who works from Bangkok.
GM invested $200 million in a new engine plant at the site in 2011 which is still in production
Since 2011, the Rayong Powertrain plant has produced engines for use in a range of GM vehicles in Thailand and throughout Southeast Asia. This was in addition to assembly operations at the facility. Eight years ago, the state of the plant involved an investment of $ 200 million by General Motors in Thailand. However, it is understood that the market for vehicles in Southeast Asia and indeed throughout the world has radically shifted in recent times.
The Rayong plant today assembles the popular Chevrolet Colorado pickup and the Trailblazer SUV. It also continues to operate as a powertrain engine manufacturing site.
Rayong is part of the government's Eastern Economic Corridor development area which the Thai government is promoting as a centre of investment and high technology for the future.
Local reports suggest that 300 jobs will be lost
The statement from General Motors did not clarify exactly how many jobs would be lost in the new efficiency drive but local media reports in Rayong suggest that 300 workers will lose their jobs in the move. The company on Thursday issued an upbeat statement explaining the need to be more competitive: 'We want to succeed in Thailand, which requires continually to deliver improved performance and operational efficiency. As such, it has become necessary to right-size and optimise our operations. We are taking every measure to support employees whose roles are impacted.'
New Chevrolet Captiva to be manufactured in Indonesia and will be launched soon in Bangkok
GM underlined that the manufacture and production of trucks, SUVs and engines would continue at Rayong. It also highlighted the launch of the new Chevrolet Captiva on September 9th next in Bangkok. This SUV is manufactured in Indonesia.
The company's Chevrolet Sales division had a disappointing start to 2019 in Thailand. Sales of vehicles are reported to be down by up to 11% year on year to the end of July.