The growing and possession of cannabis is still strictly illegal in Thailand except under a controlled government programme for medical cannabis which is now in operation after a new law was passed last year by the old National Legislative Assembly.
Thai police are searching for a Bangkok businessman after an 'integrated farm' was discovered in Nakhon Ratchasima province with a crop of marijuana at its heart disguised by other crops.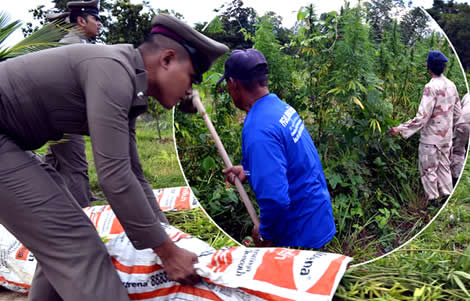 Thai police in Nakhon Ratchasima province are widening the scope of their enquiries after they discovered a secret marijuana garden this week hidden on 20 rai of land planted in what the supervising farmer of the land Phachon Kingsanthia described as an 'integrated farm' which consisted of land growing mangos, lemons and a range of vegetables.
He told Thai provincial police who raided the property on Tuesday that he had been managing the farm or large orchard for a businessman who bought the land some years ago.
Only planted the marijuana plants three months ago
He told the police chief in Nakhon Ratchasima province, Police Major General Watcharin Bunkhong that his boss had only started to grow marijuana on the property some three months ago having previously developed the integrated farm concept with Mr Phachon's help. 
He revealed to police that his boss had told him that he had obtained an official licence to grow cannabis or marijuana under the government's new medical cannabis public health programme.
Police chief in Nakhon Ratchasima not impressed – believes the purpose of the farm was to grow cannabis
However, the police chief was not impressed by the explanation. He described the land cultivated for fruit and vegetables as merely a ruse to deceive police officers from finding the 1 rai of land growing the valuable but still illicit cash crop.
Cannabis still strictly illegal in Thailand
The senior policeman stressed that the cultivation of cannabis and the possession of the drug was still strictly illegal in Thailand making those engaged in such activity liable to prosecution. The Thai government's medical cannabis scheme is a strictly controlled programme whereby medical cannabis is made available to patients who need it. It is under the supervision of the Public Health Ministry and supplied by a government-regulated farming programme.
A developing political issue at the higher end of government as coalition partner Bhumjaithai seek to liberalise the law to allow widespread cultivation
The question of liberalisation of the drug is still, however, a matter for debate in the political sphere with Public Health Minister and Bhumjaithai Party leader Anutin Charnvirakul who is also Public Health Minister, still pushing for a regime where private citizens and families can grow the crop.
However, this prospect is running into opposition from Thailand's Office of the Narcotics Control Board which drives drug suppression activities in the country. It's secretary-general Niyom Termsrisuk has recently pointed to international conventions and treaties which Thailand is a signatory to. The agency head says that these violated with significant consequences for the kingdom if cannabis or marijuana were to be allowed under law for personal use or to be grown willy nilly.
Farm manager taken into custody for further questioning by police who now seek the Bangkok boss
Police uprooted the crop on Tuesday in a laborious operation that saw 700 marijuana plants preserved as evidence. The farm was located at Ban Bu Noen in tambon Wang Mi in the Wang Nam Khieo district of Nakhon Ratchasima.
The farm manager Mr Phachon insisted to police that he only cultivated the crop as he was assured it was legal by his employer. Police, however, took the Thai man into custody for further questioning and are tracking down his employer in Bangkok to find out more about his ambitious farming scheme.
Alert to 51 stations in Nakhon Ratchasima to check for further marijuana farms in the province
The police chief has also given instructions to the 51 Thai police stations in Nakhon Ratchasima to begin a survey of their local catchment areas and establish if there are any further such farms in operation.
Further reading:
Cannabis may become a political issue as raid on Suphan Buri foundation exposes limits of new law
New Thai cannabis law but recreational use is still illegal. Tricky transition period for medical users
Police arrest an American Thai international school teacher after raid on Bangkok cannabis factory
Players in Thailand getting ready to challenge for a slice of the medical cannabis trade as new legal era nears
UK doctor and Canadian face ultimate price for smuggling ฿2.5 billion cannabis oil out of Thailand
Please follow and like us: