The raids in Bangkok this week have put four people including tow foreigners in serious legal jeopardy. They are, essentially, industrial scale drug smugglers for which Thailand retains the ultimate sanction
Thai police raided an elaborate cannabis oil processing plant in Bangkok this week which had already exported 5 tonnes of cannabis oil to Belgium and on to other European location where demand for the product is huge. The arrest of a Canadian businessman and UK doctor involved with the racket means that both men could well be facing the death penalty in Thailand for their role in smuggling illicit drugs out of Thailand with Thai police suggesting that they had exported 5 tonnes of the product in the last year. Some market estimates put the value of these shipments at $80 million or ฿2.5 billion.
It comes weeks after the Thai National Legislative Assembly legalised cannabis production for medical use but under strict government control. However, Thailand already has a grassroots movement, of people with illness and extended networks, who are producing cannabis oil and making it available within groups on a charity basis.
Thailand legalised cannabis for medical use but controlled by the government. The fight against drug smugglers has never been more fierce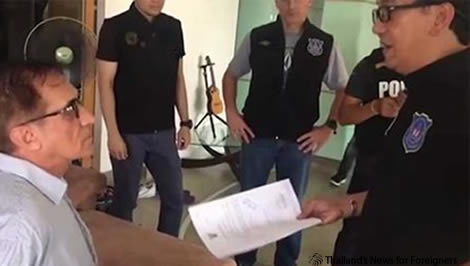 Some weeks after Thailand's National Legislative Assembly voted to legalize cannabis or marijuana for medical use in Thailand, Thai police have raided and suppressed an industrial operation in Bangkok producing cannabis oil and exporting it to Europe. The recent law, passed in Thailand, provides for the strict regulation and production of cannabis in Thailand strictly for medical use only. It also provides for this activity to be rigidly controlled by the government through government agencies. Cannabis is still strictly outlawed in Thailand, even for medical use, and the fight against illicit drugs and the moves of that trade has never been more fierce in the country than it is now.
Two foreigners, a UK man and Canadian arrested
The raid this week, saw two western foreigners arrested by the Thai police, a Canadian national and a man from the UK. They were apprehended at a warehouse in the Bang Phli area of Bangkok, being used for the illegal export racket. They were named by Thai police as 64 year old David Kulik and his British associate, 67 year old Joseph Toole. The raid resulted in the seizure over 70 kg of cannabis contained in 57 bottles, destined for export. Police also found over 6.5 kg of cannabis paste and a range of chemicals used to produce the product.
UK man arrested by Thai police as a doctor who oversaw cannabis oil preparation at industrial facility
The UK man, Joseph Toole, is reported to be a qualified doctor. Two Thai citizen were also arrested. They were named as 34 year old Suriyan Suwanchairob and 54 year old  Supakit Kaeoma. Thai police revealed that one Thai man, Mr.  Suwanchairob, acted as security and a guard for the installations while Mr. Kaeoma ran a shipping concern, which processed the exports to Belgium and onwards to a variety of locations in Europe, where demand for the product is growing sharply. The operation also used a second warehouse in Samut Prakan province, near Bangkok. Thai police revealed that the authorities were aware of the activity since March this year. It is reported that a shipment was intercepted in Antwerp, disguised as a coconut by product.
UK doctor and Canadian producing medical marijuana could face the death penalty
The cannabis resin or base for the product, is understood to have been supplied by drug operators in Laos. The UK doctor, Mr Toole, was responsible for oversight of the production of cannabis oil, which is used increasingly for health purposes, by people suffering severe health afflictions across the world. There are growing calls and voices in Europe to legalise the substance. Western governments are coming under extreme pressure from activists. The drug has been shown to have significant health benefits and for some people in Europe, it is literally a matter of life and death. However, In Thailand, it is still strictly outlawed and those involved in drug smuggling, now face the very real prospect of the death sentence. In fact, it is mandatory in many cases although Thai judges have certain discretion in respect of other matters or extenuating circumstances. Thailand carried out its first execution in June this year and many human rights groups fear that the Thai authorities may be determined to retain the measure and indeed make it active again. The ultimate penalty is very popular with Thailand's conservative public and this has been consistently shown in polls.
Japanese man behind cannabis export operation
Reports and statements issued by the Thai police suggest that the Canadian man, Mr. Kulik, bankrolled the elaborate project in association with a Japanese citizen who was not detained. The operation had been up and running for over a year and Thai police estimate the group had already exported 5 tonnes of cannabis oil product to the European market. The press was briefed, on the raid and arrests operation, by Royal Thai Police Deputy Chief Chalermkat Sriworakan. Recent reports suggest that the cannabis oil product can generate up to $16,000 or ฿500,000 per kilogram, supplying a market where the need can often by a matter of life and death. This would put the value of the drugs shipments to Europe at a whopping $80,000,000 or ฿2.5 billion.
Thailand's bill to legalise cannabis for health purposes but it is to be strictly controlled by the Thai authorities
The recent legalisation bill, passed by Thailand's National Legislative Assembly, will see the Thai authorities producing cannabis and other drug products, including cannabis oil, for use in the health sector. The law, passed unanimously by Thailand's legislators, was also seen as step towards more liberalisation of Thailand's harsh drug laws. In Bangkok and other Thai cities, there is already a widespread movement among people who are ill and who have family with illness. This involves not only the consumption of cannabis and cannabis oil, but also in the production of it. Indeed it is reported that many of these activists have come forward to meet people with influence in government circles at public seminars and meetings in the last few years. It has even been suggested that Thailand's hospitals, where the drug may soon be legitimately available under controlled and professional conditions, may generate increased levels of medical tourism. Such is the demand for the drug across the world.
2017 investigation shows Bangkok cannabis oil network of over 200 people sharing the drug
An investigative report in the South China Morning Post, in 2017, contained an interview with Buntoon Niyamapha, who lives in Bangkok. He became interested in the medical effects of cannabis in 2012 when his sister Kamootpon was diagnosed with cancer. His sister was nervous at first but her brother showed her the research which he had found online. Today, she is cured but takes a drop of oil on her tongue every night for insurance against the threat. The Thai man and his network were reported to be producing 2 to 3 kg a day of the product at his home with a frying pan and some laboratory equipment. He described the operation, which he was leading, as a 'charity' and not a business. 'I'm the Robin Hood of Cannabis.' he said.
Thai man given 2 months to live in 2002 says God wanted him to promote cannabis oil as a cure
The Thai man had used cannabis as recreational drug prior to this, but took a deeper interest when his sister developed cancer. The report also spoke with Nivate Pipatanatiganant, who was given two months to live by his doctors in 2002. He quickly resorted to cannabis, giving up chemotherapy. He later became monk and altered his lifestyle. His cancer is now cured, but he never told his doctor about the treatment. He said his doctor thinks it is miracle. Nivate claims that God gave him cancer, so that he could spread the world about the cure and help hundreds of people.
The jury is still out on cannabis but changing with regard to the medical use of the substance
There is evidence in ancient Chinese writings, dated as long as 4,700 years ago, that cannabis is a cure for many health problems such as arthritis, malaria and even careless thinking. It is also noted by advocates of the treatment, that the drugs was in wide use by doctors in the western world until it was suppressed in the 1930s by conservative elements in society. This should be balanced by respected and authoritative medical reports from government health experts in western countries, which do show that sustained cannabis use can lead to substantial mental aberrations. It is also framed as a 'gateway' drug, which leads on to the use of other more dangerous substances. It is linked, in the minds of more conservative people in society, and perhaps older generations, with personal degeneration. The drug has been legalised in Uruguay, Canada and some U.S. States but strenuously resisted in others in addition to the United Kingdom as well as Europe. Western governments are coming under sustained pressure from public opinion and activists, to legalise medical marijuana use across the world. Thailand is now decidedly ahead of the curve on the issue but must still deal with criminal activity where it arises, as it has this week.