Thailand's outgoing National Legislative Assembly is finalising a new law which will open up a new era for cannabis use in Thailand for medical purposes. Challenges and opportunities exist in abundance as interest groups and commercial concerns debate what will and what should happen next.
Thailand's decisive move to legalise medical cannabis use in the country is being finalised by the legislature and is expected to become law shortly. It provides for a closed system to produce and experiment with cannabis as well as other drugs currently scheduled. Many see it as a move towards further relaxation of the war on drugs, while others are concerned with the interest shown by foreign firms in patenting cannabis health derivatives. Patent requests have already been lodged. In the meantime, there have been arrests and raids against some individuals and groups selling cannabis for medical use on an open basis and internationally. As the new regime for cannabis and some other drugs is ready to dawn, there are still challenges to be negotiated by both the government and those interested in winning a part of what will be a $25 billion worldwide industry by 2025 and those who simply want to access it as a critically needed medical treatment.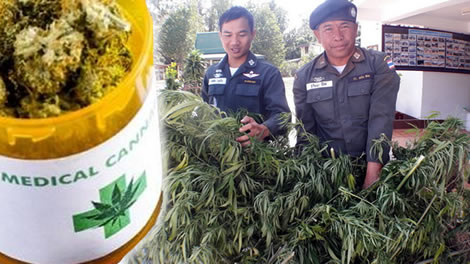 Thailand, at the end of the year, made a decisive move to legalise cannabis use for medical purposes. The Thai cabinet approved a comprehensive bill and plan, which is currently going through the National Legislative Assembly. It is expected to become law next year and be a 'New Year Present' from Thailand's outgoing legislative body which will be replaced next year by an elected parliament, following an election scheduled for February. However there are already rumblings and issues that are generating confusion. It appears that the bill, which legalised the production and use of marijuana or cannabis in a 'closed' system, has created a potential minefield for the government to administer. The key issues revolve around confusion as to the status of the drug among the public and competition between competing parties who want to get in on what could be a highly lucrative business.
There are many people in positions of influence both within the Thai government, the administration and on the fringes of power, who would like to view this law as an opening gambit to further relaxation of the rules around drugs in the country. There is a growing concern at the high cost of the drugs war in Thailand and in particular, the high numbers of Thai people being imprisoned for low level offences. Thailand's prisons are chronically overcrowded and it is felt that this may be the solution to that problem
Thai Prime Minister ruled out the legalisation of cannabis for recreational use when questioned
Those using cannabis in Thailand should be aware that the drug is still prohibited. To be caught in possession of cannabis still has severe legal consequences under Thai law. At a press conference for young scientists, at the point where the initiative as announced, the Thai Prime Minister firmly ruled out the legalization of cannabis for recreational use. In the meantime, the drug is still criminalised across the board. Its legal use will be limited to activities approved by the Thai government and monitored by the Thai Ministry of Health for which exemption from prosecution will apply.
Two foreigners may face capital punishment after cannabis raid by Thai police on cannabis plant
Just last week in Thailand, two foreigners were arrested for exporting a huge quantity of cannabis oil to meet growing market demand in Europe. Two warehouse units were raided by Thai police in Bangkok and Samut Prakan. One was a Canadian businessman and the other a UK doctor. Two Thai associates were also detained, involved with shipping and security for the operation believed to have been financed by a Japanese man. The fate of the operation, which Thai police had known about for some time, means that all those involved will face the real prospect of a life prison sentence if not capital punishment when the matter comes before the Thai courts.
Cannabis networks in Thailand face legal peril
Meanwhile there are informal and casual networks of cannabis growers and those who prepare the drug for medical use in Thailand. These networks use household facilities and appliances to produce cannabis in other forms for health purposes. The cannabis is prepared for those who need cannabis and its derivatives for medical purposes. Many of these groups have lobbied to have the law changed but still find themselves in a legal limbo. They include quite a few Thai people with a range of ailments and in many cases, a terminal cancer diagnosis. On the one hand, clearly, they are facing legal peril as the law currently stands but it is difficult to see action being taken against them, given that these are vulnerable people, the change to the law with a new regime being activated and public opinion on the matter. The new provisions clearly see the drug being controlled by health professionals under the auspices of Thailand's Ministry for Health. However this could well develop into a system with quite a broad coverage depending on official policy.
Thai man in Korat busted for advertising the drug on You Tube a s he thought it was legal
The arrest of the foreigners in police raids last week, along with two Thais, illustrates the ambiguous position. On a smaller level, a Thai man from Korat was also arrested by Thai police at the end of November. He had openly advertised the sale of marijuana online via YouTube for medical purposes. 31 year old Rangsan Wisetlinthng, was arrested after promoting homemade cannabis products on his YouTube channel to the public. Thai police raided his house in the Bueng Kanin area and seized a large quantity of the drugs, including an assortment of derivatives and seeds. The man was living near a border area adjacent to Laos. He told the police that he had read in media reports that the drug had already been decriminalised and believed the way was open for him to market the product legally. He was, of course, wrong. The law clearly provides for controlled use of the substance and only for medical purposes. The law has also not yet completed the legislative process.  However, there is huge public support in Thailand for the decriminalisation of the drug with 99% of respondents to a Thai Senate survey indicating this as the preferred option.
Huge international market for cannabis is opening up with foreign firms targeting Thailand
The new legal provisions have also opened up a vigorous debate about patents and the involvement of foreign firms in what could become a new commercial business sector and activity. The market for cannabis worldwide is set to grow exponentially in the next 7 years from $13 billion now to $50 billion in 2025. The scale and quantities of the drug, exported by the gang raided by police last week, is some indication of the commercial value of the business. It is estimated that the small group of people exported $80 million of cannabis oil to supply the growing medical market in Europe much of which still operates in a black economy.
Thailand has the climate, culture and reputation for producing high quality cannabis
Thailand has a long history of cannabis production. It not only has the best weather for growing the crop in the world, but it is also capable of producing cannabis of the highest quality. The drug was only made illegal in Thailand in 1934 and was used extensively as a health inducing substance prior to that. Thailand is the home of the cannabis 'bong' and it is reported that many hard working Thai farmers used the substance to relax after hard, joint aching days working in the fields. It is also thought that the high quality of the substance in Thailand, when introduced to American GIs  in the 1960s, helped spread the popularity of it further during America's flower power era. There are already Thai companies that have been setup to produce and manufacture cannabis for health purposes to cater of the growing market. The legalisation of the product has also drawn the attention of Thailand's medical industry with private hospitals and medical centers anticipating a boost to medical tourism when the new regime comes into effect.
Debate now moves to patents lodged to produce cannabis products in Thailand by foreign firms
However, since the vote by the Thai cabinet to go ahead with the new law, the focus has moved to patents. There are a number of foreign firms that have applied for patents and some Thai people, including activists, feel that this could be an impediment to poorer Thai people, with ailments, enjoying the full spectrum of medical benefits derived from allowing cannabis to be used in the public health system and elsewhere for medical purposes. One of these activists is Chokwan Kitty Chopaka. She works with the Highland Network. This is a  body that has been to the fore in promoting the legalisation of cannabis in Thailand. 'Granting these patents is scary because it blocks innovation and stops other businesses and researchers from doing anything related with cannabis,' she told the Bangkok Post recently. She expressed horror that patents have already been applied for by foreign firms targeting substances produced from the cannabis plant. The activists compared such patent applications to patenting water in Thailand which would clearly be wrong.
There is a growing disquiet about the interest being shown by foreign firms and the existing patent applications. A spokesman for the Thai government, Puttipong Punnakanta, however, has suggested patience. He cautions that it would be better for the patent application process to take its course and pointed out that the Thai government must be seen to respect everyone's rights under Thai law.
New law does herald a new era in Thailand's drugs policy but precludes open use of drug 
The Thai cabinet approved the new law unanimously. It provides for not only the legalisation of cannabis for medical use but the production of cannabis and other controlled substances under the supervision of Thailand's Narcotics Control Board in a programme to be supervised by the Ministry of Health. The move is seen by many as decisive and could herald a new approach to the drug problem in Thailand as well as the country's war on drugs.
The Thai cabinet took the historic decision last month when it approved a new bill on controlled substances which makes it illegal to import and export marijuana for medical purposes. It also provides for possession of the substance with this intent. Although a spokesman for the Thai government warned specifically, that this new law does not allow for the growing of cannabis for personal use or in someone's garden, it is being seen by observers as a step back from Thailand's war on drugs. Whether this interpretation is correct or not, remains to be seen but there are signs that there is a change of attitude.
The war of drugs was ramped up by Thailand in previous decades in coordination with American law enforcement agencies and indeed is still ongoing. Thailand faces a unique threat from huge drug organizations on its border, some even taking the form of mini states.
Reports that some Thai leaders and influencers are examining the ongoing war on drugs
Lately there is a growing body of opinion in Thailand that the time has come to scrutinise this effort. The reason for this is the growing population of Thai people being detained in overcrowded Thai prisons for minor drug use. One particularly emotive aspect of this, for those who want to see change, is the number of Thai women jailed for possession of drugs, often for very minor infringements. There are now over 30,000 Thai women jailed in Thailand making up 10% of the prison population. 82% of them are landed there on drug charges, which can carry very stiff sentences even at the lowest level. In recent years, Thailand's lawmakers have eased the mandatory sentencing policy somewhat for lower level drugs but the penalties are very substantial by international standards.
New law could be a step towards a new era
Another compelling argument is the amount of money Thailand is spending on the drugs war estimated to be over $3 billion per annum. It can also be argued that a relaxation in the legal code gradually, over time, may allow authorities to fight the bigger battle on drugs against the key players and threats. Indeed some very radical thinkers have even suggested that Thailand controls the trade itself and cut off the market to international criminal cartels. This new law, just announced, applies itself strictly to controlled medical purposes. It does not, in itself, provide any let up on the war on drugs but it is perhaps a signal for things to come. It is important to note that the new law doesn't change anything in Thailand when it comes to controlled drugs and police enforcement of the issue. This is strictly a response to a health need as credible studies have shown the effectiveness of legal marijuana in the treatment of neurological issues, Alzheimer's, Parkinson's and Cancer. However the fact that the new law is not restricted to cannabis does suggest a broader plan. The involvement of Thailand's health ministry is also significant and could see the introduction of a more humane, European approach to drug addiction suffered by Thais in the future.
New law does not address the recreational use of cannabis or other controlled drugs in Thailand
On the other hand, Thailand must act carefully as there are still many who believe that drugs, at all levels, are a particular danger to the country and its population. Thailand's Prime Minister was asked recently whether it was time to legalise cannabis together and he was definite that this relaxation in the law only applied to cannabis for medical use. The Secretary General of the Narcotics Control Board, at that time, pointed out that the farming of cannabis in Thailand will now be carried out under a strictly closed system. Measures will be taken to ensure that cannabis, grown for medical use, does not end up being offered for recreational use or 'in the wrong hands'. According to the bill, the Ministry of Public Health may designate specific areas for legal consumption of kratom, another addictive plant consumed by Thai people.
Law exempts doctors and those under their care from criminal prosecution for use of drugs
The new law will allow Thailand's Ministry of Health to allow certain identified areas to be appointed for the legal use of kratom, a Thai plant that is particularly popular in Thailand and is also reported to have significant health benefits. The law will provide an exemption to health personnel including doctors and people under their care from criminal prosecution under Thailand's existing strict drugs laws. Puttipong Punnakanta, the Thai government spokesman, said the Cabinet wants the Public Health Ministry to closely monitor the use of marijuana for five years, after which, the bill will be reviewed for further adjustments.
Ministry of Health to oversee new law
The new law provides for this new dispensation and regime to be monitored by the Ministry of Public Health. At a later stage, specific changes or amendments may be made to the bill as required. It is clear, from the legal provisions that have been agreed, that the new law may benefit current users of the drug who have a medical condition that requires the drug for treatment and may, in fact, see Thai people treated for their illness rather than being landed in a Thai prison. This depends, of course, on how the law is implemented. The new bill not only applies to cannabis but also to the locally grown substance kratom, another category 5 drug as well as all drugs under this category where benefit can be derived from medical treatment with the substance. Thus may also be very significant.
New drug law that allows the medical use of cannabis is very significant, perhaps a first step
Some observers are interpreting this move as an indicator of a new approach to the war on drugs, one that would see Thailand differentiating itself from Asian neighbours and steering a more humane path. However, it is far too early to come to this conclusion as Thailand's police and military are still engaged in a huge struggle against drug producers who have increased output over the last year to record levels. The practical nature of the new law being proposed and its application to other category 5 drugs, does suggest that the new law is tasked with making life easier for Thai people with medical issues. The swift introduction of the law also shows the the Thai government is acting very decisively
The new legal provisions on the medical use of cannabis and other drugs in that controlled range is now nearly finished its legislative course. After the law comes into force, Thailand's health ministry will oversee its application over the next 5 years.
Intellectual property issue now engages Thai lawmakers who support the drugs bill
Somchai Sawangkarn is one of the law's proposers and backers. He has now raised the issue of patents and IP rights related to pharmaceutical companies. The concern is over the foreign companies who have filed intellectual property right suits in relation to some medical treatments using cannabis. Thailand's government department, which oversees intellectual property rights has accepted these patent applications and is currently reviewing them. Somchai is vigorously opposed to the suggested patents and is urging that even the reviews be thrown out at this stage. 'According to the law, you still can't patent the drugs, even accepting the applications isn't allowed,' he said. Lawmakers called on the intellectual property department to clarify the matter and the government agency was even asked to appear before the legislative assembly.
New dispensation for the future
It is certain that once the new law takes effect, a whole new industry and interaction will occur in Thailand centered around the use of these drugs including cannabis. It is unclear yet how this will develop. The medical benefits of the drug can be attested to, most impressively, by the networks already using it informally at the risk of severe criminal penalties. The decisions made by Thailand's Ministry of Health and government bodies will be crucial. Cannabis is still seen as a drug with many negative connotations, particularly to do with mental health. It is still criminalized in most countries. This remains the case in Thailand for recreational use. The change of status and increased use of the drug and other substances, also contained in the provision, may well lead to a new dispensation in the future but will also certainly creating new challenges for administrators in the short term.
UK and Canadian man busted by Thai police running $80 million Cannabis oil export racket