A young Irish couple waiting for their flight at Bangkok's Suvarnabhumi airport were looking forward to Christmas in Ireland. Instead they found themselves in the same Bangkok prison, separated and facing years not as mates but inmates.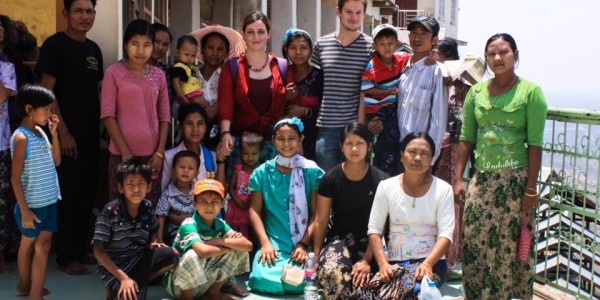 'The Thai visa process is an over complicated process and sometimes agencies like mine bend the rules to try to simplify matters and speed things up.' These are the words of a Thai man who in 2013 was arrested by Thai authorities for visa fraud.
 Irish couple teaching in Thailand handed passports to agency
Santipot Nakduang was speaking to an Irish newspaper after a young Irish couple found themselves imprisoned in Thailand after working for some time for his teaching agency, Teach to Travel, based in Lopburi province in Thailand. In 2012, the couple, Marie Starr and James O'Neill completed a certificate course in teaching and later went on to work for Mr Nakduang's agency. The couple had been given a two and half month contract through the agency working at a local school in Thailand. In this respect, they had handed their passports to Mr Nakduang for the purposes of extending their visa at the local Thai Immigration Office. When their passports were returned, they looked like everything was in order but what the Irish couple did not know is that the visa stamps, although they were a perfect replica of official stamps, were false in that they had false serial numbers.
 Checkin at Bangkok's Suvarnabhumi airport
Marie Starr and James O'Neill later went on to work in Yangon in Myanmar and it wasn't until a year and two months later that the couple were to discover the deception. In December 2013, Marie and James checked in for a flight at Bangkok's busy Suvarnabhumi airport to take them to London and onwards to Ireland. Minutes later they were accosted by a security guard who informed them that there was an issue with their passports. The Irish couple were left in limbo for hours before being told by Thai police that they were under arrest for possessing false visa stamps. 'We couldn't really believe, we were in shock,' James O'Neill told the Irish Times newspaper in Dublin.
 Common practice in Thailand for immigration purposes
Later, talking to the Irish newspaper about their ordeal and the background to it, James O'Neill admits that it was quite naive to hand their passports to a third party but pointed out that this is common practice in Thailand with employers and companies providing legal services. Keeping immigration visas up to date is a long winded process which often involves waiting at government offices. 'It is quite common practice in Thailand,' O'Neill told the newspaper. 'We couldn't tell the difference. The immigration said that the stamps were an exact replica except that the number was wrong.'
Held in a cell at the Airport police station
After their arrest at the airport, the couple spent six hours at the airport immigration office during which time they tried to contact friends, families or Irish consular officials in order to deal with the situation. The incident occurred over the weekend so the Irish consulate in Bangkok and the Irish embassy in Kuala Lumpur were closed. Ireland now has an embassy in Bangkok but this did not open until 2015. Due to the time difference, it was very late at night in Ireland and difficult to reach people. 'All you can think of is who is going to help when I am this far from home,' Marie starr said. From the immigration office, the couple were taken to a cell at the airport police station. The next day they were separated into male and female cells in far from salubrious surroundings. The cells had bars on the doors, a squat toilet and no bed. Luckily, the couple could see each other through the bars and were buoyed up by the assurances of a local Thai official that they would be able to go free soon after paying a fine. However this was not the case.
A court hearing and a caged bus to a Bangkok prison
The morning after, the couple found themselves being fingerprinted and placed in a jeep to be driven the local court facility. This was when things certainly began to feel like they were on a downward slope. 'It was a really intimidating place,' James O'Neill recalls. There was no judge just a booth at the top of the room with a woman inside who calls out names and is contact by phone to a judge upstairs or somewhere, you don't get to plead your case.' At the court room, the couple were again kept waiting for hours before a representative or an official working with their lawyer who had been arranged by the Irish consulate, confirmed their worst fear. The judge had denied them bail and they were to be remanded to prison. The duo were escorted to a caged bus in order to take a two hour journey to Samut Prakan prison on the outskirts of Bangkok.
Conditions in prison for Irish couple facing visa fraud charges
Marie Starr recalls the beginning of the ordeal at the prison. 'When you get there, they take all your belongings, you lose everything.' The young Irish woman was given a toothbrush, some soap and was directed to a communal cell where there were no mats to sleep on and blankets which were shared by other prisoners. The Irish couple recall that the prison was overcrowded and very dirty. James O'Neill slept at night in a five metre by eight metre prison cell with 77 other men. The Irish couple found themselves as residents of the prison and completely out of touch with the outside world. As they were foreigners, they were not forced to go out to do factory work like other prisoners and spent most of the day in the yard in the prison. James and Marie were separated and did not see each other.
Irish woman's prized possessions in Thai prison: two books
'You think too much,' recalls Marie Starr. 'Thankfully I had two books I was allowed to keep, which stopped me from losing my mind. They were my prized possessions. I kept a diary to stave off the boredom,' she recalls. The couple spent a week in the prison without any knowledge of their plight or whether anything was being done at all to free them. After one week, the couple received a visit from two officials with the Irish consulate in Bangkok who brought them much needed supplies. During their initial stay at the prison, the Irish couple spent three days without seeing each other.
Christmas Day visit from their Thai lawyer
The couple did see each other on Christmas Day when they found themselves in adjacent rooms on the occasion of a visit from their lawyer who also brought them communication from their families suggesting that they were working day and night to bring their ordeal to an end. However this initial upbeat message turned to severe disappointment when they found out what their lawyers strategy was to be in relation to the case being taken against them by the Thai prosecution authorities. James O'Neill recalls that it was their lawyers objective to get their prison term reduced from three years to one year. Naturally, the couple were shocked. They, at this point, knew that they were entirely innocent. They could not understand how the whole ordeal had come about.
Contact with Irish American priest in Bangkok
Despite the efforts of their lawyer and the extensive work by the Irish consulate, it was the couple's family who made the breakthrough which was eventually to lead to their release. The family of Marie Starr made contact with a well know Irish American priest in Bangkok. It was an inspired move. Fr. Joe Maier made contact with elements of the Irish community in Bangkok to make them aware of the plight that the young Irish duo were suffering. Fr. Maier is a well known Redemptorist priest who has worked for nearly forty years with the poor in the Bangkok slums. His Human Development Foundation charity based in Bangkok's Klong Toey district helps the poor and deprived. He is also the author of Welcome to the Bangkok Slaughterhouse, a bestselling book which gives an insight into the world of those living at the margins in Bangkok.
A startling discovery: former boss arrested by Thai authorities
A new lawyer, appointed by the Irish duo, made a startling discovery. The head of the teaching agency, Santipot Nakduang, it was uncovered, had been arrested and charged by the Thai authorities on other counts of visa fraud. Luckily, Michael O'Neill was able to retrieve emails between the agency and the couple which explained to the Thai authorities the facts of the matter. After spending twenty days altogether in custody, the couple were released and reunited. Although this was a huge relief, they were not yet fully free. This did not occur until they arrived in Dublin over one week later. Initially, they had to wait five days for the Irish embassy to issue emergency travel documents. They were then handed back to the Thai authorities in order to be deported back to Dublin via Sri Lanka on a thirty five hour flight.
Warning to foreigners traveling for work in Thailand
James O'Neill has a warning for other young western people traveling to Thailand for the purposes of work and specifically relating to visa issues. 'We knew that before we went and yet we still fell victim to it, he told the Irish Times newspaper. O'Neill recalled that before the couple had set out for Thailand, they were aware that there were many scams in the country to which foreigners could fall victim. 'This could have happened to anyone,' he says. O'Neill also warns foreigners not to rely solely on assistance from their embassies if they get into trouble. 'Life is not a Hollywood film. Embassies can't get you out of prison,' he told the Irish Times. Marie Star seemed to place more value on the efforts by the Irish consular officials. She recalls being delighted by their visits during her time at the prison. 'To be taken out of the compound just to talk to them was amazing, they were also able to bring us messages from our family, it was really touching,' she recalls.