Two French teachers in Thailand disgust world online community and tarnish the reputation of foreigners in Thailand with theft of iPhone captured on CCTV

Thai people online were appalled last month to see footage of two French tourists stealing an iPhone left unattended by a Thai woman working at a Chiang Mai travel company. The swift detection of the crime and apprehension of the suspects left the French couple stunned and Thais joking online about the special zero star accommodation reserved in Thailand for foreigners who disrespect Thai laws.
The stark difference between respect for the basic law of property rights in 'third world' Thailand and most 'first world' countries was laid bare when the rogue French couple made a startling and painful discovery. In Thailand, you can't just pick up or appropriate anything that doesn't belong to you.
French duo received a shock on embarkation of the next stage of their Thai holiday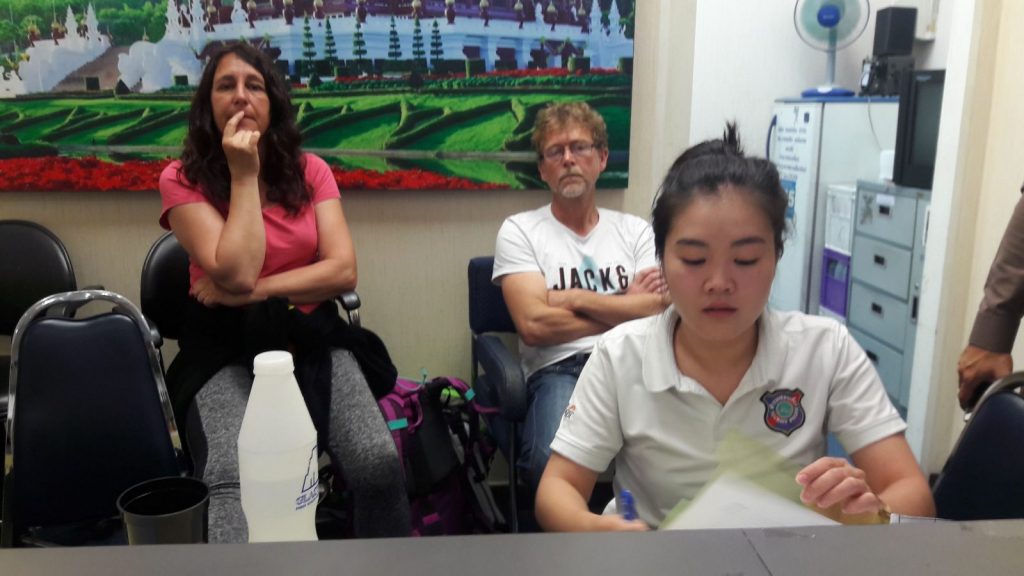 Serge and Jean-Marie Goetz, were two seemingly respectable citizens from France. The backpacking couple, in their 50s, work as teachers and were on holidays in Thailand. The two were waiting to fly to Phuket from Chiang Mai Airport. Their stay in Thailand's northern city had been both enjoyable and even profitable. They had come across an expensive iPhone which they now carried with them hidden in a backpack onwards to the next stage of their journey in Amazing Thailand. The French couple were about to board their flight that would take them to Thailand's most renowned tourism paradise, Phuket, an idyllic resort on Thailand's west coast. It seemed that everything in life was perfect until officers from the Royal Thai Police suddenly appeared on the scene. The French couple were arrested on the spot for stealing an iPhone, the personal property of a hard working Thai woman at a travel company whose services they had availed of earlier. So much for Bon Voyage. What might be a trivial matter, even beyond the remit of police authorities, in more and more western countries, is still a serious matter in Thailand where respect for property rights is still a valued principle held by Thai people.
French visitor to Thailand uses backpack to slyly shield theft of iPhone
Earlier, the couple had entered the travel agency in Chiang Mai to ask to use the washroom. Seeing a staff member leaving her iPhone unattended on a couch, Serge Gotez brazenly took the smartphone and put it into his backpack, using the bag itself to cover his dishonest act. Unfortunately for the two French teachers, the whole episode was caught by a well placed surveillance camera and the footage was later shared on Facebook which is widelu used in Thailand. It was only matter of time before Thai police later identified the thieves. Police soon followed the couple's trail by using the smartphone's tracking feature that led them to Chiang Mai Airport. The police apprehended the unsuspecting French duo there just 10 minutes before they were due to fly to Phuket. The value of the iPhone is not known but a reward of 5,000 baht was offered for its return. The news prompteding an outpouring of anger online surprisingly and alsmost exclusively from foreigners and expats in Thailand. Many expressed shock and disgust at the behaviour of the French couple. It was later revealed that the two refused to cooperate with Thai police when brought into custody instead requesting to speak to representatives of the French embassy in Thailand. Even before the couple were arrested, the blatant dishonesty of the action and the clarity of the video had drawn in hundreds of thousands of online commentators. Many online wags called for the French tourists to be offered new and more appropriate accomodation for their stay in one of Thailand's government run zero star hotels!
There is still law and order in Thailand if not in many western countries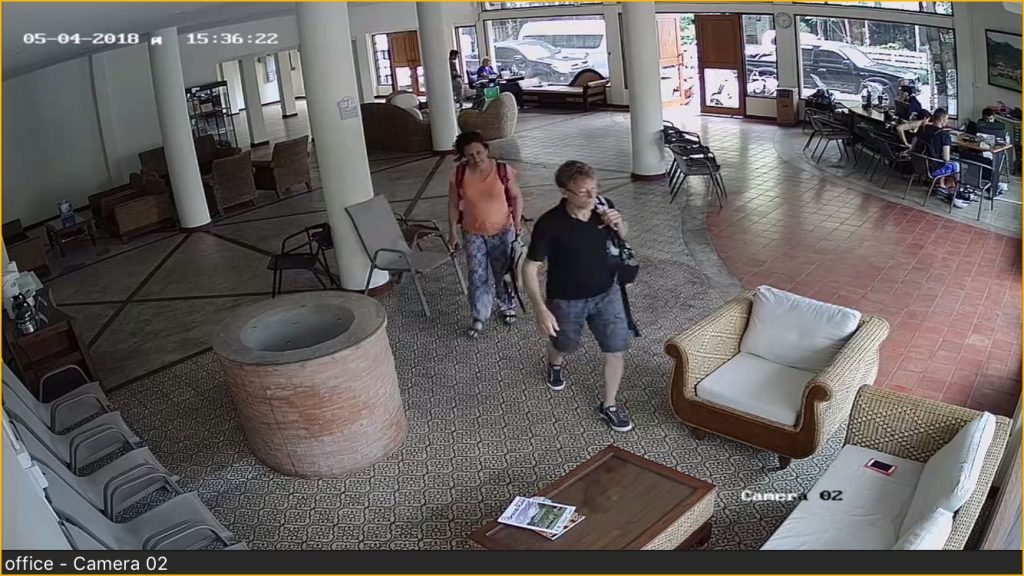 The episode seems to validate some recommendations circulating widely on backpacker forums in Thailand. Beware more of fellow backpackers rather than Thai people. According to them, although it is advisable to keep your valuable belongings close to you all the time, there is a chance that they can be stolen by new 'friends' from various countries you make along the way if you don't stay vigilant. The pieces of advice also warn of overly friendly tourists who may happen to borrow your possessions – without your knowledge or any intention of returning them. The recovery of a stolen item, like the French incident, is to some extent rare. Still, stiff sentences and Thai prison condition combined with a highly effective police force means that respect for laws endures in Thailand. In western countries police have lately tended to not react strongly or at all when it comes to petty theft. In the UK, for example, shop owners in the south of the country outside London were recently told by a UK police force that they would no longer investigate incidents where the property value was less than 300 pounds sterling.
Thai people are quite honest and Thai police detect offenders
In Thailand, very high levels of police detection of crime, staff sentences and harsh prison conditions mean that crime is reserved for those engaged in organized crime and underworld activities. Admittedly, these operations are substantial and involve scams which have left many foreign tourists with a bad taste in their mouths.  And, of course, there are dishonest or hard pressed people in all societies. There have been stories of Thais who have been caught red-handed stealing money from foreign tourists but the incidents are rare.
In Thailand reports of theft to the Thai Police are investigated
They key thing is that, if reported, thefts in Thailand are fully investigated and more often than not, the culprits arrested. This is no longer guaranteed in many western societies. Not so long ago, a baggage scanning worker at Suvarnabhumi Airport was detained for stealing 6,000 baht from an American. When the disappearance of the money was reported, airport officials became suspicious of the worker and ordered a body search. Although the money was found in the Thai man's suit, he unsurprisingly, denied the accusation. Once again, surveillance footage of the scene provided the definitive proof of the crime and led to the man's arrest. This was not the first time that  airport personnel in Thailand have been caught stealing a passenger's money. In March, a security guard was also arrested on charges of stealing 4,000 yuan from a Chinese tourist.
Hero Thai people who go out of their way to return valuables to foreigners
Thais have, in fact, in the last few decades, made a conscious effort to welcome foreigners to Thailand. It is not unusual in Thailand to be told that you are welcome by a Thai citizen on the street practising English and anxious to reach out to foreign visitors. Thai newspapers, on a monthly basis, record stories of Thai taxi drivers or citizens on motorbikes or even on foot travelling long distances to bring a lost wallet or valuable possessions of a foreign tourist to different parts of Thailand. This is the Thai concept of doing merit at work and helping the country at the same time.
What the French couple thought of as seemingly innocuous theft has caused a lot of damage to all foreigners visiting and living in Thailand. It was a cynical and deeply dishonest act. That it was undertaken by two people reported to be teachers is simply outrageous.