The many reasons that make Thailand a desirable place to live for foreigners are also attracting the wrong sort of people in unprecedented numbers
The numerous crime opportunities and the attractions of living in Thailand have made the country a magnet for enterprising criminals from all over the world.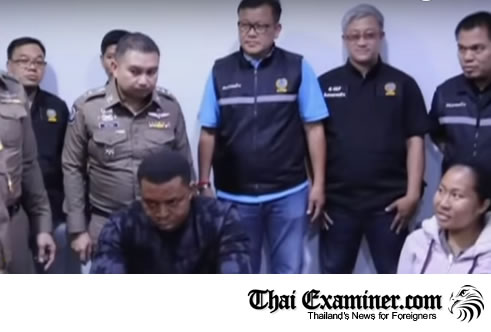 Easy access to the Internet, good infrastructure and facilities with a relatively low cost of living and desirable economic growth has weant Thailand has become a desirable destination for immigrants from all over the world. The problem for law abiding Thai citizens and foreigners living in Thailand is that the scale and complexity of illegal scams being perpetrated in Thailand by the wrong sort of foreigner is increasing. It has brought the Thai authorities to look at new measures to control access to the country and monitor all foreigners living within the borders of the Kingdom.
Fraud gangs in Thailand now targeting Thai people with limited means
Unfortunately, in recent years, many of the foreigners flocking to sunny Thailand's shores have been fraudsters. Today, at least by third world standards,  even ordinary Thai citizens are seen as increasingly affluent and these unscrupulous individuals have begun to target them. Criminals gangs which originate in Africa, other Asian countries and some remote parts Eastern Europe have now spread tentacles all over the world as mass migration continues apace. These gangs have swindled money out of a lot of unwitting Thai victims through scams which are becoming more and more ingenious and dangerous. The gangs, based in Thailand, are no longer, as in the past, using Thailand as a base to target foreigners abroad but have beg to prey on normal Thai citizens. What is even more alarming is that these rackets are causing economic loss and damage not just to well off or middle class Thai people but also to poorer Thai people across the country, many with limited means.
Raid on call centre that defrauded  Thai retirees out of millions of baht
Thailand's tourism police in May carried out a successful raid on a call center which was targeting elderly Thai retirees. The raid that took place in May and the police were able to seize 1.7 million Taiwanese dollars in cash. Previously, Bangkok police received urgent reports that many residents, mainly retirees, had been deceived into transferring money totaling millions of baht overseas. Subsequent investigations led the Thai police to conclude that the transfers had been directed to Taiwan. The Thai police immediately requested the co-operation of  their Taiwanese counterparts. Ten suspects, all linked to a Bangkok call centre, were apprehended. All of those arrested are Taiwanese while other fraud suspects were being hunted down by Taiwan police.
Police reports show a spike in call centre scams targeting Thai citizens
This was the 16th time that operations conducted by the Royal Thai Police had returned money back to victims of call-centre scams since December last year. The scale of the crisis can seen from the fact that there has been 445 telecommunication fraud cases generating illegal income of 235 million baht reported to Thai police over this period. This is information released by the Royal Thai police division in charge of targeting and suppressing call centre scams located in Thailand. The division revealed that it has worked to retrieve 36 million baht back to 85 victims so far. After an intense police crackdown, it appears that the call-centre scammers weren't long making a comeback. There are reports that a further 10 million baht in losses was reported to the Thai police in the last month. Thai police have noted that the scamming operations have now taken to withdrawing and transferring their illicit funds abroad, notably to Taiwan, to avoid detection and punishment.
Innocent Thai woman linked to scams after her ID was stolen
It has also been noted that some scammers have the audacity to open bank accounts in Thailand itself. They have been known to do so by using innocent Thai people as their accomplices. When the ID card of Piriya Sommul, a 25-year-old Thai woman, was stolen on Pattaya City's Walking Street, she thought it wasn't such a big deal. However, she couldn't have been more wrong. The Thai woman's stolen ID card was used to open five bank accounts operated by a 'romance scam' gang in Thailand. The gangsters used the accounts to receive a total of 2.3 million baht in transfers from their online victims. Her unknowing involvement led to the unfortunate and innocent Thai woman being suspected by Thai police and potentially held responsible for eight cases of fraud over the past two years. Luckily, when the police gathered more information about the gang, they were able to prove Piriya to be innocent. The Thai woman was cleared of all charges at a police press conference in Bangkok. The police announced that they had arrested the romance scammers which included Nigerian members and their Thai accomplices. A tourism police officer said that Piriya Sommul could sue the banks involved in the fraud for neglecting to enforce proper security measures in enabling the scammers to open the bank accounts.
Romance scams are now big business in Thailand for gangs
Romance scams are perhaps an increasingly prominent feature of Thailand's foreign criminal world. International security experts, including FBI agents, have identified it as a growing criminal industry that could be perhaps bigger than the international drugs business. The rise of social media and online dating sites as well as the element of trust involved for those seeking love and friendship online has opened up a lucrative opportunity for criminal gangs. Pranom Ithakhenee works with Thailand's leading international dating site ThaiLoveLines: 'We've been dealing with this issue for the last twelve years. The scale of the problem is immense and the ultimate solution is to educate people about the danger. That's what we're doing and it's working. It's a top priority for us. Our users now laugh them off and report them. This, as well as better detection and screening onsite. We have worked with authorities and police in Thailand, the UK and Australia. Our policy is to brief all our users. Once one of these people is detected, we freeze the account and warn users in contact with that account. We keep a file of IPs and other information which might be needed to assist investigating authorities. In the last 6 months I'd say these gangs are being rattled in Thailand but they're also operating in Malaysia, the Philippines, Korea, Singapore, Hong Kong, we now block a couple West African countries altogether but they're moving to Facebook, the social networking site, they're even creating their own bogus sites and targeting people through email.'
Nigerian who cross from Malaysia targeted Thai women in Lampang and Nonthaburi
Last month, Thai police arrested Emery Henry Ogba, another Nigerian national, for cheating money out of Thai women through fake relationships. According to police reports, Ogba, posing as western millionaire, befriended Thai women on Facebook and spent time gaining their confidence and started a romantic relationship. Then he offered to send the victims cash and valuable gifts but requested them to send him money to pay tariffs. His Thai accomplice, disguising herself as a government official, would call them and encourage them to follow Ogba's instructions. Before being arrested, Ogba was believed to make about 1 million baht per month from the fraudulent relationships. The Nigerian, when arrested, was found to have three fake passports, two for Northern Ireland and one for the United States of America. He had arrived in Thailand having crossed illegally from Malaysia which is home to many of these gangs. His victims included Thai women in Lampang and Nonthaburi. Online he had represented himself under various names such as Thomas Anderson, Mike Dave, Bob Frank or Chris Benson
Thai women in Sara Buri find out they are married in corruption scandal involving fake marriage certificates for foreigners
Even for Thai citizens without money or interest in a new life or romance online, there is a danger from foreign scams. Up to 300 Thai women in Sara Buri province in Northeastern Thailand were shocked recently to find that they were married without ever knowing anything about it. The marriages, registered at marriage registrations offices throughout the province, were the brainchild of eight Indian nationals living in Thailand. The men, when arrested by Thai tourist police, were found to have used the names of the three hundred women on fake or forged marriage documents. These were subsequently used for the purposes of extending visas for foreigners and tourists living in Thailand. Authorities revealed that help was been given to Thai women to rectify their status and some had already become single women again. The police revealed that the detection of the scam is the result of a campaign named X-Ray Outlaw Foreigner which aims to detect all criminal activity involved with foreigners seeking ways to defy and outwit Thai Immigration authorities. The intense campaign to  tighten Thailand's borders has been in operation since the military government took power and the need for it can be seen from the activities of foreign gangs and the inordinate number of rackets throughout the country. Police Major General Surachate of the Thai Tourist police in Saraburi told a Thai news agency INN that police were investigating the profiles of 1,700 other Thai women with foreign husbands that they may not know anything about. It is also reported that three government officials have been removed from their positions as fake marriage registrations were being issued for 2,000 baht at a time.