Regulations in Thailand link entrenched services are proving a barrier for global online apps. Thai Institute shows a popular demand for taxi hailing apps.
Airbnb is facing intense pressure from new regulations related to the minimum number of days for any rental while Uber has ceased its operations in Thailand.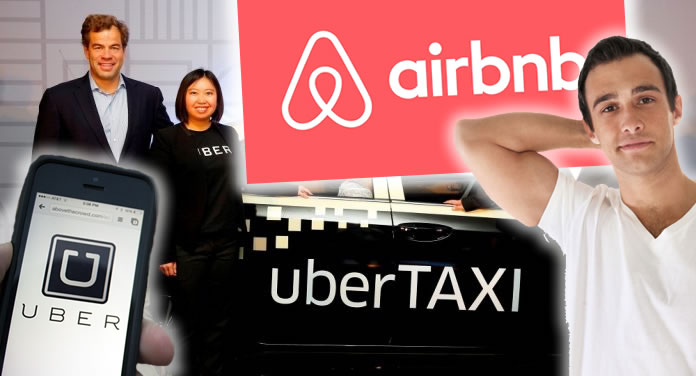 Airbnb, the American lodging company that operates around the world, has been declared illegal in Thailand by a court in Hua Hin. The ruling states that it is against the law to lease a condo via AirBnB for less than 30 days. That means tourists or backpackers wanting to find cheap lodging in Thailand for a few days or weeks, the biggest customer group of Airbnb, can no longer have their needs satisfied by an increasingly popular and well used service in Thailand and throughout the world.
AirBnB operators in Thailand now in hostile legal limbo
The court ruling leaves many property owners and Airbnb customers in limbo as demand for the service remains strong and the site is still available online. Access to the service, however, will be severely restricted. There have been several cases already  in which some condo owners are facing fines ranging from 5,000 to 15,000 baht for violating the minimum rental days. Now condo tenants are obliged to have a rental agreement with the landlord and register their tenancy with Thailand's immigration agency. And it has emerged that unexpected visits from immigration agents aren't uncommon for tenants.
Thailand's new security regime has impacted AirBnB's model severely
The rigorous process, including the crackdown on Airbnb, is aimed at improving the traceability and detection of foreigners living casually in the country as part of the Thai government's national campaign to restore law and order. The sheer scale and numbers of foreigners entering Thailand and the spiral in illegal activities, instigated or orchestrated by foreigners, in recent years, has raised serious security questions for Thai authorities.
Uber in the last few months has ceased to operate in Thailand
Sharing a similar fate to Airbnb, Uber, the popular worldwide taxi hailing app has closed its operations to users in Thailand following a protracted period full of uncertainty and unpredictability although the root of the problem here is somewhat different, it relates back to conforming with traditional regulatory supervision. Although Uber's website is still functional and quoting charges in Thai baht, the service has been taken over by its rival Grab. Active in Thailand since 2014, Uber and with its archenemy Grab, were consistently considered the most popular ride-hailing service among foreigners. But what could be seen as a indicator of a nascent sharing economy in Thailand soon led to conflicts between Uber/Grab cars and the traditional taxi services that provide income and livelihood to millions of lower earning Thas.
Poor reputation of local Thai taxis drove foreigners to use Uber
During this time, traditional taxis services developed a poor reputation among both foreigners and visitors to Thailand alike. One irate Japanese businessman launched a particularly well read a campaign lambasting and criticising the Thai taxi services in Bangkok. The number of ill-mannered taxi drivers refusing to pick passengers up or behaving impolitely was stark contrast to, the appearance of polite, customer-pleasing drivers presented by Uber. But not all foreigners in Thailand felt like this. 'For those of us that have been here for some time, we've come to understand the Thai Taxi driver. It's never too difficult to find a taxi in Bangkok and for the most part, the drivers are friendly and polite. Also the motorbike messenger service is very useful for business message and so on. I think many foreigners understand that there are vested interests and while the Uber limousine was something I was partial to in Bangkok, as I don't drive, most foreigners understand that the Thai taxi drivers and motorbike counterparts must make a living and Thai authorities must look to that issue first and foremost,' says James Morris a commentator and foreigner living in Bangkok for many years.
Uber limousine service called Uber Black was popular with foreigners
Passengers particularly foreigners in Thailand had begun to use the apps which were seen as a godsend. While it helped that Uber services offered a more competitive price, the Uber limousine option called Uber Black was the one that caught the imagination with black polished Toyota Camrys floating around the key urban centres. Foreigners could pay by credit card and the billing system was quite transparent. Though there was criticism that this was possible before such services didn't have to pay tax. Also some foreigners in 2017 began to complain about the availability of Uber Black as Uber changed strategy and offered a new service called Uber Flash with smaller cars. This was in response to a more flexible offering by its then competitor Grab. There were also reports that drivers were becoming less adept at finding locations and reduction in service standards. All that is now a thing of the past as Uber has ceased to operate in Thailand and its operations are now transferred to Grab
Tensions and flare ups developed between normal taxi services and ride sharing operations in Thailand

As users switched to the ride-hailing services and the regular cab drivers eyed their hi-tech counterparts with hostility. Flare ups occur between the two competing services particularly  between the motorbike services and Grab bike, a messenger service run along the ame mines as Uber. The harassment and bullying of Uber/Grab drivers was so intense that Thailand's Department of Land Transport (DLT) once warned against such unlawful behaviors. Instead, transport officials said that the government would intervene. And they eventually did.
Government intervention in 2017 was the end of Uber in Thailand
In 2017, Thai authorities placed a temporary ban on Uber to continue a government-sponsored study about the impacts of ride-sharing apps. The belated move came as Uber had established a solid footing in the country despite its illegal status. Uber, along with Grab and the likes, were reported by some media outlets to be legal in June that year. This was technically true as the operations of the app itself did not infringe any laws. However the problem lay with the drivers operating the cars on the roads of Thailand. A lot of Uber drivers were penalized, each facing a fine of 2000 bath. All cars and vehicles operating as a taxi hailing services aligned with new ride-sharing companies were required to be insured and registered properly with Thai authorities to follow and abide the same standards and regulations as traditional taxis. It was an impossible situation as both service operated on different principles. To traditional taxi operators, as in London or Paris, this simply illustrates the justice of their claims that Uber and other taxi hailing services are unfair competition and operated outside the law meaning all applicable laws and regulations.
Thai government requested changes to ride sharing billing systems
The taxi hailing companies companies were also asked to upgrade their payment system. The Revenue Department then taxed all online transactions by 15%, a move directly aimed at online business including Uber and Grab. While Grab seems to deal with the regulatory hurdles quite well, Uber couldn't weather weather the 'wild ride' anymore. In March 2018, Uber announced that it would pull out of Southeast Asia and was merging its operations in the region with Grab's. A state on Grab's website says that Grab will take over Uber's ride-sharing and food delivery business in eight Southeast Asian countries in which it has operations. While Uber's future is certain as it will take a 27.5% stake in Grab and its CEO Dara Khosrowshahi will be a new member of Grab's board, Uber drivers and customers will have to make a difficult decision. They can either join Grab or go back to the old school taxi business. To many Its quality has improved due to competition from Grab and once-promising Uber. Both companies also carved out a new market.
Merger of ride hailing services questioned in Thailand
However the struggle does not end there. The merged Uber Grab business in Thailand is still operational and consolidating its position. There are now questions about the pricing implications of the merger between the two former rivals. At the moment the operations of Uber are being integrated into Grab as part of an effort to create stronger company. This has raised questions from regulatory agencies. Sumet Ongkittikull, the Research director for Transport and Logistics at the Thailand Development Research Institute (TDRI) questioned whether the merger might result in 'unaffordable prices' for consumers of ride hailing services. He revealed that the TDRI's own research indicated that 15% to 20% of Thai taxi passengers were currently using the ride hailing services. TDRI itself has called for the ride hailing  service to be brought in from the cold provided the cars and drivers comply with the same regulations of traditional taxis on the roads. It revealed that there are 20,000 ride hailing cars currently on the roads generated 6-7 billion baht in income. Traditional taxis generate 43 billion baht with 60,00 to 70,000 cars alone in Bangkok.