One foreigner (American) arrested in Thailand for human trafficking while another (Swiss) arrested for possession of child pornography as part of sex industry crackdown
While the US State Department, the EU and international bodies call on the Thai government to crackdown on sex trafficking rings running from the country, it is also apparent that some western foreigners have been using Thailand as base for illicit enterprises. In the last few months Thai police have nabbed a few of them.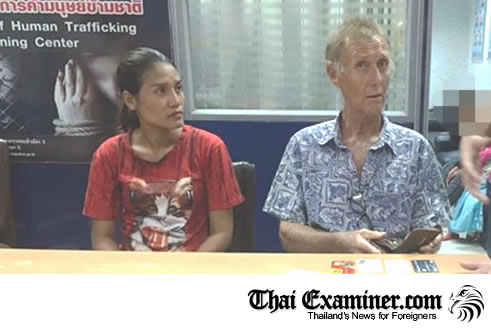 An American citizen living in Chiang mai was arrested by Thai Police last month as he was discovered to be running his own mini human trafficking organization procuring sex workers across the border from  Myanmar (Burma). The raid and arrest came before another foreigner, a Swiss national was arrested for sharing child pornoraphy images online. After the swoop, Thai police have issued a stern warning to anyone involved in the sex trade regarding exploitation of children that they will be caught by authorities in Thailand. It comes as part of an ongoing and successful crackdown on the excesses Thai sex industry.
Western foreigners arrested in Thailand for running sex businesses
While the US State Department, the EU and international bodies call on the Thai government to combat sex trafficking rings running from the country, it is also apparent that many western foreigners are using Thailand as an offshore base for illicit enterprises. Some of them have been nabbed by Thai police in recent months.
64 year Swiss man spent a decade collecting child pornography online
Christian Python, a 64-year-old, was arrested in May for possession of child pornography materials online, a crime that is increasingly detecting in western countries and that is causing considerable revulsion. A police raid on his home in Pathum Thani province produced hundreds of electronic files in which children, some as young as four, either naked or engage in sexual activities. Christian Python allegedly confessed to possessing a huge library of underage pornographic films. This means that under current Thai legal provisions he could be facing  a 5-year prison sentence and liable to a fine of 100,000 baht. He told police that he had collected the materials for about a decade. Now Thai authorities are trying to establish whether he had distributed the films during that time. This is a common practice among pedophile rings. If confirmed, the Swiss national would certainly face more severe, additional charges, such as human trafficking or selling child pornography. As with most countries, having sex with underage people is severely punishable by Thai law.
Thailand in the midst of huge crackdown on human trafficking inside and outside the country

As part of an unprecedented campaign to improve the image of Thailand's tourism sector and that nation as a whole, Thai police have increasingly targeted the human trafficking and sex trade. It has emerged however that much of this trade is controlled from outside Thailand often involving Thai national working with foreigners. However in recent months, Thai police have linked one more obscure human trafficking network to the activities of a long term expat living in Thailand. The latest catch in the human trafficking crackdown is an American accused of running his own online human trafficking business procuring sex workers across the border from Myanmar (Burma).
Retired American expat found trafficking women from Myanmar to Thailand
Kenneth Viggo Albertsen, a 66-year-old American man living in Thailand on a retirement visa, was arrested while he was arranging two women to have sex with customers who were in fact undercover officers. Kenneth Albertsen is said to have run a sex website and a Facebook page to set up Thai men with young Burmese women for 10 years in partnership with a Burmese woman. Customers had to pay 6,500 baht and were taken to Mae Sai, a Thai strategic town bordering Myanmar, to meet their mistresses. Those Burmese girls are considered human trafficking victims for being forced to work involuntarily as sex workers as they have no job or income in the turbulent countries. Kenneth Albertsen and his associate could be facing up to 10 years for procuring prostitution.
Thailand has moved to curb prostitution activities
In order to rid the country of its reputation as a sex tourism paradise, Thailand authorities have launched a campaign to curb its rampant and famous sex industry, which is both lucrative and illegal in Thailand. These efforts, however, are seen as complicated as prostitutes and brothel keepers are increasingly moving the trade online, choosing social media to arrange meet-up between prostitutes and customers. There is also talk of making the world  renowned sex venues in Thailand less visible and more discreet. There seems little opposition to the Thai government efforts to clean up the industry as Thailand's prostitution industry in recent years has attracted women from outside Thailand such as Myanmar, Cambodia and even African countries. There is an emerging consensus that Thailand is no longer so dependent on the industry as an emergency option for destitute Thai women as Thailand's economy picks up and Thai women have better opportunities. It would be wrong, however, to assume that the Thai prostitution industry will be completely shuttered. What appears to be happening is a tightening of abuses involving human trafficking and, in particular, a real crackdown on activities that prey on minors or the under aged.