Thailand's new constitution and political landscape has changed utterly since the last election in 2011
A General Election in Thailand will not be held until next year, Thailand's Deputy Prime Minister said during a meeting in June with political parties in Bangkok. This is the third time that the junta has postponed the anticipated election since taking power in 2014. The new date being talked about for the the election is February 2019 but it could be later. The current military government and leadership has made it clear that it's priority is maintaining the country's stability and order which it restored in 2014. It is also clear that the military, whatever the result in next year's election, will be very much involved in Thailand's political and current affairs.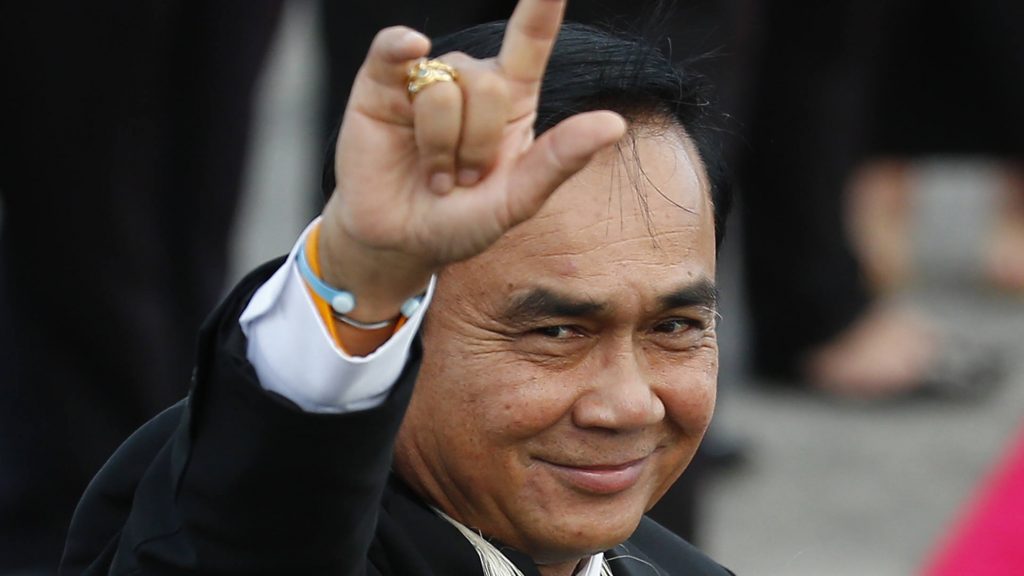 In a move that has been accepted by western governments despite some criticism from activists, Thailand's military government has proposed that the elections provided for in the new constitution will take place next year. A possible timeline for the election, that will return power to a civilian government, ranges from February to May next year. One thing however is certain. It will not precede King Maha Vajiralongkorn coronation which many Thai people look forward to and are already preparing for. There is also speculation as to the future role of current Thai Prime Minister and former Army Commander Prayuth Chan-ocha.
Government met Thai political parties in of June
The announcement was made during a meeting between senior officials, including Deputy Prime Minister Wissanu Krea-ngam, and Deputy Prime Minister and Defense Minister Prawit Wongsuwan, and political parties on June 25th. Though they were told that there would be another delay in returning to the Thai political stage, most representatives were content that the junta had decided to lift a ban on political activity, allowing them to prepare for the election. The relaxation of the ban would enable them to perform administrative tasks such as establishing party regulations and recruiting members.
Thai government maintains a firm grip on political activity to preserve stability
However, the Thai government has not agreed to relax its orders, on a general basis, regarding political meetings  In Thailand, as the law now stands, public gatherings of more than five people and political campaigning remain illegal. During the meeting between government and political party representatives, the political parties also requested that the government allow them to bypass a legal requirement obliging them to hold primary voting to select candidates, citing the lack of time for the process. Mr. Prawit Wongsuwan said the government would consider the demand carefully. He also encouraged various political faction to maintain peace and order and refrain from acting as a disruptive force.
Pheu Thai did not attend the recent meeting to discuss the proposed elections in 2019

The Pheu Thai Party however failed to attend the meeting. The majority government which it formed in 2011 was ousted in 2014 amid mass street protests. Its former leader and ex Prime Minister Yingluck Shinawatra, is now living abroad having fled before a Thai court imposed a jail sentence on her in August last year. Yingluck is the younger sister of another former Thai Prime Minister and founder of the political movement linked the party, Thaksin Shinawatra.
Thai Prime Minister tours Thailand meeting provincial leaders
Politics and electioneering has been severely curtailed in Thailand since the 2014 coup and the military government insists that stringent control is still necessary to preserve the country's stability which it sees as its greatest achievement. The Prime Minister Prayuth Chan-ocha has meanwhile been touring the country speaking to gatherings and meeting with key provincial leaders. Some of these individuals, such as Newin Chidchop from Thailand's North east, the former power base of ex-PM Thaksin Shinawatra, are known to be political kingmakers. The general election, when it does happen, may produce a result unlike what Thailand as seen before as it is taking place under a revamped constitution overwhelmingly approved by the Thai people in 2016.
New Constitution gives Thai military strong say in electing the next Thai PM
The new Thai constitution was signed and confirmed by Thailand new monarch Maha Vajiralongkorn in April 2017 at an impressive ceremony held in the Throne Hall of the spectacular Dusit Palace in Bangkok. The ceremony included a 21 gun salute and prayers by Buddhist monks for the success of the new charter. It is Thailand's twentieth constitution in over a century but the current Thai government and the military are very determined that Thailand's current stability and relative harmony is preserved. The constitution provides for  a 250 member Upper House comprising of Senators appointed by the Thai military. The Lower House will have 500 representatives and the elections next year will see these selected in an electoral system similar to Germany's system but with some changes. There will be 350 constituency seats and 150 seats to be filled using a party list system. Unlike Germany, Thai voters will only vote once for their candidate at constituency level and the party alignment of that candidate will also determine the vote for the party list system. Tests conducted on the new system show that it will benefit smaller Thai political parties and weaken the position of the more dominant Pheu Thai Party. Based on the 2011 election result, where the Pheu Thai Party achieved 265 out of 500 seats, the new system would see this reduced to 225 with the lost seats going to smaller parties. Under the new constitution, both the Upper and Lower Houses of Parliament have a vote in the election of a new Thai Prime Minister. Under the new constitution, the Thai military would be required to garner the support of 126 votes to join with the 250 seats in the Upper House to elect a Prime Minister if this was deemed a desirable political option.
Background to the new constitution and elections
Thailand's military government came to power after a bloodless coup in 2014 when Thailand's military leadership reluctantly took power after continued deadlock between political parties in the country resulted in ongoing street protects and threatened to bring the country to its knees.The protests and crisis originated in colour coded opposing factions represented by Thailand's Red Shirts, primarily northern Thais, who supported Thailand's former Prime Minister Thaksin Shinawatra who was ousted in a 2006 coup and Yellow Shirts supporting Thailand's traditional elite and establishment parties who had been in power prior to the arrival of Thaksin who dominated Thai politics for five years from 2001 to 2006.
Former Prime Minister at the heart of street protests and unrest
The former police officer turned media tycoon entered politics in 1994 and formed a new political force in 1998 when he helped found Thai Rak Thai. Offering policies to combat poverty, boost infrastructural development and supporting small and medium sized business, he won a landslide election victory in 2001. He won another election victory in 2005 but was deposed by a coup in 2006 when protects erupted over his disposal of his business empire for over a billion dollars without paying taxes. Many also pointed to political conduct while in power and the concentration of governmental authority in one person. His election win in 2005 was historic as he was the first democratically elected Thai leader to secure a second term or even finish a full term in office. This inflamed opinion against him further as many in Bangkok and among the traditional power base of politics in Thailand felt he was buying votes and consequently power through short term, popular policies aimed at his northern base. He was later accused and convicted on corruption charges and his political party banned over separate corrupt practices. Thaksin was sentenced to two years in prison in absentia and is known to be living in Dubai. He returned to Thailand briefly in 2008 but is now seen by many of his opponents as a fugitive. He is still reputed to be a wealthy man despite the seizure by Thai authorities of the bulk of his fortune and is followed on social media by supporters in Thailand.
Thaksin's sister Yingluck Shinawatra sentenced to 5 years over failed rice scheme
The political base Thaksin created later supported no less than three further Prime Ministers and two political parties. These included his younger sister who was elected as Prime Minister of Thailand in 2011 after the Pheu Thai Party won a majority of seats. The Yellow Shirt movement erupted again during her tenure over her government's links to her brother and a disastrous rice pledging scheme designed to artificially keep rice prices high for rural farmers. Yingluck was removed by Thailand's Constitutional Court in May 2014 for abuse of power and later briefly detained during the coups which followed. She faced charges in connection with the rice pledging scheme in 2016 but fled the country in August 2017 before she was found guilty by a Thai court. She was later sentenced to 5 years in prison in absentia. She is now living in the United Kingdom.
Current Thai Prime Minister issues a challenge after a successful visit to Europe
Recently, Prime Minister Prayut Chan-o-cha appeared to challenge former Thaksin and some of his associates to return to Thailand and appear before a Thai court if they believed in their innocence. Without actually naming anyone, he condemned Thai people who 'committed wrongdoing and fled the country to live overseas' as 'second-class citizens' and asked them to face the legal cases against them in Thailand to prove their innocence. Prime Minister Chan-ocha's remarks were made as he arrived him from a hugely successful trip to Europe where some governments had questioned him on plans for the resumption of democracy in Thailand.  The PM said that he had received a warm welcome from the leaders of the UK and France. During his trip he committed to holding elections in 2019.
The Thai PM cited the warming ties with the West and the impressive economic growth predicted to reach 4.8 % this year as evidence that his policies are working, disputing the claim of his critics who say the wealthy have benefited disproportionately under his leadership.
Thai people supportive of current military government
Since the 2015 coup Thailand has seen stability and order restored and public opinion has generally welcomed this. Many Thais are reluctant to see the chaos and strife experienced in 2014 return and although they want to see democratic elections, there is understanding for the government's position. If there is any concern, it is more to do with Thailand's perception abroad and the improvement of relations between Thailand and the EU as well as the U.S. has bolstered confidence in the Prime Minister. There is also a feeling of renewal in Thailand as the economy picks up and the start of a new reign.
New Constitution aims to make sure populism does not come to power in Thailand
The new Thai constitution has, at its heart, the aim of preventing one political party or indeed person consolidating too much power. It is designed to ensure that elections are not won by short term political promises. This is an ongoing process. Thailand's National Legislative Assembly has recently passed a law which prohibits political policies designed to achieve popularity while being damaging to the long term interests of Thailand's society or economy. The new measure, which might have been severely, criticised by many in the  western establishment in Europe or the US must now be regarded in the light of rising populism in western countries. However, this new law is quite wide ranging and may stymie emerging Thai political parties from adopting new or radical policies which may be considered as populist or short term. In addition to this, the new constitution assigns an oversight role to the military controlled upper house and further obliges any new Thai government to pursue policies within the framework of a 20 year strategic plan already set down by the existing Thai government.
Election Commission to oversee campaigning
There are also new requirements for electioneering and the conduct of political parties. New parties are obliged to register new party members with Thailand's Election Commission and these members must pay a fee for 100 baht per year or 2,000 baht for lifetime membership. Thailand's Election Commission will also oversee campaigning to ensure that elections are conducted in a fair and orderly manner. These requirements are in addition to current limitations imposed by Thailand's military government restricting public meetings and political gatherings as well as what the government terms as news or commentary not conducive to the public good or that is misleading. Notwithstanding this, the current military government insists that these policies are necessary to preserving the current state of stability but have promises to work with political parties to provide for free and fair elections.
Thai Prime Minister tells Time he would like to take his family on holiday but is equivocal on his plans for after the 2019 election
In a  recent interview with Time magazine Prime Minister Prayuth Chan-ocha was reluctant to speculate on is future after the 2019 elections. When asked if he was looking forward to seeing his Prime Ministerial portrait on the walls of Thailand's Government House with previous prime ministers, he simply explained that he would go home to his family. He explained to the interviewer that for the first 30 years of his service with the Thai army he was obliged to live away from his family 'upcountry' in Thailand only being at home in the last 10 years of his army service. He said that he was looking forward to taking his family on a well earned holiday as they had made sacrifices and endured difficulties during his tenure in government. 'My family is very important to me, just like other Thai family,' he said. When the interviewer pressed him if he would be retiring following an election in February, he was more equivocal however. 'This is still the matter for the future. I cannot tell you what exactly I will do, where I will be. This depends on the situation and the people, I have no  control over this. It will be down to the democratic mechanism, the constitution, the election and so on.'