The unabated climb in Thai tourism numbers comes at a price including environmental concerns and a potential drop off in European or western visitors
Thailand is currently the leading tourist destination in Southeast Asia. There is no likelihood that its neighbours will overtake this enviable position in the foreseeable future. But its success may be increasingly coming at the expense of the environment and safety standards, which the country is struggling to grapple with. In the last month we have seen Thai authorities scramble to protect the huge Chinese tourist market after it saw over 600,000 cancellations following the tragic Phuket ferry disaster while also dealing with the fallout of confirmed reports that figures for tourist visitors from Europe were unexpectedly down in July.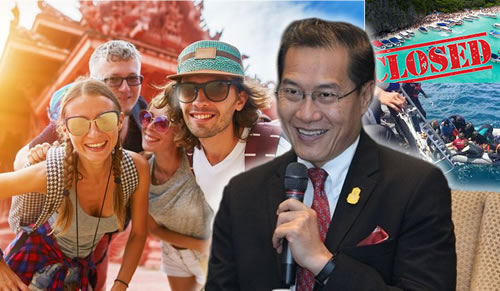 Idyllic palm-lined beaches with white sand and pristine water are part and parcel of Thailand's tourism brand. It's a the tempting prospect that draws tens of millions of tourists to the tropical paradise on an annual basis. So when a dead whale beaches with a stomach full of plastic bags including instant noodle wrapping on a Thai beach, it has to involve adverse publicity for the country. The death of the poor animal made headlines. Ostensibly, it was a story about pollution and the dangers faced by marine life in the world, it was also an analogy for Thailand's tourism industry. The whale had chewed more than it could healthily swallow. Thailand is heading for a colossal boom in tourist arrivals for 2018 no matter what happens. Figures released in July show numbers up 4% overall although a report on Thailand's Channel 7 TV suggested that figures for European arrivals in July from long haul routes were markedly down. This reduced the normal growth rate  from 9% to 4%. Weerasak Kowsurat is Thailand's Tourism Minister. He is quite aware of the challenges faced by Thailand in preserving it's tourism crown. 'Congestion is no good for anyone, including the hosts and the guests,' he said in a recent interview.
Concern being expressed about European tourists visiting Thailand
There is some concern that the numbers of European or western tourists visiting Thailand may be in more permanent decline with record numbers in the last four or five years being driven by more Asian visitors notably from China. This may be premature as internet data and market research show many young western men and women fascinated with Thailand, the Thai culture and the unique nature of the country. Our own research on this news website, confirms this to be the case even with a growing interest. Official figures from the Airport Authority of Thailand years on year show fewer visitors from some key European countries while this July a spokesperson for the Airports Authority of Thailand, Nitinai Sirisamatkarn, confirmed a down turn in European visitors for July but pointed out that overall figures for the previous nine months showed numbers were up a whopping 25%. Mr Sirisamatkarn was anxious to point out that numbers from Asia and particularly China still showed an increase in numbers. Some western commentators on the popular foreigner news forum ThaiVisa were quoted as suggesting that the numbers of European and Western visitors seen in Thailand has been in decline for a number of years in recent times. The drop in July this year has been explained and with some merit, by the best summer in that region of the world in over 40 years, a rare heat wave, as well as the FIFA World Cup in Russia. However there is an undercurrent of feeling that Thailand is losing its edge and popularity with western visitors. Increased prices and a higher valuation for the Thai baht are undoubtedly factors. A series of issues, from safety to congestion, have certainly made Thailand less attractive.
Thailand is still attractive to western visitors and the numbers will rise again
There is also some anecdotal evidence of a resistance among regular western visitors to the sheer numbers of Chinese tourists and other holiday makers now arriving in Thailand from other Asian countries notably India. However as one American visitor to Thailand points out,such comments have been made before and the numbers of westerners coming to Thailand continued to rise. 'Thailand has the best infrastructure in South east Asia, it's getting more expensive and it's a bit there are so many scams but it is still wonderful country with wonderful people. I meet many young people who can't wait to come back.' He predicts that Thailand is simply  experiencing a change of the guard from one western generation to another and that the numbers visiting Thailand from western countries will inevitable grow again.
Thailand is No. 1 for tourism in South East Asia
Thailand has become an unrivalled tourism destination in the region in terms of foreign arrivals, attracting 35.4 million tourists last year, nearly 10 million more than Malaysia's figure, which is ranked second. This year's number is projected to reach about 40 million arrivals, a new record high. The industry is also a mainstay of Thailand's economy, accounting for roughly a fifth of its GDP. This is an increase on previous years and there is some concern that Thailand may be becoming too dependant on tourism. Thailand's ambitious development plan, Thailand 4.0, calls for less dependence on the sector. Despite the apparent benefits of tourism to the Thai economy, the rapid growth has also led to challenges and these have been highlighted to Thailand's policy chiefs. The sheer number of tourists has worsened road traffic conditions in areas surrounding many popular places of interest while the robust commercialization of Thailand's cultural heritage and legacy has played a part in disrupting the life and identity of local communities. Figures published by the World Bank show that tourism activity also uses significantly more environmental resources.
One blogger laments the influx of visitors to a favourite Thai island
There has been a pronounced increase in concern at the damage to the environment being inflicted by the sheer numbers of tourists arriving in  wave after wave. This includes viral social media videos, articles and comments. These often feature badly behaved Chinese or Indian tourists but also include western visitors such as western women dressed inappropriately at religious shrines. There are also reports showing the numbers arriving in what were once prized, quiet and idyllic settings. Maya Bay on Phi Phi Island serves as one of the most obvious examples of the plight inflicted on the natural environment by foreign travelers. The location of the famous 2002 movie 'The Beach' starring Leonardo DiCaprio. It has welcomed an overwhelmingly large number of tourists ever since. This has recently generated serious environmental concerns as the colourful coral reefs had become partly destroyed and the white beach was left covered in litter due to an excess in tourist visitors. Similarly a recent and poignant post by a well known UK blogger and expat resident in Thailand expressing his disbelief that the popular island of Koh Samet on Thailand's eastern seaboard has now become so overcrowded and spoilt that he is not anxious to return. He had visited it first in 2006 but now found that some of the beaches are as busy as a train station with an influx of Chinese tourists.
Thai authorities temporarily closed world famous Maya Bay and are proactive in preserving the country's appeal to foreign tourists
The damage to Maya Bay was discovered to be so extensive that Thai authorities were forced to close down the area temporarily to give the island time to recover. The Thai government has been swift to deal with the challenge of congestion and fatigue among regular tourist visitors. It has invested heavily in less well-known tourism destinations to make them more appealing to visitors. Roads are also being built and upgraded to improve access to those places, diverting traffic from already-strained ones. Of course, it would be preposterous to assume that Thailand wants to limit the number of foreign arrivals. The truth is that it strives to keep up the growth, as demonstrated by the way it has managed Chinese tourists even in the midst of a crisis.
47 killed when ferry boat sunk off Phuket
Thailand's tourism industry has suffered a serious blow on July 5th when a horror Phuket boat accident resulted in the death of 47 out of 105 passengers on board, most of whom were Chinese tourists. Stories from the survivors suggest that the overcrowded boat, one of two sailing together, was hit by a fierce storm and was shaking violently. It sank more than half an hour after it left the dock in Phuket, trapping a lot of bewildered passengers inside.
Thailand launched a campaign to protect its burgeoning Chinese tourist trade
Many people on the ill-fated boat had not known where the life vests were or where the safety boat was located. It is reported that this contributed to the high fatalities. In the aftermath of the tragedy, Thailand's Deputy Prime Minister apologised after initially blaming Chinese tour operators for not complying with Thailand's safety code. His remarks drew an angry backlash from Chinese online media who criticized the harsh words as insensitive. The minister made his apologies shortly afterwards and Thai officials have been active to ensure that Chinese visitors feel both welcome and protected in Thailand. It had been reported that the tragic accident prompted many Chinese tourists to postpone or reconsider their trips to Phuket, or Thailand altogether, leading to the Thai authorities redoubling efforts to restore trust and confidence in the aftermath of the tragedy and the grief expressed by many of the passengers on the vessels who were family members of those who perished. Recent indicators suggest that the numbers of tourists from China dropped dramatically immediately following the accident. It is reported that over 600,000 Chinese visitors cancelled their trip through Chinese tour operators. The long term impact is not yet clear.
Thailand has just launched a special Chinese immigration line at Suvarnabhumi Airport and is working hard to recover its position. Officals are endeavouring to send a clear message to China that Chinese tourist are welcome. The reaction from the Thai government is understandable as China is now the biggest market of Thailand's tourism sector. 9.8 million Chinese visitors travelled to Thailand last year, far surpassing the number of tourists from other countries.