Facebook is the new target for online romance scams in Thailand by Nigerian fraudsters who are increasingly found to have been assisted by Thai women
The new arrests following a spate of breakthroughs and a constant  streams of arrests that have been ongoing for the last ten months in Thailand. The scale of the problem is highlighted by the large sums of money that the criminals have stolen and chatted from unsuspecting and often vulnerable Thai women seeking love online. The irony is that it is increasingly obvious that these crimes are being committed with the assistance of other Thai women working with the rackets for money. Now Thai police have announced an investigation into all Nigerians living in Thailand who may have criminal links.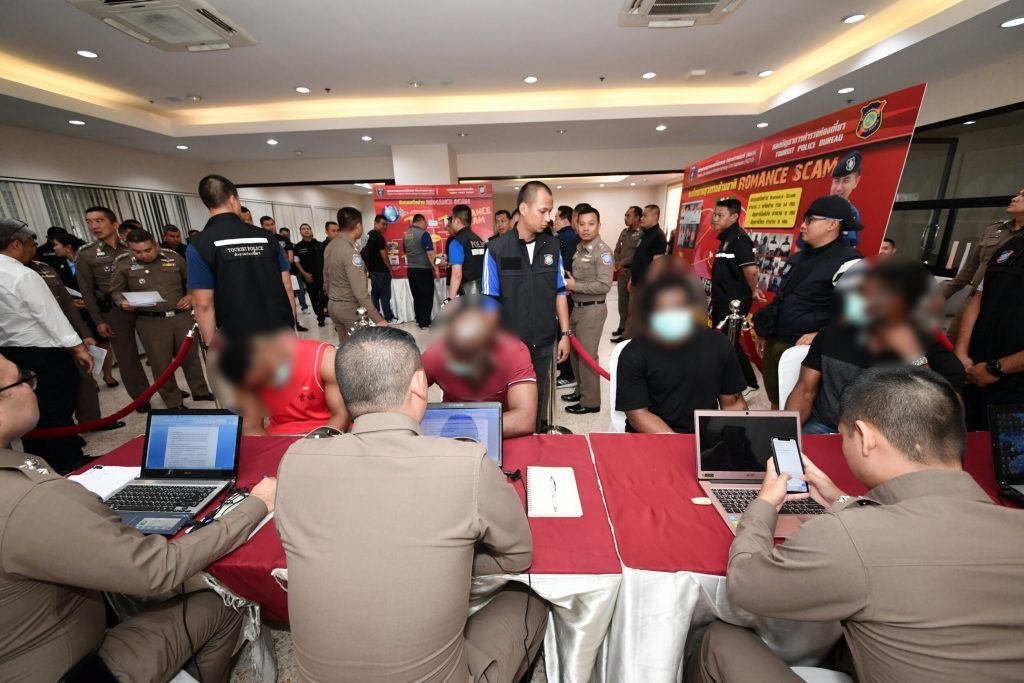 Thai police have revealed that the latest rackets uncovered resulted in the loss of 2 million baht by Thai women across the country. The Thai police held a very informative press conference and detailed the extent and sophistication of these criminal activities. It appears that these criminal conspiracies are so lucrative that there and more African gangsters involved. A complicating factor for Thai police is that the criminal activity originates online and involves actors from outside Thailand liaising with African nationals in the country.
Thailand's Human Rights commission urges caution
Then move by Thain police to iinvestigate all Nigerians in Thailand has drawn the attention of a member of Thailand's National Human Rights Commission who indicated that indiscriminate investigation of any group of people may be illegal. 'They should not randomly investigate people just because they're Nigerians, because it will become a discrimination against their race,' Mr Angkhana Neelaphaijit was reported by Thailand's KhaoSodEnglish.com, an English langauge Thai news website. He also warned that any arrest made under such an investigation would be open to challenge legally.
Campaign is about seperating the good from the bad
The annoucement by the Thai police is not surprising given the scale of criminality that has been exposed involving Nigerian nationals and their dominance of the romance scamming epidemic which has swept the country. The Chief of the Thai Tourist police however did emphasise that the Thai police were very conscious of the fact that not all Nigerians in Thailand were involved in criminality. 'This doesn't mean all Nigerians are bad people, he said. 'Our crackdown so far is to separate the bad guys from the good ones.' It is thought that there are currently 1,400 Nigerians resident in Thailand.
Nigerians at the centre of 2 million baht scam from 6 Thai women online
The latest arrests squarely identify Nigeria as the country from which this activity is primarily emanating. The scale of criminal activity linked with Africans in Thailand has prompted one senior Thai police officer to call for more screening of visitors. The problems for Thailand is the scale of numbers of normal and law abiding visitors to the country is huge. Thai police have also revealed that the gang members are increasingly employing sophisticated evasive techniques such  as dividing the activity and using different banks accounts and the increased use of Thai nationals, mostly Thai women who work with the groups for a fee. Police investigations included obtaining CCTV footage of the perpetrators collecting money for ATM machines. They revealed that money had also been transferred to foreign countries. The gangs had deceived 6 Thai women into transferring 2 million baht with one unfortunate Thai women losing over 700, 000 baht ($22,000). The two kingpins of the operations were identified by police as Nigerians: Mr. Clements Ifeanyichukwu and Mr. Simon Chinwike Nnakwe
End of June saw more Nigerians arrested for romance scam activity
A Nigerian national named by Thai police as Martins Junior Ejike Ajejo, 39 years old, was detained in a police raid and charged with participation in an online romance scam operation, a tourist police spokesman said at press conference held on June 29th. The story is not uncommon and similar to ongoing criminal activities that have caused both financial loss and personal devastation to so many trusting Thai women simply seeking love and friendship online. This has led to seminars and efforts to inform Thai women nationwide of the danger posed by online scammers.
Facebook is now the target online site for the African scammers
Cashing in on the massive popularity of Facebook in Thailand, Mr. Ajenjo opened accounts with fake profiles in the social networking site which he used to impersonate wealthy and attractive Western men, according to Thai police reports. Then the Nigerian would attempt to make friend with unsuspecting Thai women who fell for his impressive online persona and lifestyle. The scammers use ingenious techniques to creates a sense of trust and security with the Thai women online. Key  differences in culture make Thai women particularly susceptible to the bait these scoundrels use. When the relationship is at a developed stage, the Nigerians would falsely tell the Thai women that he had sent them expensive gifts but eventually it transpired that the gifts could not clear customs. Third parties would be used to request the women to wire money so that duties could be paid in order to receive the valuable package. After receiving the funds, the scammers would close the account and open a new one to perpetrate another fraud
Nigerian assisted by Thai women acting as accomplices
The Nigerian man had accomplices named as Prapinmas Nasutthi, a 30 year old Thai woman, and her 36-year-old Nigerian husband, Gaius Eriamiate. They were arrested on June 21 this year when they were observed withdrawing money cheated out of their latest victim from a Thai ATM. It is not clear how much money the trio have made from their illicit business but amounts transferred range from 100,000 baht up to 1,000,000 baht. One Nigerian arrested recently in Rayong had up to 8,000,000 baht in his Thai bank account.
One Nigerian scam gang swindled 10 million baht in 5 years using online sites

A separate Nigerian romance scam gang busted by Thai police had swindled 10 million baht out of 30 victims during the past five years. A lead from a Thai woman who was cheated out of 130,000 baht back in 2013  led the police, through detective work, to capture Ifeanyi George Okoronkwo, also known as OJ, who was believed to be the mastermind behind the gang, according to Pol Maj Gen Siripong Timula, chief of Technology Crime Suppression Division.
Mr. Okoronkwo used the same scamming tactic, posing as a rich Western man in Facebook and asking his 'love interests' to send him money to receive expensive presents. The police also arrested two accomplices, a Thai woman named Chattraporn Kuthaisong and another Nigerian man who were responsible for withdrawing the money from the bank account after the gang's victims wired money into it. Ms. Juthaisong claimed that she was hired by Mr. Okoronkwo to simply open the bank account and transfer the money to him. There has been some evidence of such deception bi African fraudsters on other Thai women including one case where a Thai woman's identity was stolen. She was lucky enough to be fully exonerated by Thai police at a later stage.
Thai police making efforts to return some money to duped Thai women who filed reports

Sometimes but not always, the romance scam victims have a slight chance of getting their money back. This is critical as many Thai women who are duped feel both embarrassed to admit the failure of judgment and secondly feel that reporting the incident is futile. In fact, it is vital to report any such activity to the Thai police as their immediate action can result in the return of some if not all the money as well as disrupting future thefts and protecting future victims.
Ugandan men and a Thai women arrested over online romance scam
Two Ugandan men and a Thai woman have been recently arrested on Koh Samui for running online romance scams that allegedly cheated 800,000 bath out of four Thai women. The suspects are Rogers Kyeyune, 31 years old, and Emmanuel Kasoma, 37 years old, both of whom are from Uganda, and Wilaiwan Phetthong, their 24-year-old Thai accomplice. In addition to detaining the trio, the police also seized bank account records, ATM cards and mobile phones. All the information gelajed from the bust was then sent to Technology Crime Suppression Division of the Thai police for further inspection. The division spokesman said that the division would work with banks and other government agencies to return the confiscated money to the victims.
Pattaya arrests of more Nigerian scammers in May
Last May, Ositadima Ibeh, 28 years old, and Chinedu Calistus Ndubuisi, 30 years old, were arrested by Pattaya police on charges of running online romance scams. Both were Nigerians who had resided in Thailand for some time. They pleaded ignorance and said that they were hired by another Nigerian to withdraw the money and then transfer it to his bank account in exchange for a 5% commission. By the time that the two men were nabbed, the shadowy figure at the centre of the racket had a bank balance of more than one million baht.
.