New trend will feed into debate on the internet in Thailand and it may well become a worldwide trend as Thailand has become an advanced internet society leading the world
A new disturbing internet trend has the potential to put the internet and social media under scrutiny in Thailand at a time when even western tech companies are making moves to censor content. The new trend in Thailand could bring new challenges.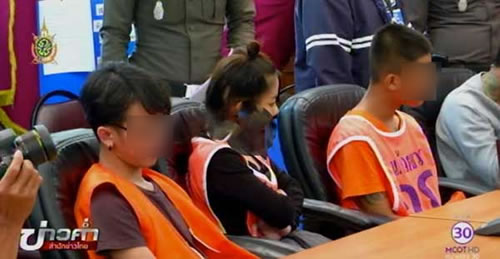 Social networking sites and chatting apps serve as a powerful tool to break down barriers between people and bring them together. While many blame social media for the rise in loneliness, this is an assumption. Loneliness in society began before the internet and many do not credit the power of social media as an antidote loneliness and the reduction in isolation which was on the rise in western countries before the internet began.
World debate on whether the internet is a hero or villain while Thai people have embraced it as a tool
There is no doubt that social media does have negative consequences such as a reduction in the need for direct face-to-face communication.  It can also encourage disengagement from reality. A huge debate has opened up right now in western countries over censorship of the internet. Many on the right see it as a tool to fight back against PC tyranny while on the left and increasingly within 'mainstream media' as well as the political elite, it is seen as a vehicle used to sow political discord which has already damaged the fabric of society and world relations. In Thailand, where internet use has been embraced enthusiastically by the population, it has also been tested in the political arena even before the current crisis in the West. The internet was at the centre of colour coded street protest movements that shook Thailand from 2006 to 2014 and nearly paralysed the country before the 2014 coup restored stability.
In Thailand, despite threats from the Thai authorities to control and censor the internet, the track record is quite good. Thai nationals enjoy a latitude and freedom online that arguably surpasses that of European citizens. However, today Thailand's innovative use of the internet has brought forth a new menace, the procurement of underage prostitution online. The problem being faced by Thai authorities is a new once and represents a new use of the internet by young people in Thailand. Thailand is a open and free society with a laissez faire economic model that sparks flair and business acumen among young and old. Thailand has distinguished itself over the last fifteen years in being one of the first countries to experience the polarisation that the internet can cause and also has been very quick at developing new internet trends. Weeks ago it was revealed  that Bangkok has the highest penetration for Facebook users for any city in the world while Thai women embrace the net for education and trading including advanced payment and money transfer systems.
Young Thai girl found marketing sex services and prices profiling other underaged girls

In June, police arrested the leader of a prostitution ring that allegedly had procured a 14-year-old girl for an Indian tourist in Pattaya, a city known for its raunchy nightlife. What is really disturbing and alarming, however, is the fact that the culprit was nearly as young as the victim: she was only 17 years old. Using the same technique also employed by many procurers far older than her, the teenager chatted with her clients and discussed with them the young girls she could offer and offered prices through Facebook and Line, both of which are immensely popular in Thailand.
Police reveal details of an under age sex ring orchestrated by a 17 year old Thai girl online
According to investigators, the victim of the crime came from Ubon Ratchathani, a province in Northeast Thailand. She contacted the teenage procurer through a Facebook page, unaware of her intentions. The 14-year-old girl was then tricked into working as a prostitute and was asked to move to a hotel in Pattaya. After finding out the true nature of her job, she returned to her hometown, only to be pursued by the procurer who forced her back to work in Pattaya. The audacity of the 17 year old induced the victim's family to file a complaint with the police. The teenage procurer was later detained along with her Indian customer, a man named Parmod Kumar. He is reported to have paid 5,000 baht to have sex with the underage girl, with a share of 1,000 baht going to the procurer. In Nakhon Sawan, the remainder of the gang, including a pimp and several other customers, were also detained as the police investigation widened.
A modus operandi for making money that is spreading among teenagers in Thailand
Also in Nakhon Sawan, a much larger prostitution ring, this time involving several junior high school boys was exposed shortly after the Pattaya case. Due to reports of their suspicious behavior, such as neglect of studies, extravagant lifestyles and acquisition of unusually large amount of money, the police opened an investigation into some Thai boys. They discovered that they had been working as either male prostitutes or procurers using the internet. This finding led to the arrest of several suspects and customers. One 13 year old boy was found to have acted as a middleman connecting underage female sex workers with clients. Facebook and Line were again  used as the main means of communication by the group.
Use of online social networks for selling underage sex not new in Thailand and can be detected

In 2016,  a Thai woman, Namphueng Suphaphon was charged in Thailand with trafficking underage Thai girls for sex on Facebook and LINE app social networks. There have been many such cases as Thai police are working intensively to target underage sex trafficking and prostitution in the country. Police revealed that the woman had an organised prostitution ring with girls aged 16 to 20 years old on her books to satisfy demand from customers. She charged anywhere from 8,000 to 10,000 baht for providing introductions. Thailand's prostitution industry has many operators like this dealing in normal prostitution activities as the internet grows. Many are former prostitutes or women who have worked in the industry. Prostitution is illegal in Thailand  and this does include sex for sale services marketed online even if the women are not underage. Thailand's police services have been engaged in an intensive campaign against the industry focusing on the exploitation of underage girls trafficked for sex. Police have also discovered links with these activities and organised crime including drugs and overseas kingpins. The police often work with NGOs in dealing with under age girls detained in their ongoing swoops. This new development of teenagers and school children prostituting themselves will perhaps require a new strategy.
Thailand's drive against sex trade continues – sex tourists and others targeting under age victims will be tracked down and punished
Recently, Thai authorities have increasingly cracked down on brothels and prostitution rings in the country. In Thailand's cyberspace, Thailand's Ministry of Digital Economy and Society is currently working to block access to adult service websites. In reality, legal liability through the operations of the Royal Thai police has gradually shifted to sex buyers. The police have even issued a warning to anyone in Thailand found to be engaging in such activity that it will not be tolerated. Those who are found to have had sex with underage minors can be prosecuted for rape as well as human trafficking and face up a maximum prison sentence of 20 years.