Police investigation into tourist company owned by a Chinese woman using Thai nominees highlights the danger of the practice for everyone concerned
A company that ran a tourist business for Chinese tourists on Koh Samui collapsed during the summer leaving debts of 3 million baht and two Thai employees in legal hot water. The collapse of the Chinese company raises questions about arrangements throughout Thailand involving foreigners running Thai companies utilising Thai nominee shareholder arrangements. An intensive crackdown is underway focusing on such companies in tourist related areas but Thai aithorities have warned that this could be extended.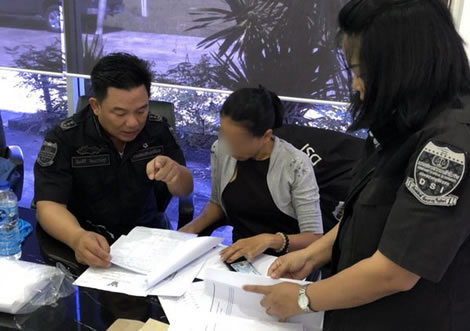 When creditors in Koh Samui and Surat Thani banded together and reported unpaid debts from a Chinese tour company to the Thai police earlier this year after it had collapsed and the Chinese owner disappeared, it emerged that two Thai employees were listed as nominee shareholders of the company and the police moved to question their role in the affair. Both Thai nationals deny fully acquiescing to the arrangement maistaking it for a bonus arrangement. The two men explained that they did had misunderstood their role and responsibilities within the company when the legal position was explained to them. The Thai government has consistently warned against the practice of Thai nationals acting as nominee shareholders of foreign controlled entites, which has been in widespread use by foreigners setting up companies in Thailand under Thai law.
'Running a business like this is rampant in tourist provinces such as Phuket. If we let them operate, safety standards will collapse,' Deputy Commissioner of the Thai Tourist police, Pol Major General Surachate Hakparn, told reported at a press conference during the summer held at Bophut Police Station in the area after the arrest of the two Thai employees and one Chinese executive of the company. It emerged that the beneficial owner of the company was a Chinese woman who it is reported had fled Thailand before the company collapsed. The woman has been identified as 42 year old Chanyan Ren. The Chinese woman had founded Romantic Samui Co., which catered for incoming tourists to the island and surrounding areas primarily focused on Chinese visitors.
Two Thai nationals and a Chinese executive arrested by Thai police
Two Thai nominee shareholders and one Chinese national were arrested by Samui police over a 3 million-baht debt owed by the tour firm operating on the island of Koh Samui. The tourism company had used the services of boat and car rental companies as well as accommodation providers. According to police reports, the company had up credit lines with one local business after another before matters came to a head. When confronted with the debts, the staff of the company were left in a position where they were unable to pay.
The suspects were identified as Somsak Burutchart, Patthaphol Ratbundit, both Thai citizens and Liu Xiaofei, a Chinese national. They were the executive officers of Romantic Samui Co., the firm accused of cheating local business concerns out of the 3 million baht. The debt ran up by the Chinese owned Thai  company has caused severe financial problems for legitimate local operators. This prompted them to report the matter to the police leading to the arrest of the three executives.
Real boss indicated as Chinese woman who had already fled Thailand
The men, when confronted with demands to pay the sums due, indicated that that the real boss and owner of the concern was the 42-year old Chinese woman Chanyan Ren. It emerged that the Chinese woman was in receipt of all revenues and had fled Thailand some time before the collapse.
During the press conference and interrogation of former executives of Romantic Samui Co., the police revealed that local companies had extended credit to the company in the hope of achieving more business. These included five different concerns in the region operating speed boats. The company would direct tourist to the operators switching to another operator when debts become overdue. Inevitably, the scheme lead to financial pressure and difficulties for the local concerns acting in good faith.
Thai national didn't understand nominee shareholding arrangements in collapsed tourist firm on Koh Samui
Burutchart, one of the Thai employees, told the Thai police that he was paid 30,000 baht a month plus a promised year-end dividend to act as the executive of the firm. He claimed that he failed to understand that he served as a nominee shareholder for the firm, thinking that he was only a shareholder that didn't need to invest in it.
It was reported that Thai police were scrutinising the financial documents of the firm to verify the claims of the suspects as well as making efforts to track down the Chinese owner.
Abuses have consequences for safety standards and regulations in tourism industry
Along with zero-dollar tours, the practice of running a foreign-owned travel agency with Thai nationals as nominees has emerged as a new headache for Thai authorities and is particularly dangerous for the vigorous Thai tourism industry. The practice makes it difficult to regulate and uphold safety standards as the companies are ultimately not accountable.
The Thai government has repeatedly warned Thai nationals to be wary of such arrangements and has also promised to tackle the issue through legal reforms.
Nominee shareholdings a genuine contract under international company law
Nominee shareholders are a facet of international company law often used in conjunction with preference shares for investment purposes where shareholders provide funds and often have preferential rights on returns on equity while voting rights in certain situations may also be weighted in favor of the nominee shareholders in certain key situations such as a vote on winding up the company while often having no voting rights on day to day matters. In Thailand, nominee shareholdings have also been used in this fashion but with a different motive and objective.
Nearly all Thai companies must be 51% controlled by Thai nationals
Under Thai law nearly all Thai companies must be over 51% owned by Thai national and sometimes this this requirement can rise to 61%. A practice has developed where nominee shareholder arrangements are put in place sometimes for a fee to allow foreigners to set up Thai companies and effectively control them. In some situations these can be staff or associates of companies providing such services to foreigners. In the past there have even been elaborate arrangements regarding loans and advances to the shareholders for investment in the companies with the shares pledged back to the foreigners as security for the loan.
Nominee shareholder arrangements in Thailand are illegal
The key thing to remember is that all such practices are strictly and clearly illegal under Thai law. They will not stand up to scrutiny in the event of an investigation by Thai government officials or the Thai police. It is true to say that policing of the law and enforcement was not stringent up until the junta military government in 2014. Since then there has been a real crackdown starting with tourist related companies in Thailand but also an information campaign warning Thai nationals not to take part in such arrangements. Such warnings should also be directed at foreigners in Thailand.
Law provides for stiff penalties and consequences for those found committing infringements
The 1999 Thai Foreign Business Act specifically outlawed such arrangements. Under the current Thai law those involved can be subject to significant penalties under Thai law including fines and imprisonment. Also significantly, where such practices are unearthed, any assets could possibly be seized and further, more serious charges could follow depending on the transactions and dealings involved. For foreigners involved in such arrangements, it is important that genuine arrangements are put in place to conform with Thai laws. This means that where The company law requires that Thai nationals hold a  51% shareholding, then such an arrangement must be put in place in an upfront and transparent basis where the Thai nationals have agreed to become shareholders or to invest in the company. Such an arrangement must be a bona fide commercial relationship and omne based on trust and partnership free from leverage. The arrangement should be established on the correct basis as the law envisages without dilution of the rights and duties on either party.