Thailand may be ready for a new democratic future commencing next year as election talk mounts and political parties gear up to do battle for people's votes
Thailand's political climate is getting warmer with February 2019 being touted as the date for the election. What is emerging is a fascinating glimpse into how Thailand's political future may develop when the country returns to democracy. It is now thought that the long a waiting Thai election may take place as early as February next year. Deputy Prime Minister Wissanu Krea-ngam said this week that he expected the election to take place on February 24th with local elections taking place in May.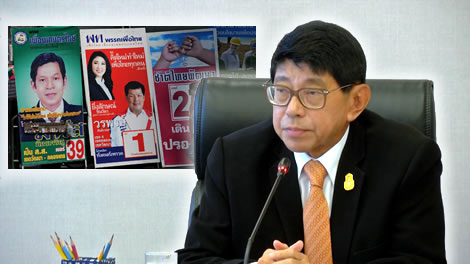 On June 25th this year, Thailand's Election Commission announced four tentative 2019 election dates in a meeting with 74 political parties at the Army Club in Bangkok. The dates were as follows: February 24, March 31, April 28 or May 25. According to the head of the commission, several factors would be taken into consideration to pick up the most suitable date, including the state of security, changes in election laws as well as the commission itself. The announcement was met with unanimous support from all the parties who attended. They did nothing more than ask for some bureaucratic favors.
Pheu Thai failed to meet government officials in June at election briefing
All but two parties didn't attend the meeting: the little-known Future Forward Party and the ubiquitous Pheu Thai Party. Despite still wielding considerable influence support over Thai people, the latter has an uncertain future ahead as doubts have been expressed as to whether the party will exist or whether it will compete in the election or not.
Comments by Thaksin may lead to the  dissolution of Pheu Thai, the party that won the last Thai election
Pheu Thai's lack of stability is explained by the key role of Thaksin Shinawatra, the exiled prime minister, who was propelled into power twenty years agao by a political movement which today is represented by Pheu Thai. The exiled leader may have caused the beginning of its end several weeks ago when he issued a statement that the Thai military government may take time to study. His message, meant to reaffirm his financial support for Pheu Thai members in the upcoming race, contained strong anti-junta rhetoric with a 'fight-to-death' vow. Thaksin's comments place the still widely supported party under scrutiny. Under current comprehensive and powerful Thai election laws, political parties that are subject to outside influence can be dissolved. Even though Thaksin is living in Dubai and is being pursued on foot of an outstanding conviction and prison term, he is still widely perceived as the unofficial head of Pheu Thai.
Thaksin still a pivotal figure although political climate has changed
Thaksin also maintains widespread popular support in some areas of Thailand and sections of Thai society. There has been speculation that he will maintain the current position as he does not see a potential successor he can trust as party leader. His sister, Yingluck Shinawatra, lead Pheu Thai to victory in the last election held in Thailand in 2011. That was under a different constitution and different political climate. Thailand has changed immeasurably since the 2014 coup not least with a new robust constitution.
Senior Pheu Thai leader contends that the party will win the next election
For all the noise, the outlook for Pheu Thai may still be bright, as far as Thaksin and other key figures are concerned. 'Believe me, the Pheu Thai Party will win with a landslide. I am certain we will get more than 250 MP seats,' said Chalerm Yoobamrung, a senior member and the former deputy prime minister in the last Pheu Thai-led government. He was discussing the prospects of the party for the next general election. If allowed to participate in the election, Pheu Thai will have to compete with many big names from the past, notably Suthep Thaugsuban and also a movement called Sam Mit.
Suthep and new 'Sam Mit' groups emerge as key players in Thai political firmament
Suthep was an important figure in the last period of democratic politics in Thailand. Key to the huge street protests that helped facilitate the 2014 coup, Suthep had vowed an oath not to get involved in politics anymore or to join in a new political party. He still claims to be holding true to his promise as he acts as a mentor and adviser to a new politcal movement, ACT or Action Coalition for Thailand, which is certain to contest next year's election under newly elected leader and former Bank of Thailand governor Chatumongol Sonakul.
Many members of Suthep's party and the new Sam Mit group have defected from Pheu Thai. This explains a new found optimism in both groups before the upcoming election. There is speculation that if Pheu Thai Party is banned, a new party may emerge called the Pheu Dham Party to fill in the void. If so, that would be the fourth incarnation of Thaksin Shiniwatra's political movement in no more than a decade.
Big names from Thai Rak Thai era now support current Prime Minister Prayuth Chan-ocha
Sam Mit meaning 'Three friends' is a movement formed by some of Thaksin's former allies to support Thailand's current Prime Minister General Prayut Chan-o-cha. This trio includes heavy hitters from the former Thai Rak Thai party which was dissolved and ceased to operate in 2007. The Thai Rak Thai Party, lead by Thaksin, produced one of Thailand's most dynamic administrations. The group included former industry minister Somsak Thepsuthin and former Transport Minister Suriya Juengrungruangkit. The third member of the trio is Thailand's current Deputy Prime Minister Somkid Jatusripitak who currently oversees the economic policy of the present government. In recent months the Sam Mit network has been active in Thailand's northern region drumming up support for the current Prime Minister as an 'outside' candidate for Prime Minister after the next election. There have also been reports of a new political party associated with this group to be called Palang Pracharat. Meanwhile the Thai junta, the National Council for Peace and Order has emphasised its commitment to stay above the political arena and to treat all political groups equally.