Thailand is a country where ghosts and legends do battle for people's minds with the biggest inspiration of all – the lottery win
In a country as obsessed with luck and lottery as Thailand, a stranded turtle has become a colourful hero to countless Thai people in their quest to find a big win in Thailand's popular lottery game.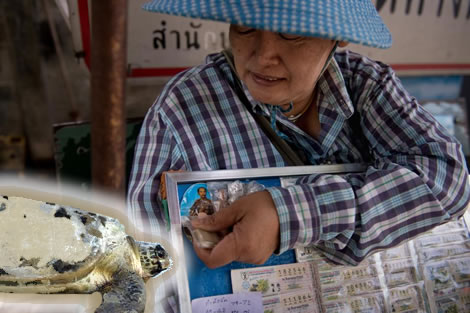 Paul the octopus and Achilles the cat have long enchanted football fans around the world for their perceived ability to predict the results of World Cup finals matches. To the residents of a small village in Thailand's Isaan region these feats are nothing out of ordinary. Recent news reports that have found their own oracle who reveals to them much more practical secrets. It is a golden turtle that gives clues about the results of Thailand's bimonthly lottery which fascinates and enthrall nearly everyone in Thailand and is played like clockwork by nearly 30% of Thai people when each draw turns up.
Turtle picked up in the dark revealed as the golden one
Driving in her car one evening in Phimai district of Nakhon Ratchasima province, a local business person spotted the reptile on the road. Stopping to put the turtle into her car in the dark, it was only when she switched on the light that she saw its distinctive golden colour. To many Thai people gold is the colour of money and is very auspicious sight in any form. The turtle was adopted by Pranom Panichcharoen who told reporters that when she did so it made a distinctive whistling sound. Locals in the village of Baan Talad Jiab also paid attention to its distinctive gold appearance. The village elders, whom she spoke to, told her that they had never seen one like this before. 'I believe it brings us all luck, she recounted.
The turtle weighs 2.6 kg and is kept in a basin with sand on the floor. Many villagers visit the creature whose species is unknown to them. They observe the turtles golden shell and appear to be able to perceive numbers on it with which to play the Thai lottery as the day for the draw becomes due. Others turn it upside down for clues and measure its attributes for the winning inspiration. Pranom told the media that she feeds the turtle fruit such as watermelons.
It also helps that Golden Turtle is a well known brand of high quality and delicious food offerings sold in Asia. The company is based in the Netherlands.
Turtle is reported to have inspired lottery winners
The local villagers, along with visitors from many places all over Thailand, keep coming to visit the turtle and it has been reported that there have already been lottery winners. However these wins are not confirmed or documented. Rumours of success has resulted in the turtle receiving even more fans as lottery enthusiasts search for numbers that will help them win the reward of millions of baht. It may be also that many have a colourful sense of humor and fun not uncommon among Thai people.
For another Thai village log reading is the way to go
For the village of Lan Ba in northeastern Thailand, magical logs are the most reliable way to get clues about lottery results. It is a custom for local lottery enthusiasts to hold a ritual in which they will have 20 'takhian' tree logs cut down and mediums appeasement offerings to the trees' spirits to arrive at the divine numbers. According to local folklore, the takhian log is sacred and inhabited by a goddess who, if pleased, will bestow wealth on those who show her respect.
The end of the ritual comes when the lucky numbers are announced. This marks the beginning of mad race to buy up all the tickets in town with the corresponding numbers. Of course, there are also whispers of people getting rich thanks to paying attention to the spirit of the takhian log.
Thailand has a strong, living tradition of animism and superstition deeply ingrained

Stories like this abound in Thailand. They represent a belief system that is sincerely held by Thai people at all levels of society. Although over 90% of Thai people are Theravada Buddhist, the traditional Buddhism practised by many in Thailand combines local culture and some elements of Hindu tradition depending on the individual or family. Thailand has a strong animist tradition and this tradition pervades all aspects of Thai life and the national character.
Thai man finds home of ancestor spirits who appeared to him in a dream saying they were hot and homeless

In April this year,  43 years old Thai man Veeraphol Phongsai was featured in the respected Thai online news website Khaosod. The 43 years old had earlier experienced a vivid dream where his two deceased grandparents spoke to him. They told him that it was very hot for them in the afterlife and that they were homeless. When he later discovered an anthill under a tree on his land he believed that it was where the spirit of his relatives had come to live. The anthill took on the shape of a phallus or erect penis. It promptly became a shrine for local people and visitors who came to experience good fortune particularly with the lottery. And it is reported that they were not disappointed. Veeraphol himself says that has won the Thai lottery 15 times consecutively. A woman who visited the shrine was reported to have won over 300,000 baht ($9,375). The local people built a shrine around the anthill with flowers and offerings to the higher powers including currency, fizzy drinks and candles.
Though foreigners may be intrigued by such beliefs, it should be known that superstitions still prevail in many parts of Thailand to an extent that would seem incomprehensible to many people in increasingly sceptical and perhaps cyncical western countries. In 2017, a Royal Thai Police unit was dispatched to a rural community in Amnat Charoen province to protect its residents from what locals feared was a hungry female ghost, known in Thai as a phi pob. Of course, the police explained that their job was to give people a sense of normalcy and safety rather than to work as ghostbusters. Reports of ghosts haunting villages or possessing people are also quite frequent in many other rural communities in Thailand.
Leaders of the community write to Thai police seeking patrols to uphold confidence over fear of a ghost
'The residents are frightened,' Adul Chaiprasithikul the head of Pathum Ratchawongsa Police Station was quoted by a Thai media outlet as they reported a mission by local Thai police to instill confidence following an urgent letter from the district chief to the head of the police in the area. 'The letter requests police to conduct regular patrols – they want some reassurance. The people who believe in the rumor are genuinely scared,' the police commander told the media. The District Chief of the small rural community in Amnat Charoen province had written a letter to the police seeking help as a means of allaying the fears of his charges. Amnat Charoen is a small province in Thailand's north east bordering Laos. Four head of cattle had died mysteriously during the year in the  community and trainees at a nearby police academy had been reported as sick. People in the small community were genuinely frightened. They attributed the goings on to a spirit which locals called a 'phi pob'. The local Thai police chief told reporters that patrols were scheduled to begin and that certainly, some people believed in such things while others did not. The village community had earlier arranged for a Buddhist ceremony to take place in order to stop the ghost holding sway over the area.
Phi Pop is a terrifying ghost that kills people silently
Locals in different part of Thailand are very aware of local folklore and superstitions which are part of traditional beliefs in each area. To many Thai people, belief in spirits and legends is mixed with their deep commitment to their local traditions such as Buddhist teaching as well as local belief and custom. The array of ghosts that are thought to exist in Thailand is quite spectacular with over 30 different types. The Thai word for spirit or ghost is Phi and the Phi Pob is a peculiar ghost or spirit which possesses both animals and spirits. The problem is that it is a spirit or ghost that is particularly partial to eating raw meat. The unfortunate animal or human possessed suffers death as the ghost eats its internal organs.
These superstitious beliefs do not, however, overshadow Thai people's unrivalled fascination with the lottery. Most people spend a small amount of money on them every month, and occasionally win awards worth thousands of baht. Sometimes, though, lucky ones can win many tens of millions of baht, and become very rich. But just like other unfortunate players around the world, such millionaires tend to run out of money after several years, for which a phi pob is surely not responsible. Time to look again and seek inspiration from the golden turtle. There's always hope.