There appears to no limits to the serious effort to suppress the formerly rampant sex for sale culture in Thailand including arrests of officials and police implicated
A series of investigations and arrests of local officials accused of engaging in sexual activities with underage prostitutes shows how serious and earnest the present Thai government is about curbing the notorious sex and human trafficking trade in the country no matter where the trail takes investigating officials. A raid on an orgy in Pattaya and a brothel in Bangkok shows that the sex industry in Thailand no longer operates with impunity.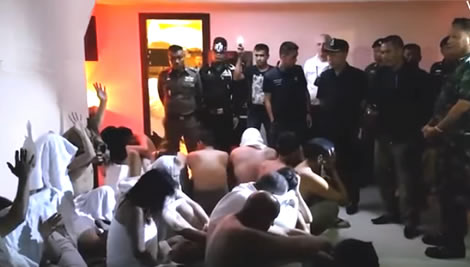 The unprecedented crackdown on Thailand's prostitution industry continues and Thai authorities have shown that they are ready to take decisive action. This includes rounding up foreigners found in brothels and exposing to media scrutiny information gleaned from raids showing the involvement of some corrupt Thai officials in the industry. In the last year Thai authorities have also shown a willingness to prosecute officials found working with the industry. The moves are all apart of an campaign to root out corruption in the country.
Thai police raid orgy in progress at Pattaya hotel
In April video footage beamed around the world showed Thai police assisted by the military and immigration officials raiding a hotel in the red light of Pattaya which has long been associated with prostitution in Thailand. The city has however been determined to clean up its image and recently awarded a prestigious prize as one of Asia's best tourist destinations. This raid was not a bright spot in that campaign. Media reports on the action pointed out that there are estimated to be nearly thirty thousands dancers, bar girls or prostitutes working in the small city.
Shocked party revellers left naked and bewildered as they were surrounded by police, military and immigration officials
The raid on the Tulp Hotel took the participants in an orgy totally by surprise. As police officers, military and immigration officials stored in on the 'playzone' of the hotel, naked women ran screaming for towels while western tourists and expats also rushed for towels to cover themselves up. The party, to which couples had paid $62 per head to participate, was an open orgy where couples exchanged sexual partners while specially paid staff at the hotel served refreshments and even joined in with the antics. At the scene, Thai police found American, British, Australian and Malaysian nationals as well as citizens from Singapore. The participants had booked the event on a website. Naris Niwapantawong, the Thai Police Chief of Banglamung whee the activity took place, told the media that the event  was a 'sex party'. The police had received a complaint from the public related o the activity that was taking place at the Tulip Hotel. 'We were told they organised sex parties at the weekends,' he said. In videos couples can be seen huddled together with some participants covering their heads with towels.
Police chief explains how westerners in orgy party were caught red handed
He detailed to reporters how his staff had coordinated with police, military and immigration authorities to execute a raid in a timely manner that would unearth the illicit activity. 'We carried out the operation while they were having sex and we shut them down,' he said. The event took place at the Tulip Hotel, a substantial four storey structure, owned by a Chinese businessman. The hotel had 30 rooms and over the 4 floors in the building. One of the floors was a dedicated 'play zone' where the orgy took place. The police revealed that 'almost all' the participants in the activity were found in this area when the raid occurred. Police found that three staff members of the hotel were tasked with cleaning rooms, serving the guests tea and also joining in with the activity.
Police revealed that they had monitored the hotel and gathered intelligence before getting a warrant to carry out the raid on the premises. They confirmed that those who paid to take party had to been couples
Arrest of police officials in Thailand's remote province of Mae Hong Son shows Thai authorities are committed to the fight against the sex trade and human trafficking
Last year Thai authorities dealt head on with a scandal involving the provision of free sex to senior visiting officials. Media reports exposed an accepted practice in some local authorities within Thai provinces of greeting and welcoming visiting senior bureaucrats with top-notch accommodation, local delicacies, fine wine, and the provision of pretty girls for sex. 'This tradition became common a long time ago,' a district level official in Mae Hong Son told the AFP news. Mae Hong Son is a province in Thailand's north western frontier bordering with Myanmar. An ethnically diverse population, the province has a small population of over 240,00 people. The province has mountainous terrain and is 574 mils from Bangkok. 'When groups of senior officials come for seminars or work trips, there is a custom of 'treating them', which means welcoming them with food, and then 'laying down the mat,' which means providing girls,' the official was quoted by the news agency saying.
Province say crackdown on an illegal human trafficking gang involving officials
His courage in openly exposing the practice may have stemmed from the reaction of invt hating Thai police to the operation of a human trafficking ring in the area involving a  senior police officer who was arrested after turning himself into for questioning over charges relating to a human trafficked ring that had operated in the province since 2014. Investigating police in Thailand were reported to have arrested nine people in all including other police officers with a range of ranks and also a school teacher.
Thai media and investigating police bring down sex trafficking network in provinces
Last year also Thai police also launch investigations the involvement of police officers in prostitution networks in at least two other provinces. One of the investigations related to reports to authorities made by a brave Thai mother, whose 17-year-old daughter, along with her teenage friends, was coerced into working as a prostitute to entertain officials.
The woman was reported at one stage to have fled to Bangkok where she related her story to the Thai media. This prompted the investigation and subsequent arrest of many perpetrators. The mother revealed that the young female victims were seen simply as a property, and branded with owl tattoos as a kind of ownership stamp. She is now living under police protection.
Raid on a Bangkok brothel shows new open and transparent attitude by Thai authorities to rooting out prostitution
Then this year, dozens of Bangkok officials were investigated for allegedly receiving free services from a massage parlor or brothel called 'Victoria Secret' that was accused of forcing trafficking victims into sex work. A spectacular raid on the large brothel in Bangkok's Huai Khwang district was extensively covered by the media.
Victorias secret brothel lived up to its name with intelligence for Thai investigating police charged with rooting out human trafficking
After a police raid in January, the parlor was discovered to employ nearly 100 women from Thailand as well as other Southeast Asian countries as prostitutes,. The countries included Thailand, Myanmar, Laos and China. Among those rounded up by police there were at least three under 18 or who, it is reported, may have been forced into the industry. Financial documents reviewed by the media showed that a numbers officials had received free food, booze and even massages from 'Victoria Secret'. Among them were police officers.
Accounts books and records gave insight into the operations of the lucrative brothel
It was reported that Thai police had seized account books from the lucrative brothel and other documents that revealed the workings of the enterprise. Local media had access to the documents and published the information including accounts schedules for two months in 2014 and 2017 which listed payments to some police officers. It was also reported that officials had seized a computer at the premises which was being examined for further evidence. At the time of the raid an interior ministry spokesperson confirmed to the media that the documents were 'real'. 'There is still a lot of information related to many government officials left on the computer which will take some time to investigate, he told reporters. There were reports at the time of the raid that the brothel is linked to international human trafficking operation within Southeast Asia. Officials from Thailand's DSI or Department of Special Investigations later revealed that the age of a further 20 women found at the premises  wa sbeing look dta. He confirmed that eight five other women would be charged for 'illegally selling sex' and if appropriate, deported.
Genuine effort to tackle Thai prostitution now linked more to human trafficking
Thailand is determined to show that its fight against  human trafficking is a determined and genuine one and to have the country removed from US State Department watch lists which reflect badly on the country. The rising prosperity in Thailand drive by consistent economic progress is taking many Thai people out of abject poverty and giving more choice to poorer Thai women who are opting out of prostitution. The availability of poor migrant workers from countries on Thailand's borders means that it is an obvious opportunity for criminals of the lowest order. This is the battle that Thai authorities are tasked to fight.