In January LINE messages received by a female shocked teachers and officials at a school in Nakhon Ratchasima when it was found out that they came from the School Director
A number of shocking complaints against a number of Thai teachers and investigation by police have been reported in Thailand this year. All are reported to involve in inappropriate relationships with young Thai females students. In August the principal of a school was jailed by a Thai provincial court after it found him guilty of a range of offences including sexual molestation following the revelation of his affair with an underage student through the messaging app LINE in January. He is still awaiting trial on a statutory rape charge. The swift investigation of such reports and decisive action taken by authorities show a new determination to make sure that those engaged in untoward activity towards children in Thailand will be a apprehended and punished wherever they may be.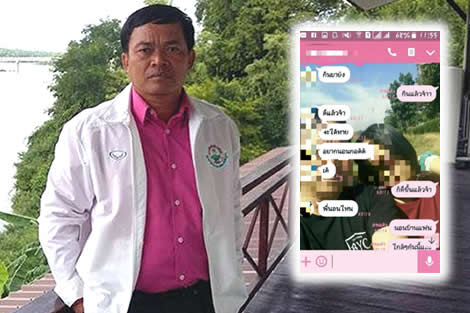 Members of the public were shocked in Thailand Nakhon Ratchasima province after reports emerged of a teacher involved in an inappropriate relationship with a female student at his school first appeared in January this year. The secondary school principal was removed from the school by local authorities after reports of possible misconduct with the Thai girl scams to light at an official level. A sub committee overseeing the school where the man was the Director voted in early July to dismiss Nathaphop Boonthongtho from his senior position as School Director of Patong Thanoen Samakkhi which is located in the Bua Yai district of Nakhon Ratchasima province.
Teachers are highly respected in Thailand and sex complaints shock communities
Sadly, this was not the only case this year involving teachers in Thailand, a very respected cadre of people, being detected by investigating authorities for inappropriate behaviour with students. The shock caused by such reports in local communities can not be underestimated The cases reported in recent months show a growing willingness among families to come forward and make complaint to the Thai place. In some instances, the families have been assisted by human trafficking organisations and in one instance families were working together through a social network group which was able to identify one of the wayward teachers. In many cases the school authorities have launched probes and taken appropriate action according to school rules on discipline and appropriate behaviour while the police investigated the reports as criminal matters.
New open mentality and accountability for officials in Thailand – high standards expected

Thailand is in the midst of a new openness drive where the public are increasingly more confident coming forward to report scandals. Thailand is often reported as a patriarchal society where hierarchy and respect for authority are important values but there has always been an element of freedom and ownership within the community in Thailand which can explain the country's thriving culture. Thailand is also a very conservative country where high standards are expected of those in positions of responsibility.
Principal of school jailed for sex offences and affair with female student while principal

The sex with students scandal erupted in Nakhon Ratchasima province when it was reported by local media that Nathaphop Boonthongtho, the 51 year old former director of Patong Thanoen Samakkhi School situated in Thailand's central province, had been dismissed from his position at the school. This came after reports of an inappropriate relationship with a 14-year old female student surfaced and were brought to the attention of the Thai police. According to police reports, it is suspected that Boonthongtho started a sexual relationship with the underage girl, whose name has been withheld, shortly after taking up his post as the principal three months previously. The teacher denied the charges. However police initiated a criminal prosecution relating to his activities with the legal minor. These charges included taking the minor from her parents, a lewd act and statutory rape. In August the Bua Yai provincial court convicted the former teaching direct on a range of counts including sexual molestation and sentenced him to 10 years and 4 months in prison. After later confessing his crimes the disgraced teacher had his sentenced reduced to 5 years and two months. He was give 30 days to appeal. Later this month he is facing a further charge of rape in court.
Obscene messages on the LINE social networking app triggered concern and investigations
Although local residents said they had seen them together on several locations, the scandal wasn't exposed until the discovery of obscene LINE chat messages found on the girl's phones in which Boonthongtho addressed her as 'darling' and 'dear wife'. The LINE messages triggered the scandal in January when the school committee and teachers raised the interactions between the senior teacher and the female student. The scandal soon came to the attention of local media and authorities. A 9 member provincial education committee, headed by General Marut Limcharoen, held a meeting on July 5th to discuss Boonthongtho's possible violation of law as well as the teacher code of ethics and voted unanimously to remove the teaching professional from his post.
School principal moved to new position but dismissed and charged with multiple offences

Boonthongtho was later transferred to an education office where he is working for the time being while awaiting the conclusion of disciplinary investigation. The process allowed the teacher to appeal the decision within one month to  a commission of the Thai Department of Education. A probe was then held into the teacher's activities and found him guolty of secual misconduct which ultimately lead to his dismissal from the teaching service and loss of pension entitlements.
Teacher faced serious criminal charges after Thai police investigated his activities with Thai girl

The disgraced principal was then left facing possible felony charges before the local provincial court relating to the affair, which he vehemently denied the charges and had vowed to fight. As for the females student, it was reported that she had not returned back to school several days after Thailand's new semester began. People close to the girl's family indicated that she returned home after spending some time with her relatives in Sakon Nakhon but 'wasn't ready to come to class'. Though careful not to urge the student to come back to school out of concerns for her psychological well-being, her teachers  expressed their hopes that she would resume her education soon, and their belief that lessons and exams can help distract her from the trauma.
Bangkok physical education teacher accused in multiple sexualt assaults and charged by police
In an even more serious case of abuse, a Thai physical education teacher at a prestigious school in the Khlong Toei district of Bangkok, whose name is withheld, was suspended after he was accused of sexually assaulting a 15 year old female student.The teacher had already faced several charges of sexual misconduct prior to the case. The assault took place shortly before the victims from his past crimes would testify against him. According to the accounts of the girl's parents, the teacher had lured their daughter into an empty classroom and tried to have sex with her three years ago, but she managed to escape. The girl and her parents decide to hush up the story as they all lived in the school compound and the adults were also temporary workers there, which made them very vulnerable to retaliations.
Complaints link teacher to up to 20 school girls at Khlong Toei school as parents networked

It emerged that  the teacher had been reported to authorities by parents in connection with he molestation of up to 20 other school girls. Police investigators revealed to the media, in a briefing, that the report of rape was not the first complaint made about the teacher at the centre of the affair. The mother of the rape victim had made earlier complaints and allegations that the abuse had been ongoing for four years.
Facebook group identified the teacher as a predator
Reports were also made to the school authorities by different parents who even identified the man as a threat on a social network groups on the Facebook social network. On that website there were at least 16 reported incidents  relating to the teacher. Despite a subsequent investigation, that confirmed his violations by the school authorities where, he was subsequently disciplined but allowed to continue working as a teacher He continued in his role at the school but was prohibited from any salary increases for two years. Then it was reported that this year, all the victims were asked by authorities to testify against the teacher before officials of the Khlong Toei District.
Bizarre behaviour by teacher on the night before a hearing led to sex assault and complaint

Bizarrely, the teacher tried to arrange a meal with all the girls who had accused him to discuss with them their  testimony and his plight on evening before the hearing on June 2nd. Only the one girl, whose parents worked at the school, showed up and she, it is understood, refused his request to report favourably on him. The teacher then took the underage girl to a karaoke bar and shared drinks with her before returning to the school. He suggested that they have a private talk in a classroom, where he later sexually assaulted her. The teacher then asked to girl to go out and buy some food, giving her a chance to flee.
Teacher arrested and refused bail by a Thai court
The teacher, who is 26 years of age,  was arrested shortly afterward after he turned himself into a local police station to answer charges that had been made by the Thai girl's mother. The girl's mother was accompanied to the police station by a representative of a non profit organisation working in Thailand with a mission to combat human trafficking. After submitting a formal complaint to Thai police, a subsequent medical exam validated the girl's claim of rape. The teacher was arrested and jailed after a Thai court refused him bail for fear that he may intimidate witnesses and ahd him monitored closely for fear that he may have committed suicide.
Sakon Nakhon teacher confesses to Thai police to sexual acts with girls after being arrested

Earlier this year in February another teacher was arrested by Thai police after complaints were received that he was responsible for the repeated rape of a 12 years old student. The 52 year old man was arrested at his home in a morning raid by investigating Thai police. The teacher was subsequently charged with rape and other sexual acts in relations to two Thai girls, one under 13 and the other under 15. The man confessed to the charges and attempted to commit suicide at a later stage.
The mother of the younger Thai girl had sought help after she noticed her daughter was reluctant to meet her teacher. It emerged that the affair had been ongoing for a number of years including illicit meetings at a local motel. The younger Thai girl claimed to have been raped by the teacher on three occasions.