Some foreigners such as western expats can sometimes simply lose control of life in Thailand and dread a knock on the door and possible arrest over visa issues
Two Frenchmen married to Thai wives committed suicide in Thailand in the last 12 month as the dream of an idyllic life in Thailand turned sour. The psychological dangers of moving to Thailand for both foreign men and women are particularly acute and are behind many of the tragedies we see unfolding nearly everyday in the sunshine paradise.
The first foreigners to come to Thailand were the French, the people who gave us the expression farang which is how the Thai people pronounced 'francais'. The French still come to Thailand with over 750,000 visitors each year. Many come to stay and live often marrying Thai wives and finding love. In recent years a survey carried out by an internet forum for foreigners in Thailand Thai Visa showed  a significant amounts of foreigners who described their life living in Thailand, many with Thai wives and partners, as blissful. In the most recent this year this situation has declined with a new expat survey rising cost of living and reports of increased levels of  divorce in relationships between foreigners and Thai wives.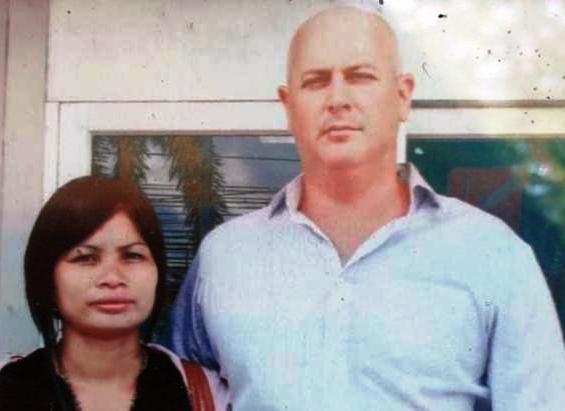 Morbid but popular website devoted to foreigner deaths in Thailand
There is even now a hit website tracking murders and suicides involving foreigners and expats in Thailand. The explosion in foreigners regularly visiting Thailand and coming to live in the kingdom began twenty years ago and they keep coming. They are essentially migrants but with a difference. Many come to Thailand with money and many end up with none. When this happens it oftens ends in tragedy or in some cases even with the foreigner finding himself or herself on the wrong side of Thai law.
Many people have sought to explain the unique set of circumstances impinging on foreigners who come to hailand and the psychology that impacts them when things go wrong. Not enough money to afford a visa extension, a broken relationship or simply the inability to face the dark skies at home in Europe or another western country that they have moved from.
Government security clampdown makes prospect of arrest for visa infringements higher
A huge clampdown and series of raids and arrests has been launched by the Thai government in recent years making it more difficult for foreigners who cannot afford the financial requirements of visas or who, through lack of management skills, lose track of the paperwork and let visas expires. An out of date visa for a foreigner living in Thailand means they are subject to a knock on the door and arrest by authorities at any time and may even be facing the prospect if imprisonment, forced deportation back home and being placed on a blacklist from re entering Thailand.
One 60 year old German man was arrested in Trang in June and found to have overstayed his visa by 19 years and 4 months. It is a fearful prospect for those who cannot manage it. The reasons for the Thai government policy are sound and most foreigners in Thailand support efforts to make the country more secure for all those who live it it but for this vulnerable part of the expat community, it spells devastation and sometimes tragically, death. Most of those arrested in the now regular security sweeps are not western expats but individuals from Africa or Asian countries who have entered Thailand illegally or on tourist visas. The security campaign is designed to detect and deport people in the country engaged in illicit activities and those who pose a security risk.
Thai women face enormous pressure when married to a foreigner whose life hits the rocks
It can be an equally difficult and stressful life for a Thai woman who marries and foreigner and lives in Thailand when things have gone wrong. It has been said by many experts that one of the things that makes these international relationships so successful is that both parties to them are stepping outside their own culture. For Thai women, marrying a foreigner was, up until recent times, strictly taboo and despite the veneer of acceptance and indeed approval that now exists, there is still a lingering stigma for Thai women who take this course. Many Thai women who marry foreigners are already divorced, separated, in debt or have for various reasons, been unable to find the right Thai man for marriage. If the relationship, when it happens, turns out badly or experiences difficulties, the psychological pressure on the Thai woman is extreme particularly if the couple are still living in Thailand. It is can be a devastating loss of face, a loss on many different levels.
Foreigners find themselves in a mentally impossible positions when things go wrong in Thailand
Many foreigners who come to Thailand initially are impressed by the lower costs of living and find that their income or wealth looks a lot better and goes a lot further in Thailand. Many seasoned observers warn that this is a trap. Some foreigners, through their Thai wives or partners, take on spending commitments at the start of the relationship that cannot be met in the future particularly if the foreigner loses his source of income or wealth. In Thailand married couples are treated financially as one during the period when they are married. Foreigners can obtain employment in Thailand teaching foreign languages provided that they have suitable qualifications including a university degree or are able to adapt to the culture of a Thai workplace which can a bit different. They must also have the required visa and a work permit from the Thai Labour Department.
In Thailand today there is still strong demand for English teachers but it is important that the foreigner has a clean passport and that all his affairs are in order. The problem for some foreigners in Thailand begin when the money dries up. It can be very difficult to return to his r her home country as it it is for any emigrant going up and to resume a career or source of income. It is often very difficult to move re engage with a job or career back in the western country. There is a very real and fundamental psychological barrier about going back. Such is the unique nature of lifestyle that attracts foreigners to Thailand in the first place that this block is created. The result unfortunately in many cases is suicide. The western man, specifically, finds himself mentally in an impossible situation.
Foreigners in Thailand are becoming less affluent but are prudently better off in new survey
Thai Visa, an internet forum for expats in Thailand, release a survey in August. It was based on an accurate statistical sample of over 1,400 respondents. It showed nearly half the foreigners living in Thailand had an income of 65,000 baht per month ($2,030). This would be a good salary for most people in Thailand but in today's developing economy in Thailand, many middle class Thai people are drawing salaries in excess of this. What was more surprising was that the survey found a small proportion of foreigners earning less than 25,000 per month ($785) and quite few under 45,000 per month ($1,406). A select group of foreigners earned more than 140,000 per month ($4,375). The survey indicated however that many foreigners in Thailand prudently own their own homes including many with condominiums. This would seem to suggest that problems for foreigners occur where a calamity strikes and income is caught off or where a relationship breaks down.
Western men are more vulnerable if living in Thailand with a Thai wife – relationship expert

Carla Boonkong is a researcher and expert on Thai women marrying foreigners and explains that many foreigners in Thailand come to rely in their Thai wives and spouses more so than if living in western country or certainly more so than normal couples in Thailand or at home. 'The farang or westerner sometimes might not speak Thai so well and it is often the case that the Thai woman will take care of the bills and things like that. If there is a rupture in the relationships then the man is left in a frighteningly stark situation. If you add to this any element or jealousy or betrayal, it is terrible prospect and unfortunately it is the reality in some situations,' she says.
Frenchman commits suicide over breakup with his Thai wife dawans after heated flare up

In September a middle aged French man committed suicide at his home in the quiet of night after a blazing row with his younger Thai wife. Thai police discovered a heartbreaking scene when they arrived at the home at Chonburi after being summoned by a frantic 23 years old Thai woman. The police later concluded that the French man hung himself after a heated argument with his Thai wife. Olivier Sylvain Pierre Soum, a 45 year-old French citizen, was found hanging at the front entrance to his home on the morning September 19th. Ms Natanat, the victim's wife, was at the scene when the police swiftly arrived, and untied the French man. He was already dead by then. The couple lived in Royal View Village in Pattaya's City Park. The Thai woman had been on her way out to work at 1pm when she made the shocking, grim discovery.
Man's troubled love life with Thai wife deemed by Thai police to be the cause of his suicide
The police deduced Mr. Soum had committed suicide caused by his inability to cope with his troubled family life. According to Ms Natanat's account, she and Mr. Soum had been married for two years but their life was marred with daily quarrels and arguments. Their conflict had reached such an extent that on the night Mr. Soum killed himself, they had a very big fight and finally agreed to separate, and that that Mr. Soum would move to a different apartment. After that, Ms Natanat claimed, her husband went out to watch TV and sleep on the couch. When she woke up next morning, she had assumed that he was off preparing to move his belongings to another location. She found him hanged on the porch with a nylon rope around his neck having tied it to a wooden beam.
Police satisfied that there was no foul play
After a preliminary medical examination, police investigators found no other injury on the victim's body other than the marks of self strangulation. They ruled out the possibility of foul play. His belongings also appeared not to be stolen. Police also took extensive photographs and conducted a thorough examination of the scene. The most viable theory, therefore, is that Mr. Soum became so upset that he decided to commit suicide. This was later tested by an autopsy scheduled at Police General Hospital in Bangkok. Meanwhile, the French Embassy in Bangkok were also notified of Mr. Soum's death.
46 year old French man and his 26 year old Thai wife commit suicide together – leave notes

In November 2017 last year another French man, this time living in a village in Uthai Thani, Thailand also committed suicide. He was another French man married to a Thai wife except this case was different. His Thai wife and love decided to commit suicide with him. The pair were only found after Thai police ordered the headman of the village and his family relatives to break down the locked doors of the French man's home after the married couple had not been seen for a over five days. Locals had also detected a stench coming from the home which was all on one level.
Locals indicated that the French Thai couple had financial problems
A Thai police unit had come from Muang Karung police station to Moo 6 village in Tambung Mueang Karung in the Ban Rai district of the province to attend the scene. The couple who lived in the house were French man David Guffroy and his Thai wife Saifon. It appears that the couple had run into financial difficulties and Mr. Guffroy's visa and passport had expired. Mr. Giffroy was 46 years old and his Thai wife was 26, a remarkably similar age range to the Chonburi couple. In this case the couple had decided to die together.
For many foreigners married with Thai wives it is last chance saloon in the marriage stakes
This is not the first time that this has happened and it does not surprise Carla Boonkong who is a researcher on Thai women marrying foreigners who writes for ThaiLoveLines.com, a popular dating site. 'Obviously these cases involve men who have burned bridges. The relationship with a woman in Thailand is like a last chance saloon for some of them as it is also often for the Thai woman. For many Thai women, it is similar situation. Obviously his Thai wife did not want to desert her husband and face the sense of loss and devastation that it would have involved, it's truly tragic,' she says.
Double suicide note left by French man and Thai wife
The couple left a double suicide note behind. Saifon, the Frenchman's Thai wife, said that she wanted to die with her husband and be with him in the next life as his soulmate while David Guffroy explained that his mother and father had not sent money to him for a long time. The couple had been married for eight years. The married couple committed suicide by taking an overdose of antidepressant pills.  Locals explained to police that Mr. Guffroy had been revived psychiatric medical attention on a regular basis.