Although there are indications that the 3rd quarter has seen optimistic forecast lowered, the Thai economy is sound and poised for steady progress barring a sudden worldwide slump
Thailand's economic growth may fail to hit a 5% target that some observers thought possible in the middle of the year. There are signs that a tightening of conditions is taking place in the wake of increased tensions brought about by the ongoing US China trade war which is now advancing into new territory. There are some suggestion that this may be impacting Thailand which has seen export growth fall off in the third quarter of the year. However the Thai economy is in very healthy shape and most economists are still forecasting strong gains.
The Thai economy is is performing quite robustly with a high growth rate still forecast for the full year 2018. This is being helped along with the the launch of new investment fund by the Thai government as well as well as new economic aid measures. Overall the Thai economy is positioned very strongly for whatever direction the world takes in 2019 and beyond.
Mid year target of 5% growth for Thai economy is fading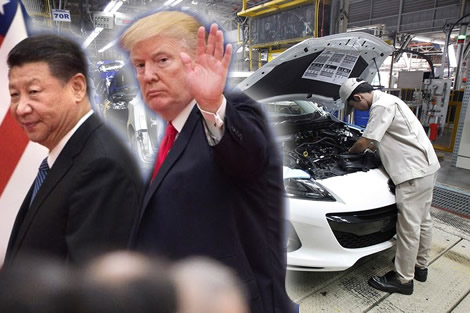 In the middle of this year's some economists were talking about upwards of 5% growth in the Thai economy for 2018 but this optimism has moderated. The third quarter has seen a weakening of external demand as the trade war between China and the United States bites harder. There are also fears worldwide of a slow down with the IMF, just this week, lowering its forecast for growth across the world. In addition to this, the buoyant and thriving Thai tourism industry, which has surprised many with its strength and the value it brings to the Thai economy, has hit a slight problem as relations between Thailand and Chinese tour operators were strained following a tragic boating accident in Phuket in July. Another incident involving a security guard assaulting a wayward Chinese tourist trying evade immigration lines is also reported to have further rattled relations. The astounding strength of the Thai tourism industry has focused attention of authorities as it is income driver not only within Thailand but also is now significantly benefiting less developed areas of the country.
Thailand's projected growth rate for 2018 raised
Months ago University of Thai Chamber of Commerce (UTCC) issued a statement raising its estimate for this year economic growth of Thailand from 4.5 % to 4.6 %. It cited a recovery of  the global economy and growth in various sectors. The optimism was shared by many other financial and monetary institutions such as the International Monetary Fund (IMF), Siam Commercial Bank's Economic Intelligence Centre and Kasikorn Research Centre, all of which have revised up their forecast of Thailand's 2018 economic growth.
Plans to improve investment in Thailand's economy, which is well ordered, are key to growth

Despite the current US China trade war, which has the potential to have disastrous consequences on global economy, Thailand's impressive growth rate is still forecasted to extend well into 2022 in which the country's economy can expand by at least 4%, with strong prospects of private investment and public spending recovery in the near future. The 2019 election, which may require about 40 billion baht to be spent, is also believed to be of great importance to Thailand's economic revival.
Although Thailand saw a sure in investment in 2015 there has been smaller growth rates in investment in 2016 and 2017. This is a cause of concern. The gains in the Thai economy this year are highlighted by increased consumer confidence. In 2017 Thailand saw a 6.2% increase in retail sales and a whopping 14.2% increase in imports. Despite this, inflation has been remarkably controlled even with a lower valued baht. This is a very healthy situation.
Private sector investment in infrastructure projects through fund working well in Thailand
Other good news for the Thai economy is the recent establishment of Thailand Future Fund (TFF) which is promised to provide the much needed funding for transportation infrastructure development in and around Bangkok. Revenue from the Chalong Rat and Burapha Withi expressways, both of which have made a good profit, will be used to sustain the TFF. Investors are very interested in TFF due to the high rate of revenue growth of the two expressways while government sees the fund as a way to finance strategic infrastructure projects without relying heavily on loans or overspending the annual budget. This is an example of healthy cooperation between the Thai government and private investors.
Thailand's government anxious to extend benefits of an improving economy to less well off

Despite the positive development, Prime Minister Prayuth Chan-o-cha continues to show his constant care by recently ordering the Board of Investment to implement new measures to boost Thailand's tourism industry and rural economy. The Board has now approved investments in four projects worth of hundreds of billions of baht that in rural provinces. These projects are hoped to stimulate job creation in the rural communities in which they are located, and thus improve the locals' income. The investments are also accompanied by major tax incentives.
Thailand's tourism industry is an astonishing success
Thailand's tourism industry has the potential to become a $100 billion industry and this is money that flows into Thailand which is being directed to poorer rural areas with the Thai government's eco brand tour strategy. Compare this to the value of Thai exports in 2017 which stood at $235 billion and you can see that tourism is a huge contribute and benefit to Thailand. While one of the government's core policies with its Thailand 4.0 plan initially proposed to wean Thailand off its dependence on tourism, the strength of the sector in recent years might be an argument that it should be developed further in conjunction with advances in the technology and services sector. However the instigators of the Thailand 4.0 policy have it as a core goal to develop a stand alone technological sector also in its own right with the aim of making Thailand a hub for international technology systems.
Thailand is  economically strong and well placed
Thailand's economy overall is in a very strong position. The country's external reserves at 35 billion is one of the highest in Asia while the economy is the 2nd largest in Southeast Asia after Indonesia. Across a range of metrics the Thai economy is well positioned to withstand any future world shocks, perhaps testimony to lessons Thailand learned during the 1997  crisis. Thailand's unemployment rate at under 1% in a developing economy is one of the most impressive figures of all and highlights Thailand's potential for further prosperity.
Challenges faced by the Thai economy
Thailand faces a number of problems on the economic front including, like other Asian countries, a demographics crisis with an ageing population. The Thailand 4.0 programme aims to develop Thailand as a higher income economy but perhaps both goals work well with each other. Thailand is also sensitive to worldwide economic trends as an open economy but in recent years the country's borrowing levels as well as trade and current account figures are very impressive by international standards. Perhaps the greatest threat to Thailand's economy may be political instability. 2014 saw Thailand's manufacturing sector take a big hit with a 20% contraction although there may have been other factors such as flooding. The looming election, its result and aftermath is perhaps going to be the biggest factor influencing Thailand's economic prosperity in years to come. The lesson from 2014 is that political instability is disastrous. It is the one metric that Thailand needs to improve and still perhaps the most important.