New regulations will bring prison into line with other Thai public spaces including beaches where the cigarette has been banned
Thailand is about to introduce a complete ban on smoking within its extensive prison system. The move is due in the next few months and will means cigarettes will no longer be allowed in prison for wither sale or consumption. The use of cigarettes in the as a bartering currency is expected to be disrupted by the move. Thailand's prison chiefs had earlier conducted a pilot ban on smoking in prison with large number of smokers and saw an improvement in the health of prisoners.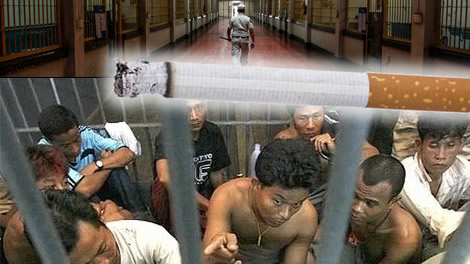 Thailand is set to introduce a ban on the sales of cigarettes and all tobacco products in its prison system. The move will effects over 140 prisons facilities dotted throughout Thailand And impact 40% of inmates who are estimates at well over 300,000 people. The Corrections Department, which runs Thailand's huge prison system, has reached out to Thailand's Department for Disease Control which plans to send trainers into the prisons to help the inmates cope with the healthier regime change.
The move was confirmed recently when Thaland's Corrections Department Director General, Police Colonel Narat Savettanan, expressed a belief that the move will help reduce ill health in the prison system in particular, respiratory diseases and associated health effects such as high blood pressure. The ban will become effective at a later date which has not be set by prison authorities.
Conflicting reports on the harsh condition in Thailand's prisons but it's an uneasy experience

It is understood that the move follows a pilot project run by the prison service earlier which saw cigarettes and tobacco banned at 13 prisons including 4 designated as women's prisons in Thailand. The move comes as there are conflicting reports on the state of conditions in the Thai prison system. There is extensive overcrowding in Thailand's prisons system and prisoners are locked in overcrowded cells for long periods of time every day. One Swedish prisoner featured in the a Thai Examiner news report in recent months complained about a tightening of discipline. It was reported that he was now unable to access books or reading material at Bangkok's high security Klong Prem Prison near Chatuchak but other sources suggest that this is not the case and that the prison has a library and reading programme. In the last few year relatives of foreigners serving time in Thai prison have reported a tightening of discipline in the prison system regarding such issues as towels allowed for prisoners and a stricter control of visitation rights. Prior to this there had even been reports of a more relaxed regime in some smaller Thai prisons over the years, some foreigners even expressed regret for exercising their right to transfer home to prisons in the US and the UK under prison repatriation arrangements, describing the prison environments, also overcrowded, as tougher. This may well have been before the current military junta came to power with reports since then suggested a harsher regime. Thaland has the the 17th highest rate of incarceration in the world and the 2nd highest for women afer the United States. To pit it in perspective for very one prisoner incarcerated in Norway, there are five in Thailand.
More and more foreigners in Thai prisons
Nevertheless live in a Thai prison is certainly not easy with inmates expected to buy their own food as as well cope with the overcrowded living conditions. This is particularly acute at night where prisoners sleep side by side in brightly lit rooms often in stifling heat. There are more and more foreigners, including western men and women, today locked up in Thai jails. In Klong Prem Central Prison 1,158 of the 7,200 prisoners, serving time in the prison, are reported to be foreigners.
New prison regime linked to health promotion efforts in Thai public spaces and Thai law

The move to introduce the smoking ban in Thai prisons is because the they are technically and legally, public spaces in Thailand. The Thai government has introduced strengthened regulation to reduce smoking, in recent years, across all public buildings even on public beaches in the kingdom. Authorities within the Thai prison system suggest that the new move will help inmates give up smoking altogether. Although smoking in Thailand is seen in a very harmful light by many thai citizens, who are quite conservative, the habit is being taken up by young Thais, despite that fact that the negative health effects of the activity are more and more evident. There is an irony to the situation with the habit is being picked up by many young Thais particularly those of a working age. Authorities in the prison system say the ban may help encourage prisoners to take up more vocational training opportunities on offer as well spiritual practices such as medication.
Overcrowding in Thai prisons caused mostly by the war on drugs at a lower level which may change

The overcrowding in Thai prisons is a chronic problem and is largely attributed to Thailand's ongoing war against drugs. Many of those jailed in Thailand are those found guilty of drug offences. This is an issue that is currently being looked at by Thailand's leaders and legislators. There is particular concern about the overcrowding in Thai women's prisons which make up 10% of the country prison population of 300,000. A massive 82% of those incarcerated here are there for drug offences often petty affairs such as possession of methamphetamine tablets. Thailand has recently taken steps to reduce the level of  sentences given out for a number of drugs offences but is is understood that lawmakers and policymakers are mulling over more radical moves.
More foreigners also on Thailand's death

The Thai prison system has a bad reputation. However, except for the high security prisons and a number of facilities which hold dangerous prisoners, the prisons are not as violent and oppressive as many scenes in movies, foreigners myths or best selling books represent. On the other hand, it is no easy ride and quite a humiliating experience which nearly all foreigner who have experienced it would never want to repeat. Unfortunately foreigners are being jailed in Thailand in increasing numbers for breaching Thailand's strict drug laws as well as very serious crimes such as murder. The number of foreigners on Thailand's increasingly precarious death row is also rising. In addition to this, many western foreigners are finding themselves behind bars in Thailand for infringing Thailand's strict immigration laws often caused by a careless attitude and lack of knowledge about Thailand's criminal and legal code. Thailand's laws and practices differ from those that in western countries in quite a few and also significant aspects.
Prison economy in Thai prisons depends on cigarettes which are a common barter currency

The nightmare of overcrowding and the casual need and requirement imposed on prisoners to find food and living essentials has produced an extensive Thai prison economy. So far the centre of that prison or even black economy has been a trade in cigarettes. While only 40% of the prison population smokes in Thailand, it may well be that the new cigarette ban may have some unforeseen consequences on relation to this system when the new ban comes into force. It may result in a new trading currency or a continued black market in even higher priced cigarettes.
Smoking ban will see cigarettes banned from sale in Thai prisons altogether by regulation

The smoking ban pilot project ran in the 13 prisons prior to the latest announcement. The prison authorities will have obviously have looked this issue. It is confirmed, in new reports, that the authorities were particularly interested in running the trial in prisons with a large proportion of smokers including the 4 women's prisons. From the exercise, the authorities are satisfied that the effects will be an overall improvement in the health of prisoners that could be considerable.
Smoking ban in Thai prisons to be introduced by the end of 2018 or the beginning of 2019
Thailand's Director General of the Department of Corrections Naras Savestanan, after meeting with officials from Thailand's disease control agencies, has asked their help to guide prison authorities on how to prepare Thailand's prison population how how to cope with the band which could be implemented as soon as the end of the year. The Director General told The Nation newspaper recently that he believed it will be introduced, if not at the end of this year, at least in the early part of 2019.
Since 2008 the Thai prison system has specified most common areas as smoke free zones with only designated smoking spaces but this move will see an outright ban on both cigarette smoking and the sale of cigarettes and tobacco products in all prisons.