Japanese man, who grew suspicious when he opened travel case while on a 'free' world tour, reported his concerbs to the Japanese embassy in Bangkok last Friday. It's was a smart move and led Thai police under Police Major Surachate Hapkarn or 'Big Joke' to bursting open a Japanese and Iran drugs syndicate
A highly successful police operation began last Friday when the Thai Immigration police took a call from the Japanese embassy. A Japanese visitor to the Kingdom had been on a 'free' world tour to Bangkok, Shanghai and Frankfurt in Germany with ฿200,000 spending money when he smelled a rat. The tour organisers had asked him to collect a piece of luggage at his hotel left behind by a previous traveler. The man, suspicious, opened the bag and found something like from a James Bond movie. Hard clothes in sealed plastic bags. Clothing, with the deadly crystal meth or ice drug infused into them. His quick thinking led him to call the Japanese embassy who quickly brought in the Thai police. If not, the Japanese man could well have found himself in a nightmare situation when travelling on to Shanghai in China on the second leg of his trip. His excuse would have been scarcely credible. 
It's the biggest nightmare for any foreigner traveling to Thailand or any other Southeast nation that maintain strict policies on drugs, including the death penalty. The fear that somehow your bag could be tampered or switched or by some other ruse, you could find yourself facing the grim faces of police and customs official. Waiting to hold a press conference and declare your life over, the nightmare to begin. It happened just like this with Sandra Gregory, a UK woman, whose friends convinced her in 1993 yo carrying drugs on her body through Bangkok Airport and on to Japan. She was later sentenced to death reduced to 25 years by a Bangkok court. She only emerged from prison after a merciful pardon from the Thai Monarch in 2000. This has also been the unfortunate plight of a number of Thai women sentenced to death in China who were fooled by African or Nigerian boyfriends. It is an inhuman and despicable tactic being used by criminal organisations involved in the drugs trade.
Story of UK woman duped into drug smuggling and arrested at Bangkok airport was the basis for Bridget Jones's Diary in 2001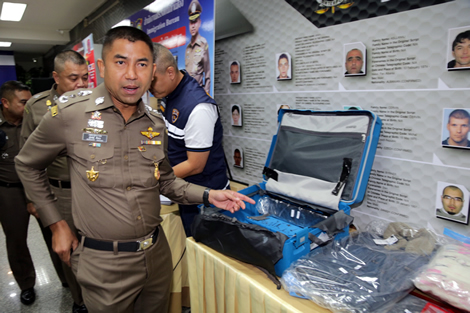 Sandra Gregory's story is reputed to be the basis for the popular Brigid Jones book although her role was surely more culpable than that of the unsuspecting Japanese man this week on a holiday of a lifetime. The Japanese man was in Bangkok and was due to fly to Shanghai when he received a call from the website who were organising his free holiday and world tour.
Japanese man on holiday received call from holiday tour operators
The Japanese national was staying at a hotel on Sukhumvit Soi 2 in central Bangkok near Klong Toey. He received the call from the organizers of the free holiday tour. They asked him to collect a bag at the hotel. It had been left behind by another traveler and he was asked to take it with him on his onward journey to Shanghai, China. The Japanese man had, wisely, decided to open the case and found it contained sealed plastic packages that appeared to contain clothing items. These were unusually, very hard. He became highly suspicious and called the Japanese embassy, reporting his predicament. A clever move. Last Friday December 7th, the Japanese embassy made contact with Thai police to report the matter.
Involvement of Thai police and 'Big Joke' after call from Japanese embassy to authorities
This led to the involvement of the Thai Immigration Police and, 'Big Joke' Police Major General Surachate Hakparn, its newly promoted boss. The call was received by his deputy, Police Deputy Chief Major General Itthipol Itthisanronnachai. 'Big Joke' later led a sting operation to trap and arrest an Iranian man who was part of the crime gang that had attempted to dupe the Japanese man into carrying the case containing the illegal crystal meth drug also known as ice or methamphetamine through Bangkok Airport and on to Shanghai.
Thai police retrieved suspect travel case from Japanese visitor and set a trap for the gang
Thai police retrieved the bag from the Japanese man. They found that the luggage contained clothing wrapped in sealed plastic bags. It was later revealed by Thai police that the clothes had been blended with drugs in a chemical process. The police were able to retrieve 5.67 kg of crystal ice drugs from the clothing items contained in the sealed bags. Thai police revealed that they had never seen a process like this before. They also discovered crystal meths contained in secret compartments within the frame of the travel case as well as other areas. This amounted to 3.65 kg of crystal meth or Ice.
Thai police arrested Iranian gangster who took the bait and he has been charged with drug smuggling
Thai police later presented themselves to the Iranian national when he arrived and retrieve the package. The 43 year old was arrested at the Japanese man's hotel. The police have already charged the Iranian man, Mohamad Ali Ezazi, with drug smuggling and are widening their enquiries both within Thailand and also an extended to criminal networks in Japan.  The criminal package which could have led an innocent man to face the full force Thai law if he had been stopped and apprehended at Bangkok Airport, had he opted to continue his 'tour'. It is believed that the tour operation and crime network had links to the Yakuza organized crime syndicate in Japan.
Iranian confessed after being arrested, that holiday tour was a suckers game devised by criminals
The Iranian later confessed to Thai police that the whole thing was a scam, the product of the imagination of drug gangsters in Japan and Iran, whom he was working for. It is reported that the sealed bags had made the Japanese man suspicious and luckily for him, he contacted the Japanese embassy. This lead to sting operation after the Japanese man initial contact. Thai police waited for someone to collect the bag from the hotel. The Japanese man had contacted the travel tour website to say that he was ill and wanted to cancel the trip.
Thailand's Deputy Chief of Immigration Police Itthipol Itthisarnronnachai said it was unusual for low level tricks and activity like this to be used by international drugs gangs. 'It's a never seen before method, luring tourists to traffic drugs out of the country,' he opined at the press in Bangkok this week.
Huge drugs war between Thai authorities and drug cartels right now as crystal meth surges
There is currently a pitched battle being fought between both the Thai police and army in Thailand and at the border in combating the threat posed by drug lords and crime syndicates in Asia. A new recipe for Yaba, another name for crystal ice, has driven the price down and sparked huge demand for the drug. Ice is popular because of its low price and short term highs. It has become a favorite recreational drugs in Asia and worldwide. This is despite the harmful effects of the substance with long term use of the substance causing brain damage and severe impairment of judgment. There is a strong possibility that the Japanese visitor to Thailand would have been in hot water had he failed to open the package.
Police later raided the Iranian's apartment in Bangkok where they found 10kg or crystal ice, including more solid clothing products with the drug. The police have vowed to wipe out the gang involved and for the Iranian, it certainly will be life over.