Young 22 year old Thai woman had made a life out of Muay Thai after her parents had divorced that took her to university and potential career teaching the sport.
The parents of a Muay Thai female boxing champion this week said they suspected their daughter may have been murdered after her body was found hanged in room at student dormitory facility in Ratchaburi province. The beautiful 22 year old Thai woman Nitiyaporn Srisalai, who was from Roiet province, was last seen drinking with friends on the night before. She was on the cusp of graduation. The young woman had planned to teach Muay Thai in China. Her parents told the media that there were circumstances surrounding the death of their daughter that did not fit in with suicide. Thai police have said that they believe the young woman took her own life during a personal crisis, possibly provoked by alcohol consumption.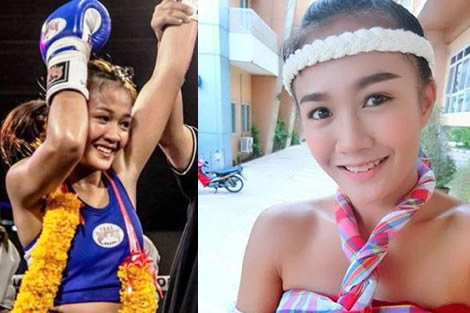 The Thai family of a champion Muay Thai fighter are reeling this week after the young woman and beloved daughter was found hanged at short term student accommodation which she was renting in the urban centre of Ratchaburi province, west of Bangkok. 22 year old Nitiyaporn Srisalai was a Muay Thai champion fighter, well known in Thailand with a bright future ahead of her in the sport both as a fighter and professional. The young woman, whose family hail from Roiet province in North east Thailand, was in her fourth year as a student of Muban Chombueng Rajabhat University located in Ratchaburi. The university is part of chain of educational  facilities known in Thailand for training teachers as well as other disciplines to the highest standard. Nitiyaporn was the reigning Muay Thai champion in the 51 kg weight division of the sport.
Thai woman's parents suspect that she may have been murdered and raise their concerns
Her parents strongly suspect that the death of their daughter may have been murder. They made the comments after they had arrived from Roiet to retrieve their daughter's body. They did not believe that the young woman had committed suicide, which is what the scene looked like after her friends secured a key from the student dormitory facility to enter it just before midnight on Monday last, the 17th December. A friend had knocked on her door that morning to rouse her for class. Both this friend and the young woman found dead, had been drinking the night before and the friend lived next door in the student dormitory building located in the Don Tako tambon in central Ratchaburi.
Thai police believe woman may have suffered a personal crisis which was exacerbated by alcohol
When the friends entered late that night they found her hanged from the door frame of the room. A nylon rope was tied to it. Thai police believe that the death was suicide and that the young woman had thrown herself off a nearby chair to commit the act. Police Colonel Apichart told the media that the young woman may have suffered a personal crisis of some nature, aggravated by the use of alcohol.
Parents say young woman had been receiving unwanted attention from a 50 year old man
The young woman's mother and father still do not accept this narrative. Her 51 year old father, Suriyant Srisalai and his 48 year old wife Kingkaeo have real doubts about what happened. Her father said that the young woman may have been strangled by an attacker. He indicated that the two rope marks on her neck included one at a very low level, consistent with being strangled while in a horizontal position. He displayed photographs obtained from Thai police featuring the room after her body was found. He believed that the chair was too near the body. These circumstances run contrary to to the theory of suicide. He said he believed his daughter may have been murdered. He also mentioned the fact that, while his daughter had a boyfriend, she was receiving unwanted attention from a 50 year old man.
Thai girl had turned to Muay Thai when her parents divorced and it helped her to university
Meanwhile the President of Thailand's International Muay Thai Study Association told the media that the tragic death of the young woman represented a significant blow to Muay Thai followers and associates in Thailand. She was a Muay Thai woman's champion in her weight division and was on the verge of graduating in Muay Thai studies from Muban Chombueng Rajabhat University. The young woman was looking forward to teaching the subject in China after she had finished her studies. Charnchai Yomadit praised her both as an athlete and Muay Thai champion. He said that the young woman had been involved with Muay Thai boxing since she was a child. He reflected that she always seemed happy and had earned her income from the sport allowing her to progress with her education. The young woman had absorbed herself in Muay Thai studies after her mother and father had divorced.