Christmas is getting more popular in Thailand and Santa Claus is the star attraction for many Thai people. The Red clad figure is seen as lucky and a symbol of goodwill and good fortune in the countdown to the New Year
Thailand for the last 25 years has been home to a real Santa Claus who travels through the north of the country on his two wheel motorcycle sleigh. Known as the 'Santa Claus of Rayong,' he works a week ahead of the real Santa Claus. It's days before Christmas and Santa Claus is coming to town. He's also coming to Thailand as Thai people and children have come to embrace Christmas.
Santa Claus has arrived in Thailand for Christmas. With more foreigners living in Thailand and a huge influx in western tourists, Thai people have taken to Christmas over the last few decades in a big way. This year a Bangkok hospital dressed up newborns as Santa Claus while a Thai Santa Claus appears in Rayong province every year in Thailand's northeast giving out presents and ringing in the Christmas cheer. As he's Santa Claus, the target of his generosity are Thai children to whom he brings toys and dolls, just like the real Santa Claus. Locals have named 62 year old Yongyut Sangdee, a warm and generous man, the 'Santa Claus of Rayong.'
Red suited Santa Claus is a lucky and happy figure to most Thai people who buy into the legend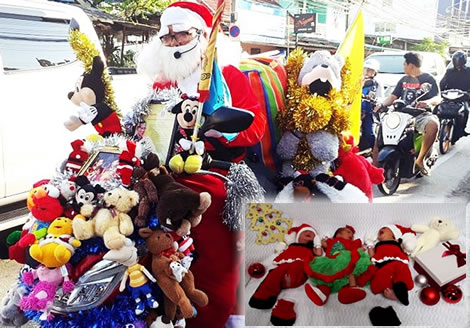 Yongyut travels the roads and byroads of Rayong in his red Honda motorcycle. He is a week earlier than his counterpart in the North Pole showing that the competitiveness of Thai people is alive and well, but also a certain degree of thoughtfulness. He is, perhaps, leaving time for the real Santa Claus to do his work. Thailand is a country that does not have a Christmas tradition as it is a devotedly Buddhist nation but the goodwill and cheer of the red clad Santa Claus is a message that is getting through in an open minded and tolerant country. To people in Thailand, he is a lucky figure, as red is a popular and lucky colour and generosity or a 'good heart' is a prized value in Thailand as it is the world over.
Santa Claus of Thailand's North has many helpers
The Rayong Santa Claus also carries with him a picture of Thailand's much loved King on his travels. He is reported to be a huge fan. The man's mission is made easy by the infectious enthusiasm that he generates everywhere he goes. This has prompted many other Thai people to assist him to bring both joy and hope to less well off Thai children. Santa's helpers buy toys to give to him and even raise money towards the flight of the Rayong Santa Claus. One of these is Pantiga Wichabunsiri, a local hotel owner. She has been so impressed with Rayong's Santa that she donates money to buy more toys. She believes in the Santa Claus mission and the good that it does for young children.
Working with Santa Claus makes Thai man happy
On his outing for the 18th December, he is welcomed by many local business owners including Tumrong Tohwiwat, who runs a laundry business. He positions Santa Claus sitting outside, facing the door of his shop. He provides fee hot dogs to young Thai boys and girls waiting to see what Santa has brought them. He has known Yongyut  for years and recalls the first meeting with him where he saw dolls hanging from the sides of his motorised two wheel sleigh. He too has become one of Santa's most loyal helpers. He arranges the toys that Yongyut collects and buys for delivery to the young ones. He says that his work on Santa's growing team simply makes him happy.
Santa's on the move through Thailand's North
Now the Rayong Santa Claus is already on the move as Santa Claus does. This year, his next stop is Nan province, a rural and poor area in northern Thailand, as is Rayong, near Laos. He then moves on to Chainat, Chiang Mai, Chiang Rai provinces as well as Mae Hong Son. All are in northern Thailand, a place where there are still many poorer, less well off Thai families and children.
25 years of Santa Claus for poor Thai children
The Thai Santa Claus has been taking his northern trek now for since 1993. That's 25 years and a growing legend. He says that the work has brought great joy and happiness into his life and he will only consider easing off when his body cannot do it anymore. His goal is to see little boys and girls smiling and to show them that their dreams can be fulfilled, that dreams do happen and goodwill exists in this world.
Bangkok hospital decks out newborns in Santa outfits
In a Bangkok Hospital meanwhile, nurses and loving Thai mothers and fathers dress newly born little boys and girls in Santa outfits. Shops in Bangkok and urban centres, in the last decade, have seen a huge rise in the sale of Santa Claus outfits as young and not so young Thai women have taken a fancy to the white fur trims and sexy red outfits. Thailand's shopping centres are full of Christmas trees and Christmas festive cheer.
Thai people help foreigners find Christmas cheer
For foreigners living in Thailand, it is an occasion to raise the Christmas tree and many of their Thai friends help them to celebrate a very special time of year. The thoughtfulness and desire to share cultures and make their foreigner friends feel at home, at a lonely time of year, is a facet of Thai people that is often not seen or acknowledged. It is real as is the extreme thoughtfulness of most decent Thai men and women.
Santa Claus could be good for Thai children
But of course Christmas is about children. Thai children are beginning to experience the joy of Santa Claus even within this staunchly Buddhist nation. It is, in fact, a key cultural difference between Thai people and western foreigners. The spirit of Christmas is a huge western tradition which teaches children to believe in dreams and that there is always hope or at least goodwill for those that are good and not naughty. Of course, to some scrooge like people, this is objectionable but for the time of year that's in it, we'll ignore them this once.
A Bangkok hospital released a video with Thai newborns dressed up as Santa Claus. It shows how Christmas and the fellow in red are becoming part of a season of goodwill in Thailand in the lead up to Christmas and the international New Year. Happy Christmas to all our readers and a prosperous New Year.

Posted by ThaiExaminer.com on Friday, December 21, 2018