Developers of condominiums in Bangkok are adjusting their sights to the higher end of the market and more niche offerings as sales rates and price increase have slowed towards the end of 2018. It is still a healthy market with demand at the higher end, rising rental costs and a shortage of office condominium units near transport lines
There are some signs that the, up to now, very active market for property and particularly condominiums in Bangkok, is slowing down in Thailand. However, it is clear that the market is still a healthy one. Condo prices in Bangkok have risen by 32% in the last three years and rents in the city are still rising. While condo output for 2019 is not projected to increase as developers adjust to demand, firms are looking at more high end developments and niche markets.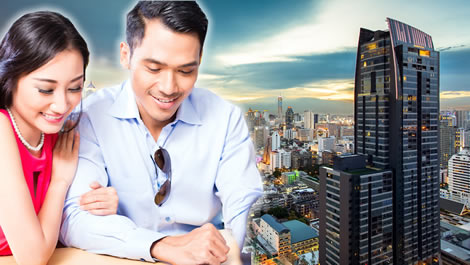 After a few years of helter skelter activity, with steep price rises and a boom in the Bangkok market for condominiums, the market may be slowing down with lower sales rates for newly constructed condominiums now being recorded for two quarters in a row. Those living in Bangkok and regular visitors will have become used to the stunning new buildings popping up and even more impressively the sales hoardings announcing that all units have been snapped up by eager buyers. The growing metropolis is a sought after location for both local Thai buyers including wealthy Bangkokonians and those for different parts of Thailand,  seeking a foothold in Thailand's capital city.
Property consultancy sees Bangkok developers pulling in their horns
A property development consultancy last month, Edmund Tie and Co., suggested that developers may be pulling in their horns. The company reported that output for new condominiums in Bangkok for 2019 may not increase appreciably, if at all. There are also reports of disappointing sale rates for Quarter 3 of the yearly cycle in 2018, with decreased sales percentages being recorded on new products being made available. The take up for newly built condominiums in the latest quarter for which figures are available, suggests a sales rate of only 31% while the figure for Quarter Two was 46%. This was also somewhat disappointing. The figures appears to show a pattern especially when compared to Quarter three for 2017 when the sale rate was 58%.
Price of condominium properties in Bangkok up 32% in three years with a healthy market
The latest reports accepts that many developers now see less of a demand, particularly at the lower end of the market. This is expected to feed in to lower output and supply. However, this may still be a very healthy and rewarding property market overall. The value of condominiums and associated properties in Bangkok is up a staggering 32% since 2015. The value of prime condominiums in Bangkok is now estimated at a whopping ฿330,000 per sq metre.
Foreigners buying condominiums in Thailand make the market stronger and are still a driver
The growing popularity of condominiums in Thailand, among foreign buyers, has also been great news for developers. Some reports suggest that the 49% quota, which is the maximum that can be held in any development by foreigners, has been reached in many of the cities, towns and resorts popular with foreigners in Thailand such as Phuket and Pattaya.
However, in recent years, some key developments in Bangkok city centre, especially near Sukhumvit, have also seen strong interests from foreign buyers. This has been good news, on many levels, as most foreign buyers pay at least 25 to 30% of the price of their condominium upfront with many also being cash purchases. This is considered, by many observers, as an indication that foreign buyers will be less likely to react to fickle markets.
The intensity of condominium sales activity in the last few years has been notable with sales and party evenings to promote new or ongoing offerings. Most Thai nationals pay the down payment for the condos in installments, once finance has been agreed with heir banks.
Market demand and output is beginning to slow down for condominiums in Bangkok  
However, now there are some warning signals. There is evidence that the property market in Thailand has been less active and less expansive in the last year. The Thai economy, while performing solidly, still carries a large proportion of consumer debt and many Thais are cautious particularly those who remember the crash of 1997. It is still, however, a healthy market with rising prices but with strong controls on credit. Since 2015, we have seen that there has been a growth in supply with a matching increase in demand. This has now slowed off.
Boss of respected Thai property developers says its 'not as rosy as you may think but not that bad either.'  It's as good an summary as any for the market
Adisorn Thananan-narapooi is the Chief Executive or Land and Homes, one of Thailand's most active and long standing property developers, with a reported market capitalisation of over $4 billion (over ฿130 billion). He  describes the market for property in Thailand right now as: 'not as rosy as you may think but not that bad either.'
He accepts that the supply of condominiums has gone up quite quickly in Bangkok. This might well explain the slow down on the figures for sales of new condo developments. The property boss, however, was clear that there no prospect of a sharp decline in real estate prices in the near future.
Other property boss sees developers responding carefully and correctly to market conditions

The Chief Executive of a SET listed firm that specialises in condominium developments aimed at the upper reaches of the property market in Bangkok has a similar sentiment. Mr Chanond Ruangkritya of Ananda Development Public Company Ltd. felt that developers were aware of the numbers coming  to the market and there would not be a glut. He foresaw that players in the condo market will become more cautious and careful in developing new offerings to match areas where there is particular demand.

Property figures do not show a boom but a healthy increase in the market since 2015  
It should also be noted that the condominium market has not seen, as such, a boom but a consistent rise in output to meet the growth of a city that is very much now in demand both in Thailand and among foreigners interested in living in Thailand both permanently and on a full time basis. Many of the new buyers are Asian nationals from China and Southeast Asia as well as westerners who continue to move to Thailand or treat the country a second home. One reports suggests that in 2015 the new condo output for the real estate industry was 102,000 units with a value of just over ฿410 billion. This increases to 114,000 condos in 2017 with a value of over ฿440 million. The problem might well have been the forecast of 120,000 new condos projected for Bangkok in 2019 with a value of ฿500 billion as developments move more upmarket and developers rein in activity. Latest figures suggest that there are still over 65,000 unsold units in Bangkok to cater for demand with output forecast at over 55,000 units for 2019.

Firms responding to the market is a healthy sign
There is some indication also that real estate developers are cutting costs to keep sales numbers up but it is not significant or may be attributable to other factors. Figures published by property development entries quoted on Thailand's SET exchange show gross profit margins depreciating from 35% to 33% wile operating income declined from 20% down to 17%. Some analysts suggest that this could be due to higher sales  and promotional costs.
Condominium rents are still rising in Bangkok
This analysis suggests that the tightening of supply is a healthy response to a very good run from 2015 to 2018, which has seen significant rises on all fronts. Rental prices for condominiums have increased in Bangkok and are expected to increase further, well into next year. In the meantime, there is reported to be a particular niche market and demand for office condos in Thailand's capital city, particularly for those near BTS stations or proposed new transit points in the city.