This week saw a number of bizarre crimes in Thailand including an armed robbery on a Krungthai Bank branch in Buriram province, carried out by an army officer, which netted ฿1 million – a ฿1,000 armed robbery in Udon Thani was equally bizarre as the raider asked for a loan of the trifling amount, very politely
Thailand has a very effective police force and law and order in the country is quite strong. It compares well with western countries, where violent crime in some major cities is reported to be out of control. However, the country does have a problem with crime driven by Thai people in desperate situations, including personal debt as well as gambling and drug addiction problems. The success of the Thai police in detecting criminals and putting them behind bars is impressive. This week, it includes the arrest of a Thai army officer, a Lieutenant who, in the grip of personal debt, and finding himself unable to pay, robbed a bank on Christmas Eve.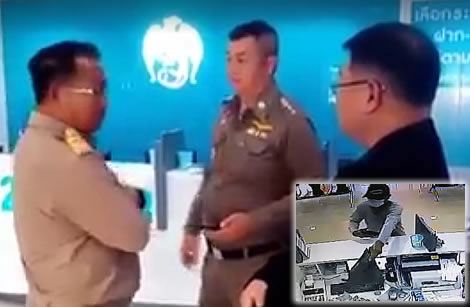 Thailand is expected to have over 37 million tourist visit this year, all of whom are protected by Thailand's criminal justice system and police while staying in the country. Despite incessant tabloid media reports, the country is safer than many of its western European counterparts, right now. Simply because, crimes are quickly detected and wrong doers severely punished. It is a country without the same sort of social supports that exist in western countries, with a poverty rate of 7% and high levels of personal debt. A recent survey found that up to 74% of all Thai households had defaulted on a loan. Thailand is a country where money or the lack of it can be the difference between life and death. Thai police believe that gambling in the country is a key driver of crimes of desperation. Added to this, the scourge of drugs including deadly yaba pills and it is easy to understand why Thailand has the 2nd highest incarceration rate in the world for its population, second only to the United States of America.
Thai police have a good record in getting their man
Thailand is a country that enjoys effective law and order, despite the stereotypical western news reports, and is relatively safe for foreigners. Bangkok, for instance, is voted among the world Top 50 safest cities in consistent annual surveys. Behind this is the high detection rate and the operational activities of the Thai police force, which has a compelling record in busting crime and detecting wrongdoers.
Army officer arrested for armed bank robbery on Christmas Eve after being stopped by police
The latest arrest by Thai police is an army officer in Thailand's highly esteemed and respected military. The arrest both goes to show the long impartial arm of Thailand's police force, these days, and the desperate measures that some Thai people will go to in order to pay their debts. 48-year-old Lieutenant Jaruphum Panator was arrested in Buriram province by the Royal Thai Police force this week after robbing ฿1 million from a branch of Thailand's Krungthai Bank on Christmas Eve.
Thai army Lieutenant took the cash on Christmas Eve because be needed to pay off debts
The army officer confessed to Thai police after being interrogated aggressively. He was earlier taken into custody when police found a relatively large amount of cash in his vehicle. He told the investigating officers that he had needed the money to pay off debts he owed. Personal and casual borrowing in Thailand is a fact of life for many middle-class Thai people, often at high-interest rates, and very much attached to the honour as well as the self-respect of the individual.
Police mount checkpoint after CCTV footage showed pickup truck of army man entering and leaving the bank robbery area – detained when police found cash
The army officer was arrested at a checkpoint set up by Thai police following the bank robbery. They had identified his pickup truck, both arriving at and departing the area surrounding the Krungthai Bank branch on Monday 24th December, Christmas Eve, which is when the robbery took place. Police searched the cab of his truck and found ฿50,000 in cash. He was therefore detained and brought to the police station in Mueang Buriram where police investigators quizzed him on the cash and his movements on Christmas Eve. After robust interrogation by the police, the army man confessed to the robbery and the theft of ฿1 million baht.
Man had buried ฿300,000 at a local forest and spent only ฿150,000 including funds to discharge debts, ฿500,000 found at the army officer's home
It was reported that he had kept the bulk of the amount stolen at his home. Police later recovered ฿500,000. He told the police that he had buried a further ฿300,000 under the ground in a local forest. The balance of the funds he had already spent on himself and used to discharge debts. He was the sole person involved in the incident. He had made the decision to rob the bank due to huge debts, that had sprawled out of control. Police have charged him with theft as they carry out further enquiries into the matter.
Officer may appear before a Thai military court
The army officer was reported to be cooperating with the police which included a reenactment of the crime in recent days. This is a standard investigation procedure used by police in Thailand. It has been reported by Thailand's Bangkok Post that Lieutenant Panator had been suspended from duty and that there will be an investigation by military authorities into the matter. It was suggested that if it is confirmed that army officer acted alone, in carrying out the crime, that he will appear before a military court to face charges.
Man acted alone to carry out armed bank robbery
The Deputy Chief of Buriram Police, on Monday, revealed that the bank robbery was carried out by a lone gunman. He was recorded on CCTV cameras wearing a black cap and face covering. He had demanded the money from a female member of staff at the branch of the Krungthai bank. There was no security guard at the bank nor were any other customers present. The police reported that there were volunteers guarding the local Provincial hall near the bank.
Mind-boggling robbery in Udon Thani
Meanwhile, in a week which saw three escaped convicts hunted down as they made their escape from a Thai prison in Surat Thani province, in which one prisoner was killed scaling an electrified 6-metre fence on Christmas Day, a report of a crime from Udon Thani dated December 20th, is mind-boggling.
Thief asked to borrow ฿1,000 and gave a Thai 'Wai' salute in thanks in a preposterous crime
A helmet-clad figure raided a 7/11 Store in Udon Thani. The amount taken was a paltry ฿1,000 or $32. The robber, described in press reports as 'polite,' asked the Thai man working at the store, for a loan of the ฿1,000 with a knife in his hand. He is reported to have said that he was taking the money as a loan and would return it 'as soon as possible.' When the money was handed over, the robber thanked the store worker with a traditional Thai 'Wai' and made off with an accomplice on a motorbike. The fact that two Thai people, including the robber and his accomplice, would risk spending many years in a Thai prison for what is, essentially, armed robbery over such a trifling amount can only suggest a desperate situation or alternatively, madness. It is thought by Thai police that many such crimes are driven by either gambling or drug addiction problems.