Thailand's tourist police release a report showing over 12,600 complaints were received. The biggest problems is taxi drivers refusing fares which is illegal under Thai law. However, it is good advice for foreigners to show some understanding for the plight of Thai cabbies. It is not only wise, it can sometimes be vital and it is always the decent thing to do.
This week Thailand's police revealed that the greatest complaints from foreigners in the country related to taxi drivers. In particular, the refusal by some drivers to take on fares when hailed on the street as Thai law strictly requires them to do. However, in spite of the law, it is good advice for foreigners to be more understanding in Thailand when dealing and interacting with cabbies. As the murder of an American in 2013 by an irate tax driver showed, it is never a good idea to be confrontational in Thailand particularly over what is often small change to many foreigners both visitors and those living in Thailand. It would also be wrong to vilify Thai taxi drivers, in general, as the overwhelming majority provide vital, low cost service in a friendly fashion to foreigners for very little in return.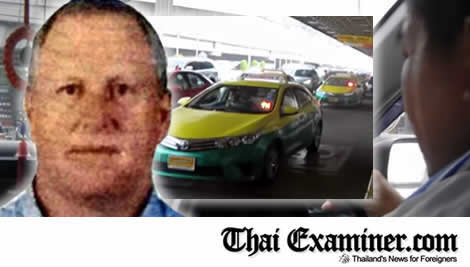 Thailand's tourist police showed this week that the biggest issue facing many foreigners in Thailand was Thailand's taxi drivers. It comes as police revealed that there were over 12,600 complaints to the police including many foreigners, during the whole of 2018. The greatest proportion of complaints overall related to the refusal of taxi drivers to take a fare when hailed by would be passengers as required by Thailand's strict laws governing the taxi trade. These are laws that, to a large extent, empower the customers of the service and not the taxi drivers. A smaller but significant number of complaints related to taxi drivers who refused to use meters with nearly 13% of complaints relating to gross overcharging.
Extensive Thai police campaign to tighten up controls on tourist support activities
Thai police announced that during 2018 they had undertaken an extensive policing campaign against errant taxi drivers, which ran from January 2018 to October 2018 last year. The police also looked into other abusive practices relating to the tourist trade including illegal guides, shop schemes designed to lure visitors to over priced retail outlets and a range of illegal businesses which failed to comply with proper licencing provisions and regulations. Since the military government came to power in Thailand in 2o14, it has also targeted street side stalls and managed to clean up Bangkok's kerbsides clear and tidy. Prior to 2014, were beginning to damage to image of the city while also being security nightmare.
Taxi drivers provide a badly needed service in Thailand at a very economical cost
It would be wrong however to condemn or completely vilify taxi drivers in Thailand. The taxi service in the country provides an impressive and badly needed service to foreign visitors and expats as well as locals Thais. In Bangkok alone, there are over 140,000 official licensed taxis and this means that nearly all the time it is easy to find a ride to any other part of the city or metropolitan area at quite economical fare. It should also be noted during the last few years there have been countless news reports of honest and genuine Thai taxi drivers returning lost wallets or assisting foreigners or other Thai people who were injured or in danger. However like any collection of over 140,000 people, there will be bad apples.
Foreigners should be aware of issues with Thai taxis and how to deal fairly with them
It also a good idea for foreigners availing of taxis in Thailand to be aware of some of the issues which cause taxi drivers to sometimes break the rules. The identification numbers on the taxi sides are easy to recall, they are also located on the inside door as stipulated by Thai law. This makes it easy to report any particular driver to eager authorities. However, before reporting a taxi driver to the police, it might be wise or even fairer to consider what many taxi  drivers are up against and the danger always of putting mental pressure on someone who already has had enough. Many taxi drivers in Thailand and in Bangkok are from the country's rural or agricultural hinterland. They have taken up the trade to make a living and to send money back home to parents and family. There is a great tradition in Bangkok among drivers from such provinces as Udon Thani, Sisaket and Buriram. These northeastern provinces are where many taxi drivers come from to make their fortune in the big city. These are, by and large, very good people and particularly friendly. Many of them play a Thai version of western country in their cabs. Luk thung is unlike any music you've ever heard before and is an acquired taste. For some foreigners it can be very grating to the ears and has even been known to spark rows.
Bangkok traffic jams – the city is the 12th most congested in the world and a great challenge for taxi drivers only some making a good income
For starters, there is Bangkok's notorious capacity for traffic jams. The city has more green space at its centre than most Asian cities and while this may be good news for environmentalists, it is in fact, the reason for the massive traffic jams that can develop in Bangkok involving hundreds of thousands of cars and lasting for hours. Most of this green space is privately owned and cherished garden space held by Bangkokonians. The city is home to millions of cars and is the 12th most congested city in the world. The reason for this is that the city expanded dramatically in the 1980s while road networks and planning did not either foresee or were not developed at the same time. Despite having a network of ring roads and impressive overpasses, the city has only 8% of road surface area when many similar cities might have 30% or at the very least, 20%. The average Bangkok taxi driver spends over 100 hours a year sitting in traffic. The problem is that the Thai taxi drivers do not earn so much due to competition and the government's determination to rigidly control the fare structure so as to keep it competitive. The average salary of a taxi driver in Thailand is ฿15,000 per month or $480. For hard working taxi drivers in Bangkok, the monthly salary can be as high as ฿30,000 per month, which is a very good income in Thailand. For most taxi drivers across Thailand however, things are more difficult and also quite tight for those in Bangkok who do not own their own car.
Up to 25% of Bangkok taxis may be illegal or operating outside government regulations
Some experts suggest that of the 140,000 taxis in Bangkok, nearly 25% may be operating outside government regulations the taxis may be substandard or do not have their full licencing or paperwork in order. This is because the drivers simply cannot afford to make ends meet. The other factor to consider is that there are some, even less well off drivers, who rent taxis per day and pay a fee of ฿600 per day. This means that they have to recover this money back as well as pay for the petrol before they make anything to provide for their family or themselves. The problem for them is that a bad fare may see them lose 2 to 3 hours in traffic and not be able to make a  proper return.
Basic Thai taxi fare is ฿35 or juts in excess of $1
The basic fare or collection charge of a Bangkok taxi is 35 baht. On a government approved meter this will cover the first 1 km with a charge at varying rates going from ฿5.5 per kilometre up to ฿7.5 per kilometre. There is a charge of  ฿2 per minute if the taxi is stuck in traffic. This can see drivers working long hours to make a return. Those renting out taxis from co-ops or owners are under an obligation to return the taxi to the base or owner by a set time with a full tank of petrol or face prohibitive fines. In Thailand, as in other parts of Asia, such fines are seriously applied and are designed to deter those involved from missing the deadline in the first place.
Thai taxi drivers cuts American man down with a samurai sword over ฿55 or $1.60 taxi fare
This can give rise to poorer taxi drivers being placed in situations of extreme stress or anxiety in addition to the long hours that the job entails. It has lead to many violent outbursts by taxi drivers against customers who either refuse to pay a fare or provoke the driver. In 2013, an American man from California, Troy Pilkington, who had been living in Thailand for three years and spoke fluent Thai, was killed by a taxi driver when he refused to pay a fare of $1.60 or over ฿55. Police later revealed that the American, who worked with giant Caterpillar corporation, had refused to pay the fare and left the taxi of the driver, Chidchai Utmacha, having accused him of tampering with the taxi meter.
Taxi driver claimed the American threw a cup of coffee at him after he demanded payment of the meter fare
The Thai taxi driver pulled a samurai sword from the trunk of his car and followed the American in anger. CCTV footage of what happened next showed him brutally cutting down the American with the sword on the sidewalk of the busy street in a death blow. He then returned, clearly in a panic over what he had done, to his taxi. He later confessed to the murder of the man and staged a reenactment of the incident with the Thai police. He claimed that the American had thrown a cup of coffee at him when he demanded payment of the money on the meter.
95% of taxis in Thailand are value for money, a pleasant experience but 5% are a nightmare
There are many tips on using taxis in Thailand and Bangkok. The best advice is to be respectful and avoid ever losing your temper with drivers. There are often many reasons to do so, such as loudness or drivers who use excessive speed. Very rarely, it can be a nightmare, particularly if you discover that your taxi driver is under some external influence or is mentally not all there This and the misfortune to have chosen a car that is clearly the worse for wear. You may understand from this this that, for regular users of taxis in Thailand, it can occasionally be a nightmare experience. But this is true of quite a few countries. 95% of the time you will find warm, super friendly man or woman who will take you for one place or the other at a very low price, offering both valuable for money and a pleasant journey.
Motorbike taxis have a good reputation but also have their own bad apples or riders under pressure
In Bangkok and throughout Thailand, there is also another great value for money service used mostly by Thai people but also be some more adventurous foreigners. It is the orange vested motorbike taxi which can be used quite effectively at times of traffic and also is a convenient messenger service. But here again, the same lesson applies with some added issues such as the dangerous nature of motorbikes in the country. Thailand has the most dangerous roads in the world and 74% of the country's record fatalities are accounted for by motorbike riders and their passengers. One motorbike taxi rider has just been prosecuted in Bangkok for an attack on a police officer. The service itself has a very good reputation, particularly for speed. Up to now, it was seen as a profession for men only. Lately however, it has seen some Thai women joining the ranks.
Motorbike taxi rider charged after threatening Thai police officer who reprimanded him
Sakan Mankong, a 39 year-old motorcycle taxi rider living in Wang Thong Lang district of Bangkok, has been prosecuted by Thai authorities for attempting to attack a law enforcement officer. The incident happened on November 30th,  2018 when the Thai man was accused of trying to stab a police officer who chastised him for riding his motorcycle on the sidewalk and demanded that he obey the traffic laws.
Thai motorbike taxi rider suddenly attacked Thai police officer with box cutter knife
Sorasak Sura ubol, the Thai police officer, said that he was merely telling Mr Mankong to stop riding on the sidewalk when the motorbike rider threw a motorcycle helmet at him and tried to attack him with a boxcutter knife. A video capturing the entire encounter was posted on social media. It quickly went viral and drew widespread condemnation of Mr Mankong's actions. The invasion of sidewalks by motorbike riders is a major issue in Thai cities, which have a large number of motorbikes. Pedestrians are always rightly annoyed when they find themselves the sidewalk with fast motorbikes. The startled pedestrians are often even honked at or scolded by the motorbike taxi riders as they go about their business with an urgent determination to beat the clock.
Thai police throw book at angry motorbike taxi who violently attacked Thai police officer
In fact, the aggressive motorcyclist's attack came just days after a schoolgirl was struck by a motorbike while walking on a pavement in Bangkok. Though the incident did not result in a fatality. Mr Mankong is now facing up to seven charges, including physical assault, weapon possession, resisting a law enforcement officer, and riding without a license. The most serious offense carries a maximum jail sentence of one year. In the aftermath of the incident, Wang Thong Lang District Director, Komin Shinabutr, said he would ensure the safety of law enforcement officers by having them patrol in pairs or provide additional support from the Thai army.