The Danish man leaves behind a Thai wife and son. His death, in a tragic motorbike accident, is one of up to 50 everyday on Thailand's deadly roads, the most dangerous in the world. The 51 year old from Glostrup in Denmark, it has emerged, was a strong campaigner against the HPV vaccine in Denmark and worked online for a non profit organisation and campaigning website.
On Sunday last, Thai news outlets reported the tragic death of a Danish man. He was killed on his motorbike at 3 am on a quiet road in Phuket. It was another, all too common motorbike accident of which there are over one hundred each day in Thailand often involving foreigners. It has emerged that Claus Jensen, who lived in Thailand with a Thai wife and son, also worked as an online campaigner against the HPV vaccine in Denmark which is promoted by the World Health Organisation. Like many foreigners in Thailand, he worked to make a difference in the world and his loss should be remembered.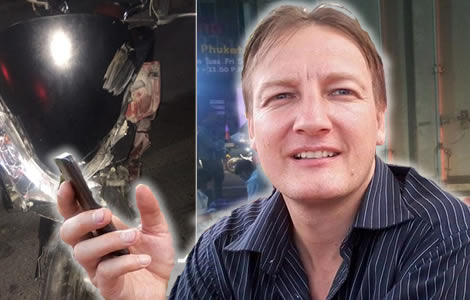 A middle aged Danish man living and working in Thailand was killed at 3 am on Sunday morning as he rode his motorbike through the Kathu district of Phuket on the Phra Phuket Kaew Road. Thai police sources report that the tragic accident occurred at the Vintage market which has recently opened in the area.
Victim identified as a 51 year old Danish man as Thai police find lorry driver waiting at the scene
The motorbike is believed to have collided with a tall, heavy truck as it was executing a U turn on the quiet Phuket road at that time of the morning. The tragic accident saw the 51 year old Dane, named as Claus Pathuel Jensen, lodged under the larger vehicle and his Honda PCX motorbike, badly damaged, strewn nearby. Police and emergency services responding to the incident. They found the 36 year old driver of the lorry, named as Sontaya Suchata, waiting upon their arrival. At that point, the injured Danish man was found to be unconscious and taken to the nearby Vachira Phuket Hospital. Later reports indicated that he was pronounced dead when the ambulance arrived at the medical facility.
Thailand's road accidents rate and the danger of motorbikes is quite alarming
The driver of the lorry, when examined by Thai police, explained that he was in the process of making a U turn on the road near an intersection when Mr Jensen's motorbike slammed into his vehicle. The lorry had stopped and the Danish man was unable to avoid colliding with it. It was a tragically simple accident and one that happens everyday in Thailand. In fact, nearly 50 people die everyday in motorcycle accidents in the kingdom. Thailand is the country with the most dangerous roads in the world. The biggest danger of all, according to statistics and daily media reports, is to those riding motorbikes. In addition to those killed, many more are maimed or injured including the loss of limbs and traumatic brain injuries from similar types of head on collisions. The number of foreigners among the dead or injured is significant. In fact, the rising number of deaths, even among foreigners, is nothing short of alarming. 73% of all road traffic deaths in Thailand involve motorbikes. The loss of life is over 18,000 individuals each year even before the numbers injured, which is even larger, is considered.
Dane worked with a website that campaigned to provide information on the HPV vaccine
It has emerged that Claus Jensen, who was 51 year old man from Glostrup in Denmark, has lived in Thailand for quite a few years. He had a Thai wife and son. He also has family in Denmark. Claus worked with a website and organisation which campaigns to provide more information about the HPV vaccine in Denmark and around the world. The directors of the site, vaccineinfo.dk, on Sunday were quick to acknowledge the tragic loss of Mr Jensen and the invaluable contribution he had made to their site and ongoing campaign. They praised his intellectual rigor and determination to grasp the details of the ongoing controversy surrounding HPV vaccination.
'Ever since we started with Claus, he's been a solid rock that you could always count on when you needed someone to spar with the latest news in the media. He was also not afraid to contact researchers and opinion formers to influence the debate and to disclose errors and shortcomings in various studies,' the site director wrote, eulogizing Claus, who appears to have been a key writer and content developer for the non profit organisation. In this, Claus was like many foreigners in Thailand who while living, even with family, in Thailand, make their living online.
HPV controversy is an inflamed one in Denmark where vaccination rates dropped after 2014 following information on severe side effects
The HPV controversy is a particularly inflamed one in Denmark. The vaccine and the policy of preventing HPV through a program of vaccination is strongly supported by the World Health Organisation which has a regional office in Thailand. The vaccine is particularly designed for young girls and women in order to prevent cervical cancer. However, opponents of the vaccine and vaccination programs point to severe side effects of the treatment and in particular, its effects on the autoimmune system of women who take it.
Drop in Danish HPV vaccination rate in 2014 prompted media campaign to promote the vaccine
In 2010, another Dane, Eigil Rosegar Poulsen, tragically saw his beloved wife Trine succumb to cervical cancer. He was disconcerted later to see the controversy erupt regarding the HPV vaccine. The World Health Organisation, which carries Eigil's story and viewpoint on its website, reports that from 2014 they saw a huge drop in young Danish girls taking up the vaccine with figures showing a drop from 90% participation rate to 40%. This prompted huge concern and a media campaign with a renewed effort to promote its efficacy.
Over 265,000 women die every year from cervical cancer caused by HPV says WHO
The World Health Organization reports that each years up to 530,000 women contract cervical cancer while over 265,000 women die from it every year. The world health body, as an ardent proponent of the vaccine, suggests that where the vaccine is used by the population, there is up to a 90% reduction in infection rates from the deadly disease which strikes at the heart of lives and particularly families. In Denmark, a renewed campaign to boost use of the vaccine was subsequently promoted by the Danish Medical Association, Danish Health Authority and the Danish Cancer Society. The slogan from the campaign was 'Stop HPV, Stop Cervical Cancer.'
Danish man, who died tragically in Phuket, wanted to test assumptions about the vaccine
On the other side of this debate was the website, Vaccineinfo.dk and its writer Claus Jensen. The directors of the website acknowledged his energy and enthusiasm on Sunday following the tragic news of his death. They said he worked 'day and night' and was always determined to have the last word on the issue. They highlighted his ability to seek out and identify errors and shortcomings with official studies in his efforts to influence the debate. It appears the objective of the website was simply to help readers in Denmark and worldwide to be better informed about the vaccination recommended by authorities for the HPV virus including its side effects.
It is clear that Claus Jensen was an intelligent and mindful man. His tragic death, in an all too common Thai motorbike accident, is a great loss to society both here in Thailand and in Denmark. Reaction to his death online was one of sorrow and shock. It is more heartbreaking to think of what his loss means to his Thai wife and young son.