South Korean man led a group of 15 which set up a website allowing South Koreans play international lotteries around the world. Problems arose when the winners discovered that the website was reluctant to pay over their jackpots. The South Korean man fled to Thailand in 2014 and had been evading Thai police on his heels until this Monday.
On Monday, a South Korean con man was arrested in the Watthana area of Bangkok after eluding Thai police for nearly five years since he fled South Korea in 2014. The 53 year old South Korean, along with 15 others, had set up a popular and thriving website allowing South Koreans to purchase tickets in international lotteries worldwide. There was one problem, when a ticket won, the website operators kept the prize money for themselves. South Korean police believe that they may have netted over $41 million or ฿1.29 billion.
Thailand's Immigration police have nabbed another bad guy. This time it is a South Korean fraudster who fled to Thailand in 2014 after carrying out an audacious fraud which netted him and his accomplices a reported ฿1.29 billion or nearly $41 million. The scheme involved the operation of a misleading website which sold tickets for lotteries around the world.
South Korean arrested under Interpol red notice by Thai police fled in 2014 with lottery money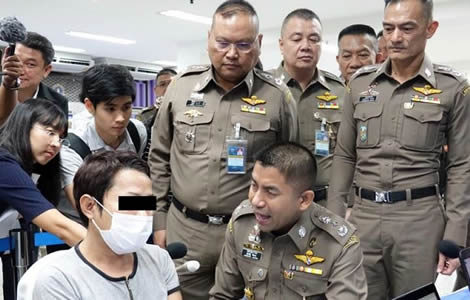 The media were briefed this week by Immigration boss,  Major General Surachate Hapkarn, who named the man as 53 year old Lee Sunghwa. The South Korean man was arrested by Thai police on Monday in front of a large shopping centre in Bangkok known as Emquartier on the Sukhumvit road in the Watthana area of the city. He was introduced to reporters at the briefing and press conference. The police revealed that the breakthrough in apprehending the man, the subject of an interpol red notice, came after Police General Pananchai Chuenjaitham, the investigations boss at the Immigration Department, received vital information from South Korea.
Website to buy international lottery tickets was a good idea and a big hit online until winners claimed prizes
Mr Lee is reported to be the main mover in a group of South Koreans that established the fraudulent website. It purported to allow South Korean nationals to purchase tickets for international lotteries around the world. A novel and exciting idea for which there is a market in many Asian countries. It was big hit online in South Korea. Except there was one catch. The website operators kept the prizes won for themselves. Police in South Korea have revealed that over 340 people were denied their winnings coming to a total of nearly $41 million or ฿1.29 billion.
Con man stayed one step ahead of Thai police in Bangkok by changing address  regularly
It is reported that the there were 14 other people involved in operating the website with Mr Lee. After he fled to Bangkok in 2014, Thai police Immigration boss 'Big Joke' Major General Surachate Hapkarn revealed that the con man stayed one step ahead of Thai authorities by regularly changing his address.
Lee and another South Korean associate will first face prosecution in Thailand for immigration offences before being deported to South Korea
The South Korean was an associate of another South Korean who was arrested by Thai police on December 22nd last year. This man was also the subject of an arrest warrant in South Korea. He was named by police as 28 year old Aha Jinwoo. Thai authorities say both will be prosecuted in Thailand initially for immigration offences here after which they will then be deported back to South Korea where they face arrest and detention on other charges.