Friday's arrest in Bangkok of 14 loan sharks lending money at daily interest rate of up to 20% is a reminder that Thailand's chronic personal debt problem has not gone away. This is despite nearly 5 years of genuine and substantial efforts by Thai authorities, including the regulation of casual lending and police enforcement against those who continue to abuse vulnerable Thai lenders.
Thai police arrested 14 loan sharks in Bangkok this week for lending money at rates of up to 20% per day. Since it came to power in 2014, the current government and authorities have worked hard to take on the menace of illegal money lending which is also linked to other criminal abuses. While there has been a genuine effort to combat the problem, much remains to be done. At the end of last year, one survey found that nearly 78% of Bangkok households are currently in debt with over 53% falling behind on monthly repayments.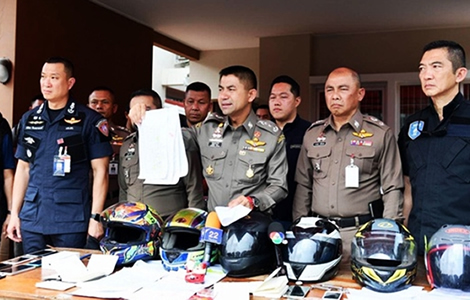 Thai police stepped up their campaign against illegal money lenders in Bangkok on Friday when no less than 14 wealthy loan sharks were rounded up in raids in the eastern suburbs of the city. The raids, carried out by the Metropolitan police, targeted a money lending gang with links to criminal crime gangs who are believed to have infiltrated the lucrative market.
Gang targeted in Bangkok last week charged interest rates of up to 20% per day linked to connected people
In Thailand, unfortunate people with debts and financial pressures succumb to borrowing money at exorbitant, almost unbelievable, rates of up to 20% per day. The latest arrests in Bangkok are believed to be in relation to a particular gang known for the use of motorcycle helmets as they drive around the city collecting payments from debtors. Thai police believe that very wealthy and well connected individuals may be behind the illegal activity which causes untold misery for borrowers and their families.
Fight against illegal money lending in Thailand
For the last few years, Thailand has been waging a war against illegal money lending. When the military government came to power it identified the problem as a priority. For the first three years, many initiatives were launched to encourage Thai people using causal of short term borrowing facilities to open bank accounts and seek assistance from banks, particularly government owned banks in Thailand such as the Government Savings Bank. The government also introduce regulation and initiatives to bring some casual lenders under its control setting strict limits on annual interest rates to be charged. The initiatives included targeted lending programs which assisted thousands borrowers and involved billions of baht in loans.
Thai police and military in ongoing operations to root out illegal moneylenders in Thailand
Simultaneously, Thai police with the assistance the military have been called in to get tough on the illegal loan sharks and purveyors of misery who continued in the trade despite being warned off. In Bangkok, Thailand's Immigration police, in the last few months, identified dozens of Indian money lenders who managed to extend their immigration visas using illegal arrangements with Thai women who masqueraded as their wives. The operation saw Thai police going to court to get orders to reverse marriages that had been registered legally but were, in fact, sham arrangements. All involved were arrested and faced prosecution and where applicable, deportation.
Indian moneylenders very active in Bangkok
For the last twenty years, Indian money lenders have been a significant feature of the casual money lending business in Thailand. The money leaders regularly visit small business people operating stalls or small shops in Bangkok and other Thai urban centres. They develop their lending networks by word of mouth.  Thailand's Immigration Police, where they have apprehended these illegal money lenders found to be in breach of Thailand's immigration laws, have promptly deported them and in many instances, placed them on immigration blacklists.
Many Indian loan sharks sell goods on an installment basis at high interest rates to clients
Another tactic employed by the illegal lenders is money lending through the sale of goods on installment. The problem of causal money lending in Thailand can see some borrowers pay up to 60% of their salary every month just to keep multiple creditors at bay. Many chronic borrowers have to revolve loans just to pay off other loans in an endless cycle. The matter is even more pressured for some middle class Thai people, often with government jobs in the civil service, who have loans from reputable financial institutions but also resort to casual lenders when they cannot make monthly repayments and provide for emergencies.
Thailand has progressive bankruptcy laws but civil servants face automatic dismissal
A recent report shows that up to 74% of Thai households have, in the past, defaulted on a debt or repayment. Thailand has some quite progressive bankruptcy legislation on its books but, at the same time, places strict requirements on civil servants whereby bankruptcy results in automatic dismissal and the loss of career for the person involved. This is an aggravating factor for many under financial pressure. Another key facet of Thailand's relationships with borrowing and casual lenders is the fact that many Thai people own land in the country which often can act as collateral for loans or even casual loans.
Heart warming ceremony in August 2018 saw 684 Thai borrowers get land documents back after Thai police and military raids on lenders
Last year, a series of swoops by the military and police, working together, saw land ownership documents returned to Thai borrowers after they were seized from money lenders who were found to have breached Thailand's laws governing financial lending in particular maximum annual interests rates. The raids, involving the Thai military and police, saw a heart warming ceremony in August 2018 in which Thailand's Deputy Prime Minister Prawit Wongsuwan handed land registry documents back to no less than 684 delighted borrowers in the north of Thailand.
Thai woman detained, assaulted and raped by money lender couple in Chonburi case 
The links between criminality, violence and abuse is another disconcerting facet of the causal money lending trade. Last year, a Thai couple was arrested by Thai police after a Thai woman reported that she had been illegally detained and sexually assaulted. It was alleged that the duo had met the creditor and took her to a house which she was firts assaulted and then raped by the man.
Thai police arrested a 32 year old Thai women and her 44 year old husband. It is reported that the duo were charged with illegal money lending, illegally detaining the woman, assault, robbery and rape. The couple denied the charges made against them.
26 year old Thai women borrowed ฿100,000 from money lending couple who threatened creditors with violence and criminal damage
It was reported that the 26 year old Thai women had borrowed ฿100,000 from the man and the woman. At a meeting they are reported to have bundled into their truck in the Sri Racha area of Chonburi. They then took her to a rented house where the assault and rape took place. It was reported that after the attack the couple could not be found for two week until Thai police located them in Prachuap Khiri Khan province.
The police investigation into the matter concluded that the couple had been lending sums of money to less well off people at a daily interest rate of 20% in the area. They had engaged in threatening behavior and even damaged the property of creditors who could not meet the repayment obligations which they imposed. The police probe resulted in more people coming forward against the money lending couple. The initial police complaint was filed in early May 2018 and two weeks later the couple were charged.
Thai government introduced money lending license and tight regulation in 2017 move
The Thai government has sought to regularize the causal money lending trade by introducing legislation requiring money lenders to be licensed and limiting the interest rate to not more than 15% per month or 36% per annum. Known as pico finance licenses, the scheme has seen hundreds of companies licensed throughout Thailand to provide legal loan services on a casual basis. Figures to the end of 2017 showed loans of nearly ฿220 million extended with a remarkably low non performing rate of only 2%. However, the biggest assistance to poor or less well off Thai borrowers has come from government schemes in association with national lenders such the Government Savings Bank which has seen billions of baht lent.
The problem with household debt in Thailand is a big one. It is a singularly powerful economic issue weighing on the Thai economy. Despite healthy growth in the Thai economy last year, a report last October showed that nearly 78% of Bangkok households were in debt with over 53% running behind on monthly commitments and repayments.