A wedding reception for the youngest daughter of Thaksin Shinawatra and her commercial airline husband gave us another glimpse of the influence that the ex Premier of Thailand still wields. The guest listed including many key players from Thai politics and the entertainment world as well as Thailand's Royal Princess Ubolratana who was the guest of honor at the couple's wedding event.
The flair and success of the Shinawatra family was on display in Hong Kong on Friday when the ex Premier hosted a lavish celebration of the wedding, on St Patrick's Day, of his daughter to a commercial airline pilot. The event was overseen by the guest of honour, Thailand's Prince Ubolratana, elder sister of the Thai King. The event was attended by many leading players in Thai politics and the entertainment industry as well hundreds of friends and extended family.
Thai Princess Ubolratana was the guest of honour this Friday when the youngest daughter of exiled Thai premier Thaksin Shinawatra hosted a wedding celebration in Hong Kong with a lavish and happy family wedding reception.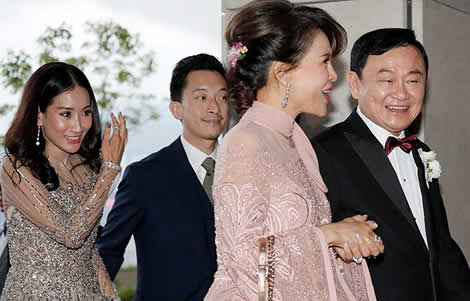 The couple had been married on March 17th, St Patrick's Day, in Bangkok where another wedding event took place at the Rosewood Bangkok Hotel. This was a second wedding reception at the Rosewood Hotel in Hong Kong. Paetongtarn Shinawatra was married to Pidok Sooksawas who is reported to be a commercial airline pilot.
Two exiled ex Thai premiers attend a family wedding celebration in Hong Kong
The event in Hong Kong including hundreds for friends, relatives and guests from Thailand. It including Thaksin Shinawatra's younger sister, Yingluck Shinawatra, Thailand's first female prime minister. Both ex premiers are now living in exile. Thaksin fled Thailand in 2008 to attend the Beijing Olympics Games and later broke his bail terms by failing to return to Thailand. He was later convicted and sentenced, in absentia, to a prison term. Yingluck, his sister, was sentenced to 5 years in prison by a Thai court in 2017 arising from charges in relation to a disastrous rice price support scheme introduced by the Pheu Thai government elected in 2011. Thaksin was ousted as Prime Minister in a 2006 coup while Yingluck was ousted by a court decision just prior to the 2014 army coup which led to the the latest Thai government.
Thaksin's former wife, Khunying Potjaman, from whom he divorced after he left Thailand in 2008, did not attend the Hong Kong celebration. The young bride's mother had honored the newly wedded couple at the Bangkok wedding event held on March 17th.
Players of Thailand's political and entertainment world attended the lavish event
As well as the royal princess,who stunned Thai politics on February 8th when nominated by the now disbanded Thai Raksa Chart Party as prime minister, there were large numbers of close friends of both the bride and groom. Thaksin's son Panthongtae, known as 'Oak', was also in attendance with several friends. It is reported that one of Oak's friends was Kachapa Tancharoen. Kachapa is the son of a former minister in Thaksin's Thai Rak Thai Party government, Suchart Tancharoen. The senior Mr Tancharoen is now part of the pro junta Palang Pracharat Party which supports current Prime Minister Prayut Chan ocha as Thailand's next Prime Minister.
The guest list for the lavish event included many prominent figures in Thai politics and entertainment. These included many former leaders of the now disbanded Thai Raksa Chart Party as well as political figures who have worked with Thaksin during his long involvement with Thai politics.
Shinawatra is a skilled businessman and politician engaged in a battle of wills with conservative elements in Thailand who see him as a threat
Thaksin Shinawatra and his family remain influential in Thai political circles. While the ex premier has long been engaged in a struggle with more conservative elements in Thai society in an electoral and political contest of wills, he and his family are renowned for endeavoring not to let the differences between them and political foes become rancorous. Like his skill in business, this is a distinguished and admirable quality. To those who oppose him, these are traits that make this formidable political foe even more dangerous particularly when supporting populist policies.
New democracy in Thailand aims above all else to preserve order and stability
In the last days of the 2019 election and it aftermath, as a government is teased out, the influence of Thaksin Shinawatra has been resurrected by many on the conservative side to redefine the old political battle lines. Conservative forces want to continue the reforming work of the military junta as Thailand enters a new democratic era. It is one strictly controlled by the principles of the highly restrictive and demanding 2017 constitution which aims, at its heart, to preserve order and stability in Thailand above all else.