We report on the details of the shocking sex attack over the weekend on a beautiful and vivacious 27-year-old German woman enjoying Thailand to the full. We also look at what the implications may be for Thailand's reputation. Our conclusion is that Thailand is still a safe destination for western tourists even for determined young western women who increasingly see their excursion to the kingdom as validation of their status. International data shows that Thailand is a safer destination for women than the United States or Sweden. This does not, however, lessen the abhorrence at the callous and brutal nature of the rape and murder of a beautiful young German woman this week on an idyllic Thai island.
The appalling rape and murder of a 27-year-old German woman on the gulf island of Koh Si Chang on Sunday is already becoming a potential nightmare for Thailand's tourism bosses as news media around the world report on the incident. However, the quick and decisive action of local Thai police on the island goes some way to allay genuine international concern. A 24-year-old Thai man, reported to be a crystal meth addict, has already been charged with the premeditated murder of Miriam Beelte and removed from the island to Chonburi province on the mainland. The accused, On Monday, was taken off a boat by military and police personnel and placed in a prisoner cage on top of a Thai police vehicle. He could face the death penalty in Thailand if convicted of the shocking crime.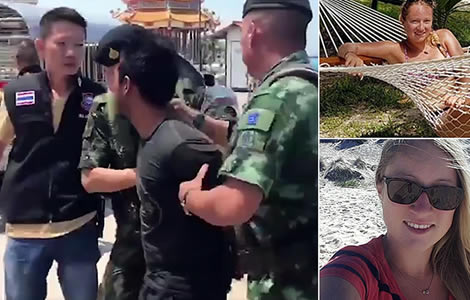 A 24-year-old Thai man has been arrested and charged by Thai police on the island of Koh Si Chang in Chonburi province following the brutal rape and murder of a 27-year-old German tourist on Sunday. It is reported that the man, a resident of the island which is about 12 km off the coast, has confessed to the shocking crime. On Monday morning, Thai police took the culprit back to his home in order to identify for Thai police investigators the clothes he had earlier worn when he carried out the appalling and vicious crime on Sunday afternoon.
Thai man was crazed on the crystal meth drug
Ronnakorn Romruen has been charged with premeditated murder and the concealment of a body and is also likely to face further charges. He is reported to be a resident of the Moo 2 village on the island. The Thai man has told Thai police that he killed the German woman in order to prevent her from reporting the sexual attack he perpetrated on her. It is reported that the young Thai man is a drug addict with an addiction to the crystal meth drug or crystal methamphetamine which is now in widespread use in Thailand. This follows a lowering of the price of the drug and increased shipments from the infamous Golden triangle drug-producing regions on Thailand's borders.
German woman's body was found by a local walking in the woodland area where the sexual attack and vicious murder took place earlier
The body of Miriam Beelte, who was 27 years of age, was found on the island by a local on Sunday at 6 pm who was walking through the woodlands where the rape had taken place hours earlier. The body was found under a pile of stones deposited near a series of steps which is used to mount a platform from where a flag flies which is dedicated to Thailand's King Chulalongkorn or Rama V. The killer had left the young woman lying in her own blood and made an attempt to cover up her remains with leaves. The woman's clothing was torn and ripped from her earlier ordeal.
Island locked down as Thai police identified the culprit who they arrested in the early hours of the morning at his home
Following the discovery of the body and an assessment of the crime, Thai police acted swiftly. They closed down the island. The 24-year-old culprit, Ronnakorn Romruen, was identified and arrested at his home in the early hours of Monday morning. Taken in for police questioning, it is reported that the man confessed to the crime within 4 hours of his arrest.
24-year-old killer charged with the premeditated murder of German woman Miriam Beelte
He told police that he had been high on the crystal meth drugs he was taking when he carried out the crime. After his confession, he was taken to his home to identify his clothing and was later photographed and video recorded as Thai police took him, handcuffed, on a boat trip to the mainland docking area at the Sri Racha district of Chonburi province. The man was recorded by reporters in a dishevelled and shirtless taste before being placed on the boat. It has been confirmed that the 24-year-old has already been charged with the premeditated murder of Miriam Beelte and concealing her body. Other charges may well follow before an intensive investigation of the shocking crime is complete. This is now underway.
Body of German woman taken to Bangkok for autopsy
Rescue services discovered that the German woman had a broken neck. It is also reported that the German woman suffered from a broken leg as a result of the frenzied attack. It is thought that she was struck on the head forcibly with an object, thought to be a rock. The body of the German woman, who is believed to have been based in Pattaya on the mainland, was taken to the police hospital in Bangkok. It is understood that an autopsy will be performed there.
Violent attack followed an interaction where the Thai man offered the German woman sex
The unfortunate German woman was only believed to have arrived on the beautiful island at noon on Sunday just hours before her eventual murder. She had rented a motorbike to explore the island shortly before 1 pm. The man who raped her and murdered her, Ronnakorn Romruen, explained to Thai police that he had initially approached the German woman to chat but she ignored his advances. He told police that he had propositioned the German woman with sex but that she had refused his advances. He then followed her in a stalking manner until they were in a secluded woodland area. There, he mounted his sexual assault which ultimately led to the woman's murder. He told the Thai police that had pinned the woman down on the ground while he tore at her clothes and raped her. It is reported that the woman was screaming while the sexual assault took place. The crazed Thai man, high on drugs, then began to beat the German woman in the face with a rock to silence her.
Koh Si Chang is a favourite holiday spot for foreigners in Thailand drawing large visitor numbers
Koh Si Chang is one of the most popular and beautiful tourist locations in Thailand. Its proximity to Chonburi and the coastal resort of Pattaya make it a huge hit with foreigners. Although not as remote or unspoilt as many islands in the south, it is convenient and thoroughly enjoyable island experience.
Murder and rape of German woman bound to raise questions and generate negative international coverage of Thailand abroad
The rape and murder of Miriam Beetle are already hitting the headlines across the world. It is being particularly driven by tabloid newspapers in western countries, many of which are never too kind to Thailand in their reports. Many news reports, particularly in UK newspapers, are already associating the sex attack with other incidents that already contain some false claims. Western media reporting on Thailand employ a certain licence when reporting bad news from the kingdom to embellish stories in order to fit into an accepted stereotypical narrative of the country.
Hard evidence says that Thailand is a safer country than many western countries
It comes at a time when, it must be said, many rapes, sexual attacks and murders in western countries are being played down where they involve ethnic minorities or migrants. All that said, there is no denying that this incident spells a bout of bad news for Thailand's reputation. It also raises questions about the safety of young, western women travelling alone in Thailand where the culture is not the same as western countries. This must also be weighed against the sheer numbers of foreign visitors to Thailand which this year is expected to reach 40 million foreign tourists. There is also ample statistical evidence to suggest that Thailand is, indeed, quite a safe country even safer than many western countries.
Thailand has a lower crime and rape incidence than the United States and is 8 to 10 times safer than Sweden when it comes to rape
It is safe to say that based on the available statistics and the crime rates in other countries even western ones, that Thailand emerges as a safe country. For example, based on figures from the United Nations Office for Drugs and Crime, Thailand's crime rate is only 65% of that in the United States or to put it another way, there is 53% more crime in the United States. Similarly with rape. The incidence of rape in the United States of America is 4 times that of Thailand according to the UN agency's figures. To make the point even further, the incidence of rape in Sweden is twice as high again as that in the United States. Sweden is often hailed as a progressive country but which recently has exploding crime rates which some, perhaps unfairly, attribute to the migrant crisis. There are no official figures that firmly establish this link except anecdotal evidence or prejudiced, bigoted opinion.  Even before the migrant crisis, figures from 2011 show Sweden with 10 times the incidence of rape than Thailand. Sweden was ranked 6th in the world fro rape while Thailand was ranked 51st, still nothing to be proud of but near average. Liechtenstein has the lowest reported rape rate world at virtually zero
Thailand and Sweden are both safe countries
What these figures show is that foreigners should not rush to condemn Thailand based on this one incident and subsequent worldwide coverage feeding of stereotypical tabloid coverage of Thailand. Sweden is still certainly also a  safe country for tourists as is Thailand. Perhaps the difference is the exotic nature of Thailand as a destination, open reporting of the story with a full briefing by Thai police and this reporting licence which western journalists feel free to employ against Thailand, without sanction. The reason for this is its international reputation as a politically incorrect country which stems, in turn, from its adherence to traditional values, unique culture and history.
Many western women like 27-year-old Miriam Beelte now travel alone in Thailand
The swift arrest and commencement of legal proceeding against the culprit is some comfort for Thailand's tourism bosses who may have another emergency on their hands. In recent years, Thailand has become a hugely popular destination for young western women who often, like 27-year-old Miriam Beetle, travel unaccompanied reflecting a new emancipated age for women in western countries. Thailand's tourism industry aims, specifically, to attract young women like Miriam Beelte to the kingdom for holidays. This illustrates the serious implications of this week's appalling crime as well as the appalling and ghastly tragedy for the beautiful young woman's family.
Thailand perhaps the world's most popular tourist destination for young western backpackers
Thailand has become perhaps the world's most popular tourist for backpackers but also particularly with young western women who have come to see their ability to travel in the kingdom, renowned formerly as a playground for western men as a sign of equality and for many younger western women.
Young German woman was already a world traveller before arriving in Thailand
The 27-year-old young woman was a world traveller who regularly visited foreign countries, particularly in the Pacific region. Last year, she holidayed in Fiji and her Facebook page is full of holiday photos and shows her participating in energetic water sports. The story highlights the growing number of young western women who now make part of Thailand's exploding tourism trade and who travel to the country unaccompanied. This is seen, by many western women, as a new right of passage in a new age of female emancipation and equality in western countries.
Family of German woman informed of the appalling tragedy and criminal act on Koh Si Chang
The young German woman hails from Hildesheim in Germany. On Monday, the first priority of Thai police on Koh Si Chang and the mainland was to alert and inform the German embassy so that the young woman's family could be informed of the tragedy.
Thai murder and rape suspect arrives and is detained by authorities on the mainland
Footage for Thai TV today shows the perpetrator, 24-year-old Ronnakorn Romruen, arriving in Sri Racha and being taken off the boat by Thai police and military personnel. The suspect, who has confessed to the crime, was placed in the cage back of Thai police pick up and driven off to detention. If convicted of the killing and under the charges arraigned against him, he faces the death penalty in Thailand which is still operative. All that, of course, will be a matter for the Thai courts to ultimately decided upon when the case goes to trial and makes its way through the judicial process. Thai police are still involved in an intensive investigation into his actions which is likely to result in further charges against him.
Further reading:
Evil struck a Thai island on Sunday when a local brutally raped and murdered a German woman