American and his Thai wife are reported to be in hiding as Thai police and authorities seek them as part of a probe into their sea steading operation in Phuket. Officials report that there is no evidence to suggest that they have left Thailand through normal channels. However, the couple, so clearly enthusiastic and in love with each other in their online publicity, may face a precarious future as they try to stay together. It is reported from Phuket that Thai police have formed the view that the couple did intend to set up an independent state off the coast of the kingdom. This may constitute valid grounds for a prosecution under the wide ranging Section 119 of Thailand's criminal code with very serious consequences for both of them. Meanwhile, the American's visa has been cancelled and he faces arrest, even on this basis, if discovered now within Thailand's borders. Chad Elwartowski has been declared a threat to national security and society by immigration officials in Phuket.
The American Thai couple who only weeks ago announced their dream new life and independent utopia off the coast of Phuket are now on the run. The couple have fled Phuket and their sea stead as the American's visa has been revoked after he was declared a threat to Thailand's national security.  It is not known where the couple are but the dawning prospect for them now is that it will be very difficult for the American and his Thai wife who seemed so enthusiastic and happy together despite their foolhardy defiance of Thailand's authorities, to stay together. Chad Andrew Elwartowski is now blacklisted while it is not known if his wife has even a passport or a valid visa to stay in another country. Both are facing the prospect of the most of serious of charges as Thai police pursue an investigation centred on the provisions of Thailand's Section 119 of the criminal code. It is understood that they are being 'hunted' by Thai police. There is no record yet of the couple having left the kingdom through normal channels but the American has intimated to the media that the couple has already fled Thailand.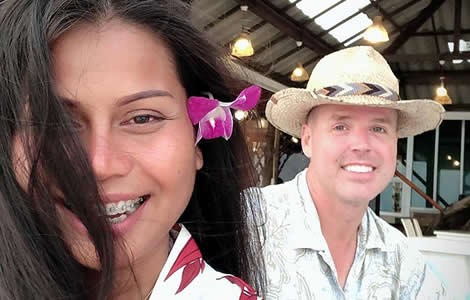 The American bitcoin entrepreneur built a sea home, believed by Thai naval experts to be fixed to the ocean floor off the coast of Phuket, in what he claimed to be international waters. Chad Elwartowski has now gone into hiding with his Thai wife. The bitcoin millionaire had publicly announced ambitious plans to create a new community of 'governance' and an effective independent state in international waters off the southern coast of Phuket. In a series of promotional videos, his Thai wife, Suprenee Thepdet, declared that the couple were not just making a 'story' but 'history' in their life living together. Their vision and enthusiasm for their project was notable however foolhardy and dangerous it has now proved to be legally.
American and Thai wife seeking to create new community and 'governance' in the sea off Phuket
Thai navy boarded the couple's sea stead home on Sunday as police investigation continues
It is reported that the Thai navy boarded the couple's sea home and and platform on Sunday last having spent days trying to contact them by radio communications and through naval personnel who surrounded the 'sea stead' in line of sight. On Saturday, the Thai navy confirmed that officials from the 3rd area command of the Royal Thai Navy had urged the local police at Wichit police station in Phuket to open an investigation into the activities of the American Thai couple citing Section 119 of the Thai Criminal Code. This police enquiry is now underway.
American man and Thai wife now find themselves in a very dangerous legal situation
This has put the couple in a very dangerous legal situation. Section 119 specifies it as an extremely serious crime in Thailand to do anything that compromises the sovereignty of the kingdom or causes damage to the nation's integrity. The activities of Chad Andrew Elwartowski and his Thai wife Suprenee Thepdet may have clearly infringed the law by their own statements and actions. Their only possible defense or mitigating circumstance may be their own naiveté. However visionary and inspiring the concept of independent minded people may be in establishing new communities in international waters, such activities clearly pose a direct threat to Thailand's sovereignty or any other nation state. This seems certainly to be the view taken by Thai authorities.
Wide ranging scope of Section 119 of Thailand's criminal code leaves the enterprising duo with the real prospect of severe consequences
Thailand also has key rights to the sea outside its territorial waters of 12 nautical miles from the coast within a 'contiguous zone' to act where there is threat the the country's laws or operations of customs. The wide ranging scope of Section 119, due to its wording, leaves little doubt that, at the least, the American and his Thai wife may have a case to answer before the Thai courts if a prosecution is pursued. If convicted under the law, the punishment can be life imprisonment or even a death sentence. The law is designed to deter any attempt to weaken or diminish Thailand's sovereignty.
Phuket's deputy Governor says Thai police have concluded that the American and his wife attempted to create an independent state off the coast
The seriousness of the couple's legal position is that by their actions and own statements, they have effectively provided all the evidence needed to prosecute them under the sweeping provisions of Section 119. Of course, a Thai court will have the adjudicate all the pertaining facts of the matter including the interpretation of the law, natural justice as well as evidence from the Thai police and experts on international maritime law. Phuket's deputy Governor Supoj Rodruang Na Nong Khai, however,  confirmed this week that so far, police investigations have concluded that the couple were trying to exploit international legal loopholes to establish an independent state off Thailand's waters and territories. It is understood that Thai police have already visited the home of the American man's Thai partner Supranee Thepdet also known as know by the alias Nadia Summergirl.
Thai wife of American sea stead venture says Thai police have already been to her home
In a social media post, Nadia said that eight Thai police officers had arrived at her mother's home looking for her and her US husband. She said the police had been there two or three times in two days searching for the couple. She said that the visits had made her mother and young son scared and asked that they stop.
American man from hiding: 'We just want to live'
The American himself spoke to the media from hiding this week. It thought that both Chad Elwartowski and his Thai wife may be still within Thailand although Mr Elwartowski suggests otherwise. They are now, clearly, being pursued by Thai authorities. The American said he was not sure even if his sea stead was still in place but was more concerned for his Thai partner. He confirmed that the couple are on the run and that his Thai wife has been forced to leave her home country. His first concern now was for the welfare of his Thai wife: 'Her son is worried. I hope they can be reunited someday soon. As long as Nadia and I are able to live through this, that is all that matters to us right now. We just want to live.'
Sea State entrepreneur still insists his sea home is within international waters
On Monday, the visionary young American confirmed that the couple were being tracked by authorities and suggested they were being 'hunted to death' but still claimed that his sea stead structure was within international waters and therefore, outside the jurisdiction of Thai authorities.

'We are just beyond 12 nautical miles from shore. Under international law, this puts us just outside of the territorial waters of Thailand but within their 200 nautical mile exclusive economic zone. This means that we are not subject to Thailand laws other than those that deal with their natural resources and not interfering with their customs.'
Dispute may ultimately be for an international court to decide on the basis of complex maritime laws
This, of course, is a matter of interpretation that can only be decided by ultimately by an international court but may well tested first by a Thai court according to Thai law. There are already enough disputes in such matters to show that local authorities are the ultimate arbiter even after international courts make resolutions. Such proceedings are prohibitively expensive  even for nation states.
There appears to be a clear determination by Thai authorities that the activities of Mr Elwartowski and his Thai wife are a threat to Thailand's sovereignty. In any event, local officials and the navy claim that the sea structure thought to be located over 12 nautical miles in a southerly direction off Phukets's Racha Yai island, is a maritime hazard. The sea stead was launched by the couple and their 'Ocean Builders' firm on February 2nd last.
Mr Elwartowski reveals he had 70 expression of interest to join the couple's sea community
The entrepreneur has told reporters that he has received nearly 70 expressions of interest from people interested in living in his new community and purchasing such properties to be built by his pioneering company in Phuket on the Andaman sea in international waters. The American and his wife also clearly demonstrated that it was their intention to declare their community an independent state and to later seek UN recognition for such an entity under the world's intentional maritime laws.
Sea home and plan a threat to Thailand's national sovereignty says Thai admiral
For Thai authorities there are two key considerations. First is that this initiative is a direct threat to Thailand's national sovereignty as outlined in Article 119 and also the practical issue of existing shipping in the seas where the structure has been established. One key concern of Thai officials is that the structure is on a shipping route used to transport oil and supplies to Phuket and could be a hazard to ships at night. They point out that the structure has no lighting or running electricity and therefore represents a hazard. In this way, authorities even within what is termed a 'contiguous zone' have the not only the right but the duty to act. If Mr Elwartowski disagrees than he must launch international legal proceedings to stop Thai officials.
American invested $150,000 in Phuket sea steading dream now under intense scrutiny
It is understood that the American has invested over $150,000 in his sea steading venture including the building of the structure in the waters off Phuket. The young man is believed to have made a fortune by being one of the first to seize the opportunity of investing and trading in the international bitcoin currency that has dramatically increased in value but still remains controversial.
It is also understood that officials in Phuket are investigating the company established there by the American for financial irregularities. Thai police have also confirmed that the American entered Thailand in November on a 90 day on immigrant visa.
American's visa voided and he has been  declared persona non grata, a threat to Thailand's national security and blacklisted
It has now been confirmed however that his visa has been voided by Thai authorities. This was on the basis of the recent actions of the American in Thailand. A non immigrant visa is normally granted to foreigners in order to pursue study, business or professional interests and can be extended while in the kingdom. Thai police have already established that the American had lived previously in the central area of Phuket in rented accommodation with his Thai partner, Ms Supranee Thepdet.
The American has now been declared a persona non grata in Thailand and has been blacklisted by immigration authorities. These actions have been taken by Thai immigration police in Phuket and confirmed by Chief Lieutenant Colonel Kathatorn Kumthiengon on Wednesday. The basis for these actions is that the US national is considered by Thai authorities to be a threat to Thailand and its national security.
Heart wrenching time for American Thai couple under investigation and on the run from police
This places the foreigner and his love partner in an extremely difficult situation. His Thai wife may not have permission or a proper visa to travel to or live in another country for an extended period while facing possible prosecution in Thailand under the Section 119 investigation. She participated in the venture with her husband as a partner. She is also separated from her family including her mother and son. The American is facing possible arrest if he is apprehended in Thailand not least after the immigration department's decision this week on his immigration status. It must surely be heart wrenching for the couple who seemed so enthusiastic and happy together not to mention the legal perils that both are facing if apprehended in Thailand.
Thai police have indicated that they have no information that the couple have left the kingdom through normal channels at this point.
Navy preparing to remove the sea stead off Phuket
Meanwhile, it has been reported that a legal panel in Phuket has been examining the legal status of the sea stead home and structure off the coast. There are also firm reports that the Thai navy is readying itself to remove the structure which they have already boarded within the last week.
Admiral confirms police investigation and threat to national sovereignty posed by venture
Vice Admiral Sitthiporn Maskasem, the commander of the third area naval command, has confirmed that a police complaint has been filed and is being investigated under Section 119 of the Thai criminal code. The admiral quoted the indisputable evidence of the the couple's online communications and broadcasting, declaring their new community of governance or independent state off the coast of Thailand. The admiral said that such a call to create such a community off Thailand's territorial waters was in itself a threat to Thailand's sovereignty and nationhood.
Navy may remove the sea stead within a week on maritime safety grounds alone
He confirmed that the Thai navy already had a vessel fully equipped and ready to carry out the task of removing the sea stead structure. He thought that such a move was critical to preserving maritime safety and expressed a wish that this be achieved within a week.
American and his Thai love face a precarious future
Even with the structure removed, the storm that it has created has wrecked the prospects of Mr Elwartowski and his Thai wife Nadia Summer girl ever living together peacefully in Thailand at least for quite a while. They are now facing very choppy and troubled waters as they are pursued by Thai authorities and facing legal prosecution under the real threat of serious charges. But perhaps what will trouble them the most is that their prospects of remaining together have been made precarious.
American and Thai wife seeking to create new community and 'governance' in the sea off Phuket