The Price Waterhouse Coopers survey shows Southeast Asia is the world's most dynamic region when it comes to end users as consumers of social media and the use of mobile payments. Thailand emerged at the top as Asia and Southeast Asia appears poised to move ahead of the rest of the world when it comes to online business. The survey suggests nothing short of a possible revolution in the making as firms seek to change the online retail experience with the use of AI and voice control systems.
Thailand is a world leader when it comes to mobile online social media and business according to a large international survey worldwide conducted by Price Waterhouse Coopers. The kingdom is leading the way in Asia as it moves itself apart from the rest of the word in terms of speed to embrace new online retail and service experiences. This is good news for the Thai government as it labours to push its Thailand 4.0 agenda which seeks to raise Thai income levels. While Thailand's traditional business base is battling against world economic headwinds, it appears the Thai public is openly embracing a changing online business world at a very fast pace including the most widespread use of social media.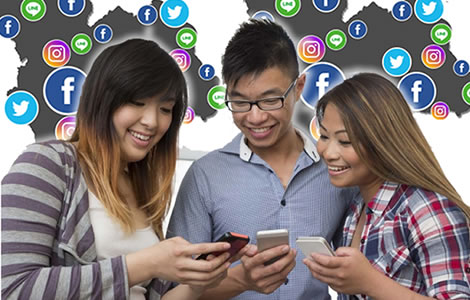 Thailand has emerged in a Price Waterhouse Coopers survey as a world leader when it comes to the use of social media and its application to shopping and retail purchasing online. The huge survey, featuring over 21,000 respondents from 27 different territories and countries worldwide, showed that Southeast Asia is leading the world when it comes to such applications and in the use of mobile online payments technology.
Thailand leads the way for social media inspired commerce and interaction across the world
In this high growth region, Thailand led the way with 51% of respondents indicating that they had made purchases using the popular social media platforms Instagram and Facebook. Thailand is one of Facebook's most successful markets with Bangkok being the world metropolis with the greatest level of connectivity to the social media giant. Thailand was followed by Indonesia and Vietnam on 49% and 48% respectively.
Thailand is a world beater for mobile payments online made through smartphones
Thailand also leads the way when it comes to mobile payments. 67% of all digital payments in Thailand this year were mobile. This is a huge increase from only 19% in 2018. Similar figures were seen in Vietnam, the Philippines and Malaysia. Mobile payments grew to 61% from 37% in Vietnam and 17% to 40% in Malaysia while the Philippines saw a rise from 14% to 45%.
Competitive and highly advanced banking system in Thailand is a key reason for success
The emergence of Thailand as a world beater in this area is a culmination of factors. The popularity of social media in Thailand which most Thais have embraced directly through smartphones in the last decade, is the foundation. It is augmented by a very advanced banking environment that also aims to be competitive.
Thai women have led the way in take up and use of the internet technology for years
Last year, led by Siam Commercial Bank, Thailand's banks all scrapped online fees for mobile banking and payment transactions. This has coincided with a sharp movement to online banking from traditional banking in the kingdom. The enthusiasm of the Thai public to embrace new technology has also been evident for years in Thailand. Surveys have shown that Thai women have particularly led the way in this area.
Thailand's Revenue seeking its share of a growing new casual online trading environment powered by smartphones with reporting requirements
Many Thai people, but particularly women, have even begun to set up their own small trading concerns from their smartphones. The scale of this dynamic new economy can be appreciated by moves by Thailand's Revenue department this year to begin rolling out mandatory reporting from banks where users begin to pass thresholds in the number of payments and the volume of such transactions. The projected cut off  threshold where tax will be levied is currently set at ฿2 million. This is concerned with a new Thai tax on internet payments made in the country for goods and services supplied online which will be implemented this year.
In Thailand 51% of people use social media to buy online compared to 21% world average
Thailand is not alone in Asia when it comes to the growth of the online marketplace and online payments. Asia now accounts for eight out of the top 10 nations in the world when it comes to mobile online payments. Six of these nations, including Thailand, are in Southeast Asia. One of the firms that has emerged in the region as a market leader for innovation and customer service is the online shopping platform Lazada which is growing a strong customer base and affinity with its market in the region. All recent surveys show that Asia is more strongly committed to the online purchasing activity. The influence of social media is far higher in Asia than it is in Europe or countries in North and South America.
The difference between Asia and the rest of the world in this regard is quite stark. Worldwide only 21% of respondents use social media for online purchases compared to Thailand's 51%.
Southeast Asia and Thailand may be first to pioneer a new online buying experience
Firms such as Lazada are winning the competition for the regional markets in Southeast Asia such as Thailand. Malaysia, the Philippines and Singapore showing that brand loyalty and affinity have now becoming part of the online business equation. Experts suggest that security is a key consideration as well as ease of use and convenience. In the coming years, online businesses are expecting to deploy new technologies such as artificial intelligence and even voice assisted systems to open up a whole new world for the online retail experience. It appears that this experience will be made first in Asia innovated and bred in countries like Thailand.