59 year old police captain was caught red handed selling ฿50,000 worth of methamphetamine pills, sourced from his mistress in Laos, to an undercover agent. Meanwhile, Thai police in Nakhon Si Thammarat later that day, arrested a 35 year old Thai man believed to be involved in drug dealing who has been charged with causing the death of a 71 year old man by riding a motorcycle recklessly while high on the methamphetamine drug.
A senior Thai police officer, 59 year old Police Captain Chainarong Oiphuthorn, just four months from retirement, was taken down and arrested by Thailand's elite Internal Security Operations Command in Nakhon Phanom province on Tuesday when he attempted to sell ฿50,000 worth of methamphetamine pills to an undercover operative. The policeman told arresting officers that he needed money for his family after retirement and sourced the drugs from his mistress in Laos. He faces charges as a drug dealer. Later in the evening on Tuesday, Thai police detained a suspected drug dealer pending his release from hospital, after he was involved in a fatal motorbike collision in which an elderly Thai man died. The 35 year old, named as Winai Suphan, faces charges of drug dealing and causing death by reckless driving.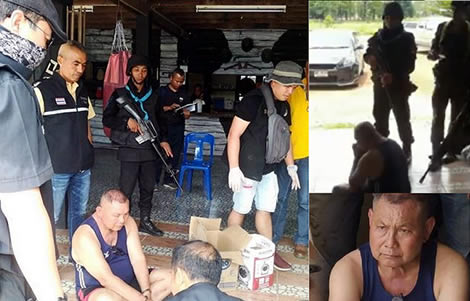 A senior Thai police officer in Nakhon Phanom province, just 4 or 5 months from retirement in September this year, has been arrested for possessing and dealing in drugs. The arrest occurred on Tuesday May 7th.
Thai Internal Security Operation Command in Nakhon Phanom moved against local police Captain
Police Captain, Chainarong Oiphuthorn, is 59 year of age. He worked as an investigations officer at the head office of Nakhon Phanom Police. The officer was arrested in an operation mounted by Nakhon Phanom Internal Security Operations Command. An undercover sting operation was mounted to ensnare the Captain who was caught trying to sell ฿50,000 worth of methamphetamine pills to a prospective buyer.
Tip off that the senior police officer was a drug dealer received by internal security
It is reported that Internal Security Operations Command received a tip off about the activities of the officer who was operating a drug trafficking business in the area. An officer made contact with Captain Oiphuthorn posing as a drug dealer, seeking to purchase 2,000 yaba pills to supply a growing demand for the drug. A price was agreed at ฿50,000 which is  $0.80 a pill. The swoop on the police officer was mounted by armed officials from the Internal Security Operations Command as well as security forces.
Police and security forces found 4 guns at the officer's home after search for evidence
The police officer was arrested when he delivered the drugs to the purchaser in order to collect the money. After his arrest, he openly admitted to his activities and brought investigation officers with Internal Security Operations Command to his home. There, investigation officials discovered 6,000 more methamphetamine pills as well as 10 kg of cannabis. Police also found four firearms at the home with a substantial quantity of ammunition.
Source of his drugs was his mistress in Laos
The police officer, who worked with the provincial police, explained to arresting officers and police that his source for the drugs was his mistress in Laos. He explained that his salary was not sufficient to allow him to retire in September next. He said that he wanted to have money to spend with his family after he had retired. The policeman's career is now already at an end and he is facing drug dealing charges.
Second drug dealer arrested at scene of fatal motorbike crash in Nakhon Si Thammarat
Later that evening, in the southern province of Nakhon Si Thammarat, another drug dealer was arrested by police. It followed the killing of a 71 year old motorbike rider in the Tham Phannara area of Nakhon Si Thammarat.
The fatal accident occurred on the Tham Phannara to Than Por road at tambon Tham Phannara at twenty past past six in the evening. The deceased man has been named as 71 year old Somsak Chotechoei. The elderly man was removed to hospital after his motorbike was involved in a collision with a motorbike driven by 35 year old, Winai Suphan. The 35 year old was also brought to hospital having also been injured in the crash.
Elderly man died from blood loss at hospital
The elderly man died at the hospital later from blood loss suffered as a result of his injuries. Investigating Thai police spoke to witnesses who told them that the elderly man's motorbike had been hit from behind by the younger man on a motorbike which was being driven at speed.
Thai police found 35 methamphetamine pills in pouch attached to motorcycle keys of bike driver
Based on their suspicions, Thai police investigated the young man at the hospital and found he had 35 methamphetamine pills in a pouch attached to the key to the motorbike. He is suspected by police of being a drug dealer and of having been high on drugs when the accident occurred.
Charged with drug dealing and causing death by reckless driving while in hospital
The young man has been charged with possession of drugs with intent to sell in addition to reckless driving causing death. He has been detained by Thai police pending his release from hospital when legal proceedings will commence against him.