The news over the weekend of a Thai man killing the man who stole away his Thai wife is a common one. Nearly all foreigners in Thailand will be aware of the special beauty of Thai women. The land of smiles to many foreigners is the smile and warmth of friendly people but in particular Thai women. It is a blessing that Thailand enjoys along with a traditional abundance of food and plenty that has, in the past, led to a contented country whatever happens outside the kingdom. Although it is a devoutly traditional and conservative country despite its unfair and false reputation for sleaze, it would be true to say that the passion between Thai men and women is an exceptional strong one breathing love and life into a country with family at its heart. However, when things go wrong through infidelity or sometimes just human greed or failing, that life can easily and quickly turn to death. Death which often occurs when Thai men snap, blinded and confused by desire, jealousy and even love although some will dispute the latter as love turned to hate.
Last Sunday, a Thai man burst into a house at sleep and cold-bloodedly butchered the man who had taken his wife for his own. Thai women are renowned worldwide for their beauty, personal poise and attentions. It is why men come from all over the world to meet, date and marry Thai women and why many Thai men are very reluctant to let go when a relationship goes wrong. They say that attending to all women of great beauty, there is often a spiritual and emotional turbulence. In Thailand, any cursory look at the daily news will tell you that this is true. In the last 12 months alone, there have been countless crimes of passion often involving younger and older Thai men and of course beautiful Thai women. Thailand is known as the land of smiles but it is also a country of great passion sometimes with death trailing in its wake.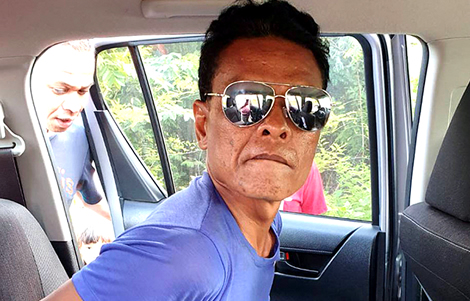 Thai police arrested a 45 year old Thai man at 8 am of Sunday morning last after he had launched an early morning attack on a home harboring his former wife and her new husband.
The couple, 50 year old Phromma Chaiyan and his new Thai wife Praiwan Surakhan, had been staying with relatives of the new husband's family. The attack took place in the Watthana Nakhon district of Sa Kaeo province in eastern Thailand bordering with Cambodia.
Husband stormed into the house where ex Thai wife was staying and sleeping with new lover
Thai police report that at 1 am on Sunday, the assailant, 45 year old Thongdee Surakhan stormed into the house with a knife. He proceeded to inflict a fatal knife wound on his wife's new lover and husband while also wounding her. It is reported that the occupants of the house where sleeping at the time of the attack. The suspect then fled the scene.
The Thai woman, although injured, identified the attacker as her ex husband. Her new husband was taken to a nearby hospital but died there later as a result of the injuries sustained in the knife attack.
Police manhunt for the villain leads to a roadside arrest seven hours later and charges
Police immediately launched an all out search for the villain. At 4 am, they discovered a Honda motorbike at a local temple that the ex husband had used in the attack. They apprehended the suspect four hours afterwards at a roadside eatery located at Tambon Huai Chot on the Suwannasorn Road.
The 45 year old ex husband admitted to the brazen crime. He said that he acted out of jealousy at the thought of another men taking his wife. Thai police have filed the most serious charges possible against Thongdee Surakhan, the ex husband, including the premeditated murder of his love rival and the attempted murder of his wife.
Thai man appeals to Prime Minister for help after wife takes off with younger soldier in Roiet
Meanwhile, another Thai man and husband experiencing problems with his Thai wife took a different approach to resolving his problems. On Tuesday last, government officials and security staff at Government House in Bangkok, the office and seat of Thai Prime Minister Prayut Chan ocha, became aware of a Thai man positioned on the Chamai Maruchet bridge in the early morning at approximately 9 am.
The 66 year old Thai man sat down and took off his T shirt. The man then put a knife cutter to his throat. He told alarmed officials, including government staff and plain clothes police, that he had come to seek justice from the Thai Prime Minister himself.
Thai authorities later identified the man as Voraphon Sujariya.
Soldier in an affair with older man's wife registered his marriage to the Thai woman legally
It appears that a soldier in Roiet province where he lives, had taken up a relationship with his Thai wife. Roiet is a Thai province in the Isan region, in the northeast of the country. In many rural parts of Thailand where Buddhist tradition is strongest, the Buddhist traditional wedding in the eyes of many people is considered to have more power and bearing than an official registered marriage.
In any case, we do not have full explanation from reports but it appears that the soldier who was having an affair with Mr Voraphon's accepted wife had also taken it into his head to give the new relationship the status of marriage registered legally. The soldier in question is reported to have been part of the 6th Infantry Division in the Sri Somdet district of Roiet province.
Jilted husband claims that Thai wife asked him to sign over ฿280,000 into her name
Mr Voraphone also explained to officials, although they did quite understand the circumstances, that his wife had caused him to transfer ฿280,000 into her name. He told officials that he had already sought justice and help from local military authority in Roiet but nothing had happened.
66 year old man threatened suicide if he did not receive a response and was dealt with tactfully
Police and officials had to urge the man to stay calm as he reportedly threatened to cut his throat and take his own life. As police asked the man to show documentation verifying who he was so that they could adjudicate on his claims, he was subdued and the knife taken from him. Thai officials then took him to a quieter area to discuss the situation with him further.
October 2018: Thai man gives himself up peacefully to Thai police at Phuket hotel on court warrant
On Tuesday, the 30th October 2018, Thai police quietly arrested a 62 year old Thai man at a hotel in Rassada, Phuket on foot of a court warrant issued the previous Friday for causing the death of another man that day at a restaurant that the accused man had run with his Thai wife for two years. The killing had taken place far away from Phuket, again in Sa Kaeo province in eastern Thailand. The case also involved a younger soldier and indeed, this time an officer in the Thai army. This time the victim was 56 year old, Lieutenant Samueanchai Pueadpea.   
Murder and killing also involved a soldier, this time a Thai army officer in Sa Kaeo province
When arrested, the Thai man was in tears as he recounted to Thai police his story and explained why he had murdered the 56 year old Thai army officer. The man accused was named as Utane Jitma. He told police that he had been with his Thai wife for a quite a few years. The couple had, in the couple of years previously, established a restaurant business together in Sa Kaeo also in Watthana Nakhon district where last Sunday's murder took place.
Wife told long time husband there was no need for him to come home in phone call
Uthane had been away quite a bit working to earn an income. Sometime before the fatal incident, he had phoned his Thai wife to tell her that he was on his way home. She replied strangely that there was no need from him to return.
Uthane later arrived at the couple's restaurant to find that it was closed. He also noticed a strange car parked outside the establishment. In investigating further, he found his wife in the couple's bedroom with another man, a stranger.
Thai man angered as he find wife in bed with a stranger in the couple's bedroom
He was immediately angered and took a gun to shoot the other man who had cuckolded him with his wife. The gun did not function properly and jammed. The army officer, Samueanchai, then fired back with a firearm of his own at the husband of the Thai woman he was sleeping with. Uthane told police that he went and retrieved a second firearm. This one worked and he wounded the army officer a number of times. The wounds, it turned out, were fatal. The husband then went on the run. He explained to police that he had intended to turn himself in but feared for his life.
July 2018 in Chonburi: another 60s man strikes back after hunch that Thai wife was having an affair turned true before his eyes
Nearly four months earlier, in July 2018, another Thai husband in his 60s also struck back. This time it was 64 year old Siri Poolkrachang who gave himself up to Thai police at a resort in the Sattahip district of Chonburi after he had to his mind, defended his honor and killed his love rival, 51 year old Thiradej Liamthong in a brutal and vicious knife attack minutes earlier. It was, in fact, a heinous crime which the other man never saw coming.
Wife told husband she was going to see a fortune teller one Sunday evening in Chonburi
The Thai husband had followed his wife that Sunday, July 1st after she told him she was going out to visit a fortune teller in Rayong province. The 64 year old suspected otherwise and followed his wife. His hunch proved correct as he observed his wife, life partner and lover, 47 year old Wandee Kaewpruek entering a bedroom at the well known Palm Resort with another man in tow.
Vicious attack on love rival leaves younger struggling for lives and eventually dead
The Thai man burst into the room and proceeded to stab his wife's lover twice, once in the neck and again in the chest causing massive internal damage. The 51 year old victim was still alive, struggling for life at the scene, when Thai police and emergency services arrived. Thai police found also Siri's wife in a numb and shocked state. Her body was trembling with fear.
The 64 year old Siri Poolkrachang had calmly waited for the arrival of the Thai police. He said that he acted out of complete rage when he saw his wife in the act committing adultery with another man.