The first hit man sought out by the Thai man, who was reported by his extended family to be inseparable from his sister, pulled out. Warut Satchakit had begun his search weeks before his sister resolved to put him out of the mansion and demesne she owned with her UK husband after twenty years of service. Then one Tuesday in mid September last year, two men with no scruples met him at the house and quickly got down to their bloody business.
A Thai court in Phrae province sentenced three killers to death on Friday for the appalling, cold blooded murder of a UK man and his Thai wife at their palatial home in the Wang Chin area of the province in mid September last. A fourth man involved in the crime, who gave evidence, was sentenced to twenty five years in prison. The instigator of the conspiracy was the close brother of the Thai woman. Warut Satchakit paid for two hit men to carry out the murderous attack. The Thai man personally beat his sister to death in the garage of the home where he had worked as a servant for over twenty years.
A Thai provincial court on Friday handed down the death sentence to three Thai men who brutally killed a Thai wife and her UK husband who had live together happily in the UK and northern Thailand for decades.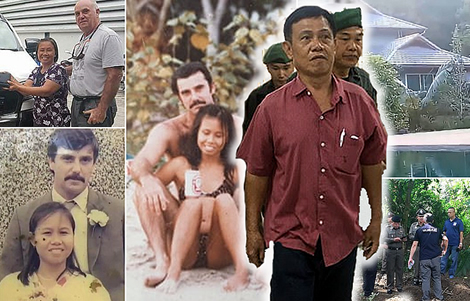 Phrae province is in northern Thailand near Chiang Mai. The four men sentenced today included the brother of the Thai woman who had hired two hitmen to carry out the cold blooded murder of his sister and her foreign husband in mid September last year.
Murder conspiracy instigated by Thai wife's brother after years of simmering tension
A thorough and intense police investigation revealed that the relationship between the couple and the Thai man who orchestrated their execution, had turned sour over a period of years involving slights and wrangles over the management of the land and estate owned by the 64 year old UK man, Alan Hogg and his Thai wife, Nott. The murder conspiracy was instigated by 63 year old Warut Satchakit who had always been thought of as extremely close the Mr Hogg's wife, Nott. The two were brother and sister.
Thai woman and UK husband had lived together for decades in the UK and Thailand
Alan Hogg had made his money as a petrochemical engineer working abroad over many years at the height of the industry. The UK man and his Thai wife had been married for decades. For over twenty years, they had been living between Thailand and the UK until Mr Hogg finally retired to Thailand in 2014.
UK man originally from Edinburgh was reportedly a millionaire and built a huge modern house with a swimming pool in Phrae province
The UK man, originally from Edinburgh, is reported to have been a millionaire. He had bought a large land holding and developed a home in the Wang Chin area of Phrae province. The modern mansion had its own swimming pool as well as land for gardens and to rear animals. 61 year old Nott, Hogg's loving Thai wife, had employed her older brother Warut to work on the land as a gardener and farmer tending to the livestock. He also lived on the property.
Foreigners often trust the family of their Thai wives in land dealings in Thailand
In Thailand, foreigners are not legally allowed to own land. It is often the case that foreigners, with trusted Thai wives, will buy land in the name of their wives or even have land holdings in the name of other close family members. In this case, the motive for the murders was more mundane. Mr Hogg and his Thai wife Nott had a solid and truthful marriage and relationship.
UK man was very demanding about work
It is reported that the background to the shocking murder originated in 2014 when Mr Hogg began to live full time at the property. He was reported to be quite demanding even though locals in the area, who saw him quite rarely, described him as a friendly and generous man. Nott, according to family members, was particularly close to her 63 year old brother Warut who was one year younger than her husband.
Thai man's sister was preparing to ask him to leave the property after over 20 years service
Thai police believe that nothwithstanding their close relationship, Warut's sister was preparing to dismiss her brother from his job of over twenty years. This would have left the Thai man looking for a new place to live as well being left in the impossible situation of having to find a new job as an old man.
UK man's wife indicated her intentions to her younger brother the Saturday before she died
On Saturday the 15th of September 2018, Nott paid a visit to her younger brother, 53 year old Thanom Suddan. She explained to him that both she and her husband could no longer tolerate the bickering and unpleasantness from her older brother. Warut would have to leave, she had decided. 'He was creating too many arguments and not looking after the land properly. He didn't even tell them when the dogs died. She told me she was going to ask him to leave,' Thanom recalled.
Tension between the UK Thai couple and the Thai man was growing for years
Nott's younger brother believes that the tension between the UK man and his wife's brother had been growing for many years. The UK man, as was his habit, worked side by side with his brother in law on the land. However, his standards were very demanding and this led to friction with his wife's brother.
Thai brother went in search of a hitman
The upshot of the situation was that Warut went in search of a hitman to murder his brother in law and his sister. The price for the contract killing was ฿50,000 or $1,600. This is still something that many people in the local area of Wang Chin and among the close knit family find hard to accept or believe. The 63 year old man was known to be polite, helpful and kind although one family member deduced that his relative had the capacity to keep things closed off in his heart.
Thai man had sought a killer weeks before the murder, then one day it all happened quickly
It is reported that the first hitman that Warut sought out and hired, changed his mind. He lost his nerve at the prospect of killing the foreigner and the local Thai woman who was respected and loved. The Thai brother in law had begun his search for a killer before his sister had told her family that she was resolved to put him out of their home. Thai police believe that he began looking for a contract killer in early September 2018. Then, Warut found another option. It all happened very quickly.
Two killers met Thai brother in law at the home on Tuesday 18th September 2018
Two hitmen or killers arrived at the home of Alan Hogg and his wife Nott on Tuesday 18th September 2018. There, they met Warut Satchakit. A fee was agreed to carry out the killing. The new duo wasted no time in getting to work. One man found Alan Hogg tending to ducks near the duck pond. He shot him in the chest killing him on the spot.
Thai wife accosted in her home and bound up for execution by her close brother
The other man accosted Nott in the house and bound her up. She was killed violently by her own brother. In the garage of the house, he beat her over the head with a wrench giving her a bloody death. It is still an unfathomable crime. The 63 old Thai man and his 61 year old sister were often thought to be inseparable. Such was the price for the betrayal of her brother in favor of her foreign husband.
Bodies buried 2 metres under with a digger under a tree in the garden of the demesne
The three men worked together to dig a 2 metre pit in the nearby garden. The used a digger for the purpose. Both husband and wife were laid there together and the pit covered over. They had joined the ranks of the disappeared hidden in their own garden.
Next day the Thai brother in law brought about his downfall in a quest for quick cash
The next day, Warut made the move that upended his venture and brought about his down fall very quickly. He arrived back at the home and drove away a gleaming white Ford Ranger pickup that the wealthy UK Thai couple had purchased around that time at a local dealership. He sold the vehicle, as seen, for ฿420,000 in cash. This money would allow him to make his escape and to pay the men who had taken care of his problem through foul murder. This was on the 19th of September 2018.
Friends of the UK Thai couple were due to meet them in Chiang Mai and raised the alarm
The UK Thai couple had arranged to meet friends in Chiang Mai that week. When they did not turn up and when no trace was found of them, a missing persons report was made to the Thai police. Their investigations soon led them to search for the missing Ford Ranger truck taken from the home immediately after the couple went missing. CCTV footage at the home explained the matter further as Warut was seen driving off in the vehicle. It wasn't long before police began to suspect the worst.
Large operation by Thai police in Phrae found the bodies in the UK Thai couple's garden
One week after the murder, in a huge police undertaking, the two bodies of the UK man and his Thai wife who had lived happily together for over 40 years were retrieved under a tree in garden area of their sprawling demesne. Nott's brother was arrested that day and released on police bail. The next day, the two hit men were apprehended and Warut was rearrested.
Death penalty imposed on the three men this Friday by Phrae Provincial Court
All three received swift justice on Friday from a Thai court which sentenced them to death for premeditated murder. The death sentence is currently operational in Thailand and supported by over 90% of Thai people because of crimes like this.
Happy story of UK man and his Thai wife in Thailand and Britain over decades ended that day
The UK Thai couple left behind a daughter who lives in the UK. In the Wang Chin area of Phrae province, an extended Thai family has been left in shock and sadness at what happened at the modern mansion that they all knew so well for over twenty years. It used to be a fairy-tale story that was testimony to how well UK Thai relationships can work. On the 18th September last, that story ended.
Extended Thai family and locals in Wang Chin still in shock and disbelief at what transpired
Thai Police General Poolsap Prasertsak told the media last year that the brutal murders were the product of an 'internal family conflict' while Nott and Warut's elderly uncle, 78 year old Sangworn Suttakhun, described the reaction of the extended family as one of 'disbelief'. 'We really didn't know anything bad about Nott and Warut,' he told The Guardian newspaper. 'If they were having arguments, they were keeping it from all of us. She never spoke about it and neither did he.'
'Hard to tell what he was really feeling inside of his heart' says 61 year old uncle
A younger uncle, 61 year old Prasith Sudan, who lived near the home was a bit more perceptive. 'Warut always seemed like a very kind person, but he was also a man it was hard to tell what he was feeling really inside of his heart.'