Thailand's legal code is very clear. Under Section 334, it is a crime punishable by up to 3 years imprisonment to 'take away' the property of another person 'dishonestly' and such an act is defined as theft. Of course, it would have been for a Thai court to decide if the Thai woman had not withdrawn her complaint this week. However, the UK man admitted to the crime when he tearfully offered her an apology this week after meeting her at the scene of the crime, the Friendship Supermarket in Pattaya.
The elderly foreigner who stole a Thai woman's cash has been revealed. This comes after the man came forward and contacted the woman on Thursday last. He is Charles Edward Coote, a 79 year old tourist staying in Pattaya's red light district for the last two months. A tearful Coote admitted to the 30 year old Thai woman, Pratumrat Maymum, on Thursday that he had stolen her money as he was running low on funds after his extended stay at the Thai seaside resort, famous with foreigners the world over for its sex bars and good times. The Thai woman, to her credit, accepted the man's apologies and asked Thai police not to press the matter further. The affair again raises the issue of the high degree of respect required for personal property, at all levels, in Thailand for foreigners living and visiting the kingdom. Thailand is still a place, thankfully, where property rights are jealousy guarded and where there is zero tolerance for infractions.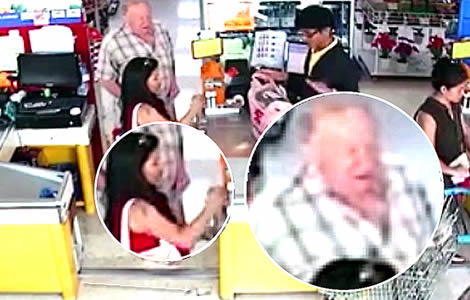 Thai police have dropped their investigation and hunt for a foreign tourist who stole ฿2,000 from a Thai woman on Monday June 10th. This development came after the UK man involved in the incident, on Thursday, voluntarily came forward to resolve the matter after days of negative media coverage into his despicable and dishonest actions at the Friendship Supermarket in Pattaya this week.
Checkout thief was a 70 year old tourist from East London in the UK living in Pattaya's red light area for the last 2 months
The man can now be identified as Charles Edward Coote, a 79 year old UK tourist from East London who has been staying in Pattaya on Soi 17 in the city's well known and extensive red light district for the last two months. The UK man is understood to have made contact with the victim of the crime, 32 year of Jeab or Ms Pratumrat Maymum whose money he stole on Monday. The theft of the money occurred when Coote concealed it from her gaze by sneakingly placing his sandaled foot over the two ฿1,000 notes which had slipped from the Thai woman's purse. She was ahead of him in the check out and did not notice his actions as she paid her bill and interacted with the busy cashier. A video of the incident can be seen below.
Thai woman angered on Monday when she saw a UK man stealing her cash on CCTV
Ms Maymun was angered later when she returned to the shop and the bright, color and clearly lit CCTV footage showed the criminal machinations of the man. She rightly reported the matter to the Thai police who began an investigation into what was certainly an act of theft under Thai law.
Law in respect of property at a lower level is still upheld in Thailand unlike in a growing list of areas in the UK and Europe
Thai law differs quite a bit from western jurisprudence and certainly so in today's degraded era of law enforcement, particularly in the United Kingdom where Mr Coote hails from. He is reported to be from Barking in East London. In recent years, UK police have told small business owners and property owners that they will no longer respond to theft incidents with a monetary value of less than £150. This is also a trend in other European countries where police are now deployed to other 'priorities' that are considered a more significant threat to society. It has led to many business owners and even private property owners in London employing their own security or police services.
UK man arrested in Chiang Mai in February for the theft of mobile phones in a similar case
A similar case arose in Thailand in February and March this year when a 29 year UK man, Chris Dodd from Dorset in southern England, was arrested in Thailand and charged with the theft of a mobile phone at Chaing Mai International Airport. The UK man was, again, plainly guilty of a criminal offence under Thai law and facing a prison sentence. He had already been incarcerated in Chiang Mai prison when a lawyer, hired by his family using public crowd funding finance, negotiated a deal with prosecutors not to pursue the case. This is a mechanism allowed for under Thai law where the public interest is better served by the crime victim being compensated rather than the offender going to prison or suffering the full punishment that the law specifies. It is a practice increasingly being availed of by foreigners behaving badly in Thailand.
Thai police released information on that crime in April showing the UK man was guilty
The case involving Chris Dodd provoked further controversy in April when Thai police, in an unusual move, released information on the crime clearly showing the UK man's guilt in the matter. It followed interviews given by Dodd on the BBC suggesting that he had been released as he was innocent of the crime or that the charges had been dropped because they couldn't be proved.
Case of 79 year UK man Charles Coote has evinced strong feelings from foreigner expat and visitors to Thailand this week
This week's case involving UK man Charles Coote, has evinced strong feelings among foreigners in Thailand. Some felt that foreigners are being unfairly reported on by media sources when they break the laws in Thailand. Certainly that may be true but perhaps rightly so. Western foreigners in Thailand, both tourists and expats, are held in high esteem by most Thai people. They are generally not Thai nationals or citizens and therefore should be required to be more respectful of the law in a country that is not their own or where the are guests.
Some foreigners questioned whether the UK man was guilty of theft at all claiming 'finders keepers'
Other foreigners online questioned whether the UK man was guilty of theft at all. Some suggested that the CCTV footage showed a foreign man who may have been 'nasty' but that he was basically the winner in the game of 'finders keepers' to use a western term. Not so.
UK man committed an act of theft under the Thai legal code by his dishonest actions on Monday
Of course, it would have ultimately been a matter for a Thai court to decide if a prosecution had been brought, but it is clear that Charles Edward Coote was probably guilty of theft under Section 334 of the Thai legal code. Perhaps the only thing to his credit in this sordid affair is that he has now admitted so when dealing with the 30 year old Thai woman who he met at the end of the week at the supermarket where the criminal act took place. The law states that it is an offence to 'dishonestly' take 'away any property of another person' in Thailand. The crime allows for up to three years imprisonment and under aggravating circumstances, this can be increased by up to seven years such as a crime committed at night. Simply put, in Thailand theft is treated as a crime if dishonesty can be shown and where another person's property is taken away or control is exercised by another person. All Thai people know this and it is why they are very reticent about touching or even moving another person's property.
The video footage clearly shows that the UK man knew what he was doing was wrong or that the cash belonged to another person. In fact, his actions on the CCTV footage could be described as the very definition of dishonesty.
UK man extricated himself from an impossible position by meeting the forgiving Thai woman
The 79 year old UK man, remarkably, found a way this week to rescue himself from the situation. He is reported to have contacted the Thai woman on Thursday the 13th of June and met her at the supermarket. The Thai woman told the media that he offered her a 'tearful' apology. 'He contacted me and said he wanted to give the money back. I went to meet him and he was nearly crying. He had tears in his eyes,' she said.
Police no longer investigating the incident
The Thai woman explained how the UK man had said he was running low on money after having been living in Thailand for two months. 'It's still not an excuse for stealing,' she noted. However, much to the Thai woman's credit, she accepted the man's apologies and the return of the cash. She was also happy to intimate to Thai police that she did not want to see the elderly man prosecuted. Thai police in Pattaya have now confirmed that they are no longer investigating the incident.
Only thing to his credit is the admission by Mr Coote to the theft after days of torment
Having watched the video of the 79 year old UK man on Monday taking the Thai woman's money and his actions on that occasion, it is sad to say that we can only conclude that the wiley 79 year old man has used the same cunning to extricate himself from what would surely have been a term in a Thai prison. Undeniably, the woman was right to forgive him and not to demand that the man be punished further. The press coverage in recent days, itself, must have been tormenting for the man. On the other hand, we are sorry to say that there is very little to his credit in this matter except his frank admission to the theft.
Despicable western foreigner thief exposed in Pattaya

Despicable western foreigner thief exposedJames Morris with a report from Pattaya of an elderly western foreigner at a supermarket in the resort town who has been shown to be a despicable and dishonest thief. Thai police in Pattaya are now searching for this man who stole ฿2,000 from a hard working Thai woman right under her gaze.

Posted by ThaiExaminer.com on Tuesday, June 11, 2019
Despicable western foreigner sought by Pattaya police after the theft of ฿2,000 from a Thai woman
Police in Chiang Mai reported to be looking at new legal action against UK man freed on phone theft