39-year-old Bart Allen Helmus and his Thai wife, 30-year-old Sirinapa Wisetrit were arrested after they sold 10 grams of crystal 'ice' to undercover police. The American told police that they had acquired the drugs on the dark web.
Thai police moved on a condominium in Bang Lamung in Pattaya on Saturday to arrest an American man and his Thai wife dealing in drugs. The two were selling the highly addictive crystal methamphetamine substance or 'ice'. It followed an undercover sting operation by Pattaya police which had targeted the two for some time.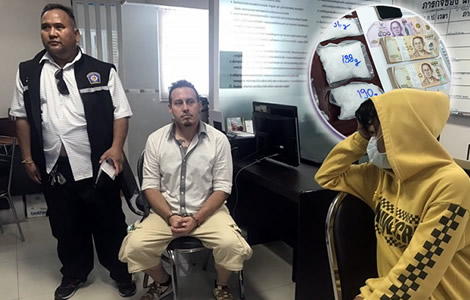 Thai police in Pattaya have arrested a middle-aged American man and his Thai wife after a drug sting operation in Bang Lamung today and follow-up raid. The raid on the couple's apartment in the seaside city occurred after officers mounted a sting operation in which they posed as buyers for the crystal methamphetamine drug or 'ice' that the couple had become known for selling in the area. Police have confirmed that the 39-year-old man is an American citizen.
Thai police posed as drugs buyers to purchase 10 grams of 'ice' from the American Thai couple
Today, Chonburi police chief Police General Nanathachart briefed the media. He told reporters that the police in Pattaya had been monitoring or observing the couple for some time following tip-offs regarding their illicit activity. He named the couple as 39-year-old Bart Helmus and his 30-year-old Thai wife Sirinapha Wisetrit. Officers successfully posing as drug users made the purchase 10 grams of highly addictive substance from the pair.
Search found drugs in bags and ฿205,500 in cash
A search of the condominium produced a further 978 grams of ice contained in plastic bags in addition to ฿205,500 in cash. Police also discovered an unauthorised firearm in addition to 200 bullets. The two have been charged with possession of drugs with intent to sell and for possession of illegal firearms.
Couple admitted to police that the American was dealing in drugs that were bought online
The senior police officer in Chonburi told the press that Bart Allen Helmus and his wife Sirinapa Wisetrit had admitted to purchasing the drugs in the dark web where a complete spectrum of illegal goods and services can be bought or sold. The American man has admitted dealing in drugs 
The husband and wife are being held in Pattaya pending further legal action.