Bangkok is hosting a high profile ASEAN summit of foreign ministers at this time attended US Secretary of State Mike Pompeo. Police last night arrested two men on a bus that originated from Bangkok in the southern province of Chumphon following a hoax bomb incident at the Royal Thai Police headquarters in the city. The Thai Prime Minister, urging calm, has called for the public to pass on any information regarding suspicious activity to the police and order security service to apprehend the attackers.
A series of early morning bombing incidents in Bangkok caused chaos in the city this morning as 6 explosions went off between 7 am and 9 am. They were preceded by a series of early morning fires in the Pratunam area of Bangkok near to the Royal Thai Police headquarters where a fake bomb incident occurred last night which lead to the area being cordoned off and the local BTS line shut to commuters. Four people were injured by the bombs which at one location were confirmed to contain pellets.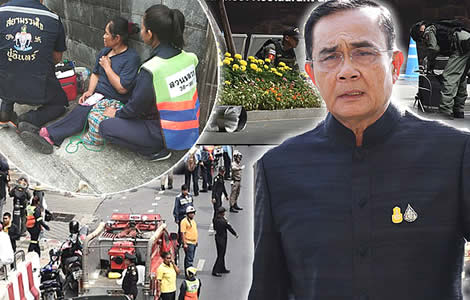 The Thai Prime Minister through his spokesperson this morning Friday has appealed to the Thai public for help as police scramble to find the perpetrators of what seems to be a coordinated series of fire and bombing incidents targeting Bangkok.
Last night fake bomb incident outside Thailand's Royal Thai Police headquarters
It follows another incident yesterday evening when a fake bomb package was left outside the Royal Thai Police headquarters in the city causing police to cordon of the area and shut down a nearby BTS train system which left many commuters stranded.
Bomb incidents on Friday began at 7 am
The latest incidents began this morning after 7 am when two small blasts went off nearly simultaneously at the government complex on Chaeng Wattana Road. A second explosion went off just minutes later.
No casualties from the first three 'homemade' bombs
Police responded to the scene from Thung Song Hong station at 7.05am. They closed off the area to the public and called in bomb disposal teams to examine the bomb scene. They found a number of what has been described as homemade bombs. 
There were no casualties from the three explosions and damage was confined to a seating bench which was destroyed and trees which were left damaged.
More serious complexion at 8.36 am when a bomb with pellets targeted a BTS station
The situation took on a more serious complexion at 8.36 am when it is reported that two more severe explosions targeted the Chong Nonsi station which is part of Bangkok's BTS overhead rail line used extensively by early morning commuters. The bomb is reported to have gone off in a garden area within the station's environs.
Explosion also near the King Power building
Police later confirmed that another explosion went off near the King Power Mahanakhon building. Two people were injured by these explosions which also caused some minor damage to the station and forced staff to close off some of the access points. 
Two people injured, one hospitalised
One of the injured people was sent to Chulalongkorn Hospital while the other was given first aid at the scene for superficial injuries. Significantly, Police Deputy spokesman Colonel Kritsana Pattanacharoen confirmed to reporters that metal pellets were found at the site of the BTS train blasts.
Ping pong bomb at 8.50 am injured two city workers
These explosions were followed by another bomb which went off fourteen minutes later at 08.50 am in Suan Luang. This left two workers sweeping the road, injured. Police at the scene identified the device that caused the explosion as a ping pong bomb.
Small fires in the early hours in the Pratunam area of Bangkok near police headquarters
The bombs followed a series of suspicious early morning fires in Bangkok that took hold in the Pratunam area of the city. This is a busy market and shopping area which is also near the Royal Thai Police headquarters at Pathum Wan. It is reported that Thailand's Prime Minister, Prayut Chan-Ocha, was to chair his first meeting of the police commission on Friday morning since he assumed the police responsibilities this week. 
Fires went off from 5.18am to 7am
Four fires were reported in the area. The first was reported at 05.18am in a single storey building on Si Phetchaburi. 30 minutes later a second fire was seen at the Indra Regent Hotel in Ratchathewi. This was followed by a second outbreak near the hotel from a heap of clothes. Police also reported a fourth fire at the Chalerm Larp market at approximately 7 am. 
No indication of who is behind the attack except for two arrests last night on a bus in southern Thailand that originated from Bangkok
There is no indication yet of who is responsible for the bombings and arson attacks in Bangkok today but there is one clue from last night's delivery of hoax packages to the Royal Thai Headquarters. Police managed to arrest two suspects linked with that incident. They were apprehended on a bus in Chumphon province in southern Thailand which had originated in Bangkok. Police have cautioned that they have not yet linked the series of incidents, however, and are keeping an open mind.
Bangkok attacked by bomb and fire attack on Friday morning

+ Bangkok was the targeted of a series of bomb and fire attacks on Friday morning from 5 am to 9 am which left four people injured.https://www.thaiexaminer.com/thai-news-foreigners/2019/08/02/bangkok-bombings-fires-bomb-two-injured-thai-police-prime-minister/James Morris reports from Bangkok

Posted by ThaiExaminer.com on Friday, August 2, 2019