Proposals to be considered by the Thai cabinet on Tuesday. Minister draws attention to the problems of the Thai Embassy in New Delhi dealing with false documents and applications as a sign that the country will face the arrival of many undesirables posing as tourists. He also cites concerns about Chinese tourists establishing commercial ventures in Thailand.
Thailand's Foreign Minister Don Praramudwinai has intervened in an attempt to block a proposal to waive visa requirements for tourists coming to the country from China and India. It is believed that the long-serving Thai diplomat and foreign affairs minister since 2015, has written strongly on the subject in a letter sent to Thai Prime  Minister Prayut Chan-ocha last week.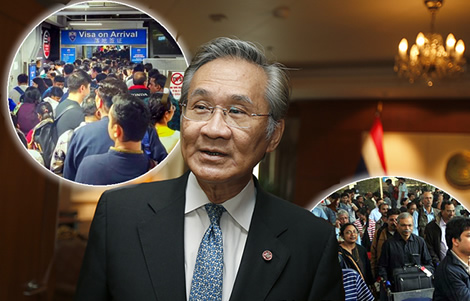 Thailand's Foreign Minister Don Praramudwinai has come out strongly to oppose a proposal to go before the Thai cabinet on Tuesday which would approve a visa waiver for tourists coming to the kingdom from China and India. The proposal was rubber-stamped by the economic cabinet on Friday to be considered by the full cabinet. It is believed to be enthusiastically supported by the country's Sports and Tourism Minister Phiphat Ratchakitprakarn.
It is reported today that a letter signed by the Thai foreign minister and sent to the prime minister's office last Thursday details the grounds for the objection essentially on national security issues both short term and long term.
Thai embassy in India deluged with false documents and bogus applications says FM minister
The Foreign Minister particularly draws attention to the problems that the Thai embassy in India has already been having in processing visas from India where staff have been deluged with false documents and applications. Mr Don suggests that if the waiver scheme is approved, the threat is that many of the visitors coming to Thailand's shores will not be genuine tourists but economic opportunity seekers escaping poverty and natural disasters in the widespread subcontinent that is India.
Grave repercussions for Thais in the future if visa waiver scheme for China and India gets the nod
The Foreign Affairs supremo points out that both China and India have populations of over 1 billion and a visa waiver scheme is essentially an open border to these two countries with potentially dire consequences. He warned that the scheme could lead to groups from both countries settling in Thailand which could have grave repercussions for Thais in the future.
Chinese coming to Thailand as tourists and creating commercial enterprises that are not beneficial
Mr Don also warned about a trend in Chinese tourists arriving in Thailand to set up businesses and pointed out that some of these concerns have interfered with Thailand's farming and fruit industries. He warned that a visa waiver system was an invitation to such individuals to come and establish commercial concerns to service fellow Chinese visitors. Similarly so with Indian visitors. 
While the minister didn't doubt that the measure would boost the numbers of arrivals from both countries, he points out that in the long term, Thai tourism and business operators may lose out and certainly gain little.
Copy of the letter obtained by the Bangkok Post
A copy of the minister's hard-hitting and substantive letter is believed to have been obtained by Thailand's Bangkok Post newspaper over the weekend.
Security chief confident that agencies can handle any situation caused by such a visa regime
 In response, the National Security Council secretary-general, Wallop Raksanoh told Thailand's English speaking newspaper that his agency did not oppose the proposal on security grounds. He said he had confidence in the ability of Thailand's security services to handle any potential influx and fall out. He said that the organisation were well-positioned to oversee the situation.
Tourism minister says visa waivers is a priority
Thailand's Tourism Minister who one of the three Bhumjaithai Party senior officeholders, has said that the visa waiver scheme is the key priority for stimulating tourism growth this year.
Indian tourist arrivals up by 24% this year – the only bright spot in a flat year for Thai tourism
The only bright spot in what is acknowledged to be a disappointing season so far for tourism in Thailand is the 24% rise in Indian tourists seen in the first half of this year when nearly 1 million visitors arrived from the subcontinent. Thai tourism officials hope to see this continue in the second half of the year with a target of 2 million visitors and after the visa waiver, they expect a further jump of 50% in 2020 to 3 million visitors.
Thailand scrapped visa fees for India, China and 19 other countries last year in a bid to boost tourism
Thailand scrapped visa fees from India and China last year as well as 19 other countries. The measure is believed to have cost the state ฿10 billion but generated ฿20 billion in economic returns. The proposals of a visa waiver for India and China would be part of a package that would also extend the waiver of visa fees for the remaining 19 countries for another year. The scheme and new provisions would come into effect on the 1st of November this year for 12 months.
Tourism chiefs support the proposal
The visa waiver for China and India is also believed to be supported by many in the established tourism industry in Thailand who see India's middle class as an emerging target for Thailand as a tourist destination. The President of the Association of Thai Travel Agents, Vichit Prakobgosol, has said he is confident the proposal would boost the numbers of Indian tourists coming to Thailand in particular. He painted a positive picture.
'The hassle-free entry will catalyse growth of the India market. The biggest group of travellers is the middle-income segment, hence money that was saved from visa fees will also help them prioritise Thailand more,' said Mr Vichit.