The crooks had set up a Facebook page where the devices were portrayed in fake advertising as a breakthrough in technology being used by Thailand's own electricity authorities.
A money-making bonanza masterminded by two Vietnamese nationals selling fake 'power' energy-saving devices was switched off on Thursday in Thai police raids on properties in Bangkok and Chonburi targeting the Vietnamese led group. Police sources have revealed that the gang had as much as ฿50 million in circulation.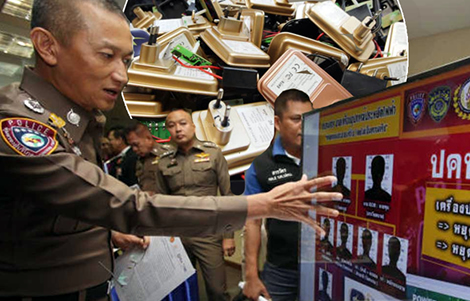 Thai police this week raided premises in Chonburi and Bangkok as they closed down a fraudulent racket selling to unsuspecting Thai people devices which were advertised as having the capacity to save users significant money on electricity bills.
Although electricity in Thailand is relatively cheap by world standards so are salary levels. In 2019, electricity prices in the kingdom went marginally by 1.2%. Yet, in times when money is scarce with many less well off Thai households in debt, Thai people will turn to anything to make ends meet. The 'power saving' units were marketed to the public at a price of ฿999 and sold all over Thailand like hotcakes.
Vietnamese masterminds behind the fraud racket
It is underwood that Vietnamese nationals are involved in the fraud. The devices were marketed in a slick advertising campaign centred on a Facebook page which marketed the 'power factor savers' to the public. Fake advertising and fraudulent information on the page including what was described as a representative from Thailand's Metropolitan Electricity Authorities testing, being trained and ultimately endorsing the inventions.
Police commander of the Thai Consumer Protection Police briefed the media on Friday last
This week, the media was briefed by Police Major General Sithatchakhet Khruwattanaset who is the Commander of Thailand's Consumer Protection Division of the Royal Thai Police. The raids on two premises linked to the scam were conducted by a task force comprising of the Consumer Protection Police, the Technology Crime Suppression Division as well as representatives from the  Office of the Consumer Protection Board and metropolitan electricity authorities. 
Raid on two homes in Bangkok owned by a Vietnamese woman as well as a site in Chonburi
Raids were carried out last Thursday in two locations in Bangkok, both houses both owned by a 37-year-old Vietnamese woman. A site in Chonburi was also raided. Searches of both locations unearthed hundreds of fake devices that look like a big plug.
At one location, raiding police and agency officials found four people involved in the racket who had been hired by the two Vietnamese nationals believed to be the masterminds behind the get rich quick scheme.
Selling 100 devices a day at ฿999
On Friday, Thai police revealed that the products have been selling to a huge demand for the last two years in Thailand. Orders for the product were received online and Thai police sources estimate that at least 100,000 devices have been sold at ฿999 each. The police estimate that the gang were selling 100 devices per day.
฿50 million in circulation by the gang before the power went off  as police moved in last week
Police enquiries into the gang suggest that they had approximately ฿50 million in circulation before the racket was broken up in last week's raids. Two Vietnamese nationals are being held by Thai police in custody as well two Thai nationals following the raid on the two houses in Bangkok in the Lad Krabanag area on Thursday.
They were found packaging the devices for delivery to customers around Thailand when officers swooped and switched off their power to deceive any more suckers online.
Please follow and like us: