Cryptocurrency trading and investing have emerged as a growing and legitimate industry in Thailand with tight government regulation. However, it still appears to be a magnet to crooks and fraudsters attracted by the lure of easy money.
A Thai man on Wednesday night was arrested in the Huai Khwang area of Bangkok for his role in a ฿500 million cryptocurrency fraud that targeted 10 Asian countries and defrauded thousands of people.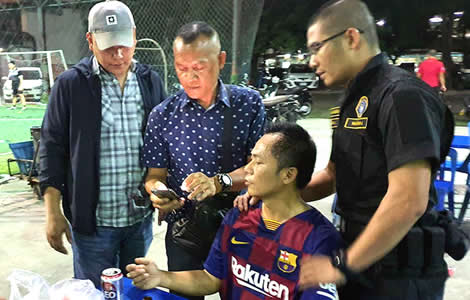 A 48-year-old Thai man was arrested by Thai police from the crime suppression division on Wednesday night for his part in a massive ฿500 million fraud racket linked to cryptocurrencies.
'Cryptocurrency wizard' arrested playing soccer
Dubbed by himself as the 'cryptocurrency wizard' Mana Jumuang was arrested on foot of a warrant issued by the Phichit Provincial Court on August 23rd. He was detained on Wednesday night at a soccer-playing facility in the Huai Khwang district of Bangkok.
Fraud involved 3 Thais and 4 Vietnamese actors
The fraud involved seven actors, three Thais and four Vietnamese. It is reported that the group successfully targeted thousands of people across 10 Asian countries to invest with them purportedly in cryptocurrencies promising a regular dividend or return. 
Boss of the Crime Suppression Division briefed the media in Bangkok on Thursday
Major General Jiraphop Phuridet the Commander of the Crime Suppression Division of the Thai police explained some aspects of the case on Thursday. The fraud involved assigning roles with some of the fraudsters opening bank accounts purporting to be digital investors. The Crime Suppression police chief said investors initially received some return but then contact with the group ceased.
Used some of the money to buy land
Losses caused by the scam are believed to be in the region of ฿500 million across Asia including investors in Vietnam and South Korea. The Thai man arrested on Wednesday is believed to have used some of the money taken in the racket to buy land in Phichit province in central Thailand approximately 330km from Bangkok.
Cryptocurrencies emerging as a new growing business in Thailand with tight government regulation
Cryptocurrencies are emerging from the shadows in Thailand as a growing and exciting business prospect. It is also a popular investment opportunity, particularly among younger people. There are a number of licenced companies operating in the sphere with Bank of Thailand and Ministry of Finance approval. Many see Thailand and Bangkok as an emerging centre for the industry.
Remains a magnet for fraudsters – attempt on Monday to fool investors with a fake Facebook page
However, it remains a magnet for fraudsters and people looking for quick money. A long-established company in Bangkok, Bitcoin Co. Ltd involved in operating a cryptocurrency exchange business recently announced that it was exiting its cryptocurrency exchange business to focus on other opportunities. This Monday at 6.06 am it made the announcement on its website. Shortly after at 8.30 am, a fake page on Facebook sprang up claiming to represent the company as a way of investing in bitcoin and other cryptocurrencies.
Security and Exchange Commission warning
Prompt action by Thailand's Securities and Exchange Commission which is actively involved in the regulation of the legitimate and growing cryptocurrency trading sector in Thailand followed. Warnings were also issued about the fake facebook page on the media.